Once you have your program(s) up and running, the next step in the process is learning how to maintain it. One of the key aspects of maintaining your program(s) is by managing who can access the platform from within your organization. Once one of your users leaves your organization, it is important to ensure this is updated within Together as well. There are a few ways that this can be accomplished:
Integrating your HRIS with Together
Uploading a list of user data on a cadence you set
Manually removing users from Together
In this article, we will cover how to review your terminated users when their status has been updated either from a newly uploaded list of user data or from the most recent sync with your HRIS.
Terminated Users
Once a user is marked for termination, you will see a warning symbol beside their name in the Users section of Together.
In my case, I will be marking two users for removal from our organization: David, and Joey:
Important: if a user has not registered and they're marked for termination, they will be terminated immediately. In my example, both David never registered and would be terminated immediately.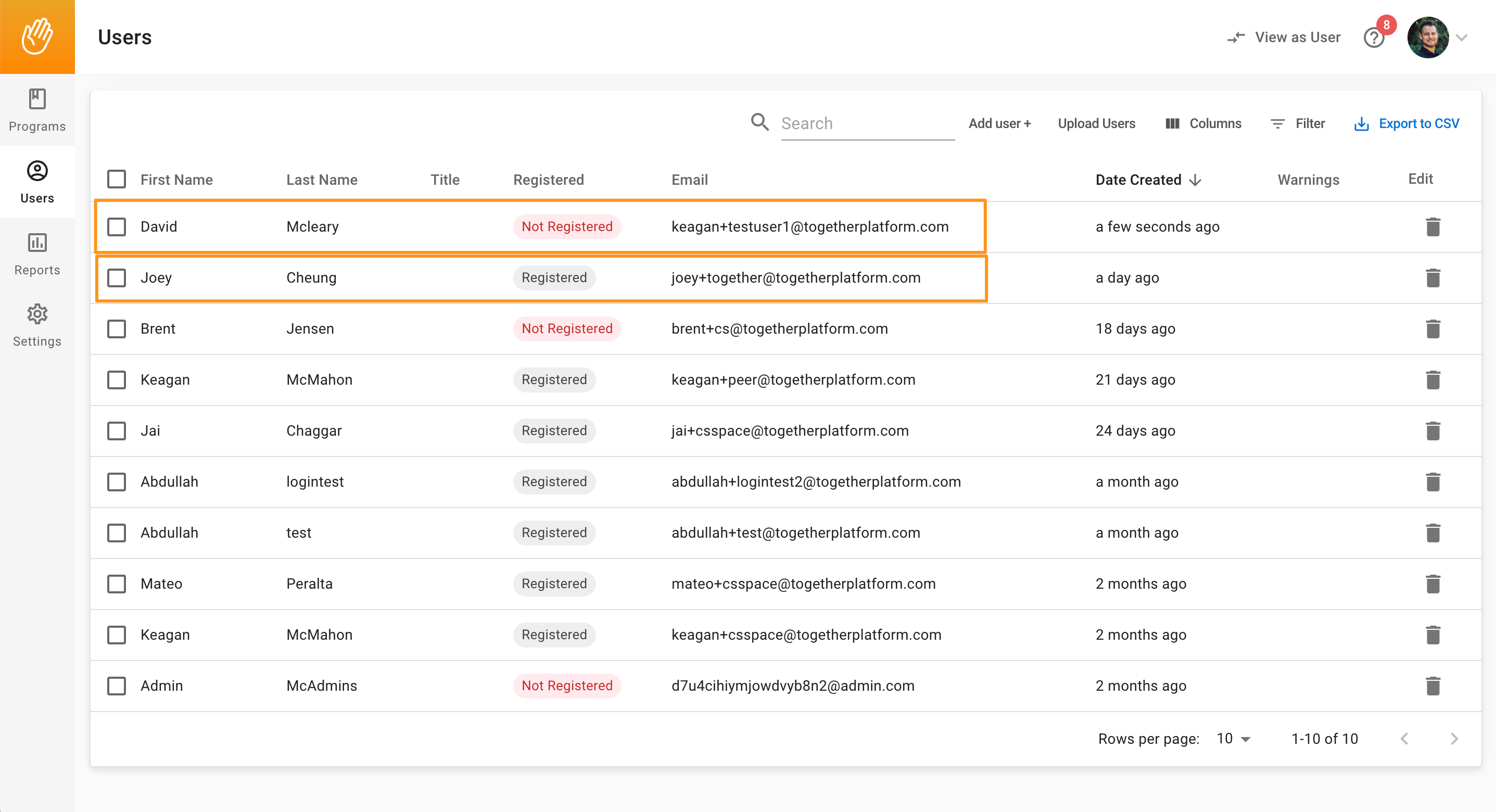 After I have uploaded a new list of user data or my HRIS system syncs with Together and marks these users as terminated, we will see a message near the top of the user table informing us that one user was marked for removal.
Since David was not registered, he was automatically removed after the upload/HRIS sync. This is why we will only need to review one user (i.e. Joey).
Reviewing Terminations
Now that we know that Joey has been marked for removal, we can click on the Review button above the user table to finalize her removal:
Note: Once a user is marked for removal, they will be automatically logged out. Once you finalize their removal from the platform they will no longer be able to access Together.
From here, you will see a table listing each of your users that have been marked for removal. You will also notice some other details that might be helpful such as what their roles are if they were registered to a program, which program(s) they were registered to, how many active pairings they are in (if any), and when they were marked for removal (i.e. the date they left the organization):
To finalize their removal, you can either individually deactivate users:
If you would like to deactivate multiple or all of these users, you can do so in bulk by selecting each of them in the table, then clicking Deactivate [#] Users: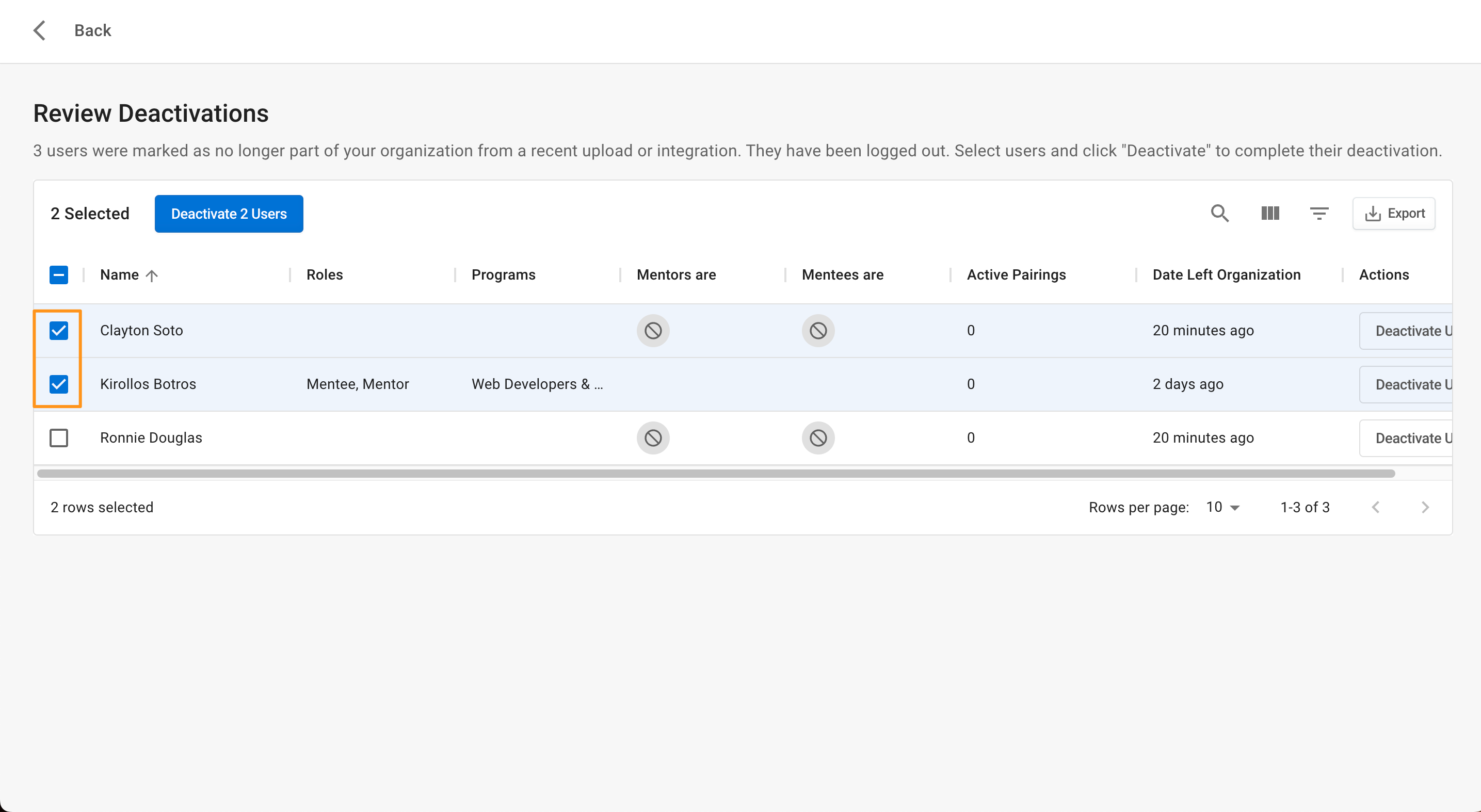 Once you click the Deactivate User button, you will see a final confirmation screen that looks like this: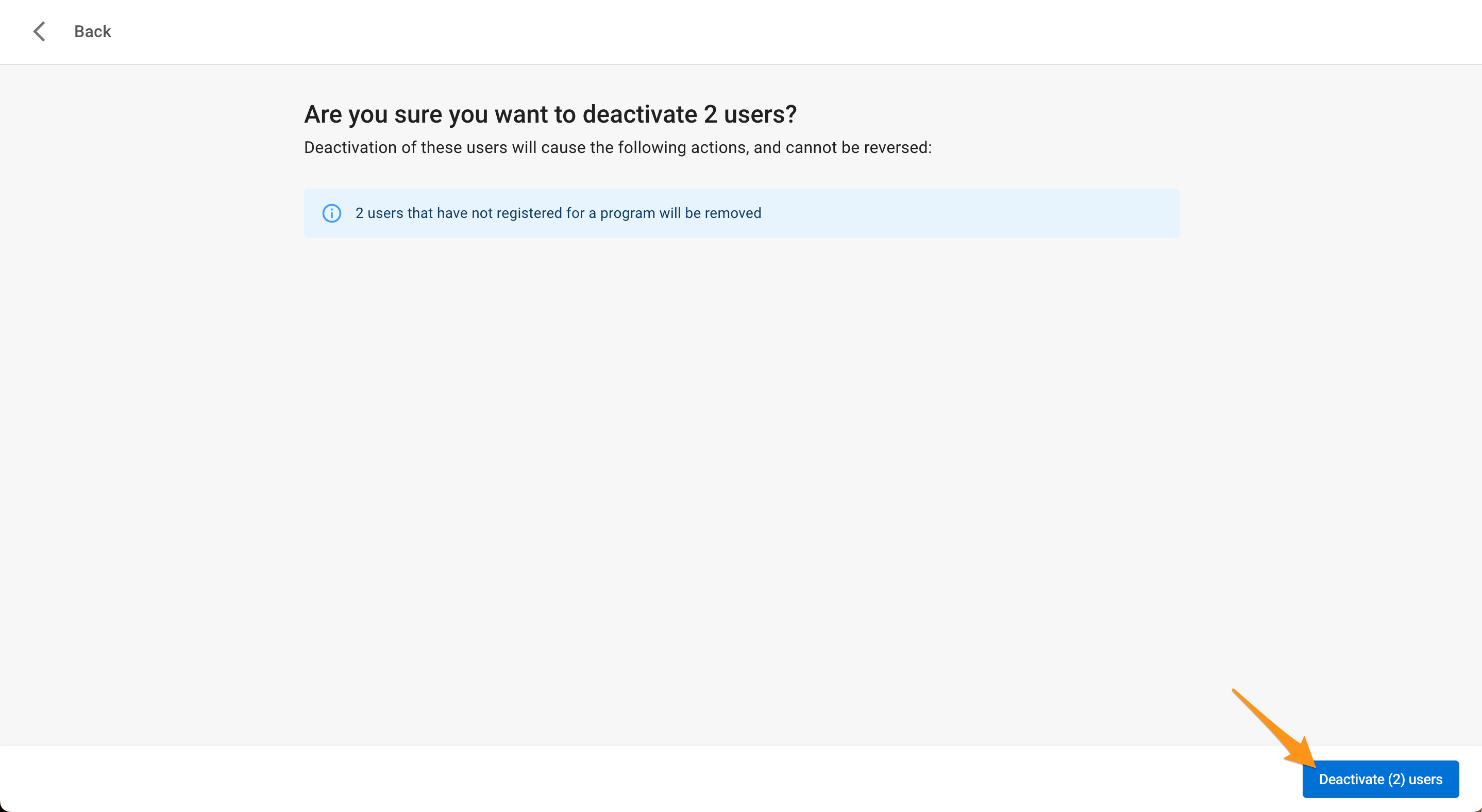 To confirm this action, click the blue Deactivate Users button one last time in the bottom right corner of the screen. This will queue these users for deactivation, and they will be removed from your user table shortly.
Have more questions? Submit a request here and let us know how we can help!