One of the most important steps to consider after you have launched your program is to understand how it is performing. There are two main ways to get a better idea of the status of your program:
1. Through your Reports section: check out our article here on how to view and customize your own reporting!
2. In the Monitor Health tab of your program: this is the section that we will focus on more here.
Accessing Monitor Health:
Finding your monitor health section is easy: first, you will want to start by selecting your program from your admin home page. Then, along the left-hand side, you can click the Monitor Health tab: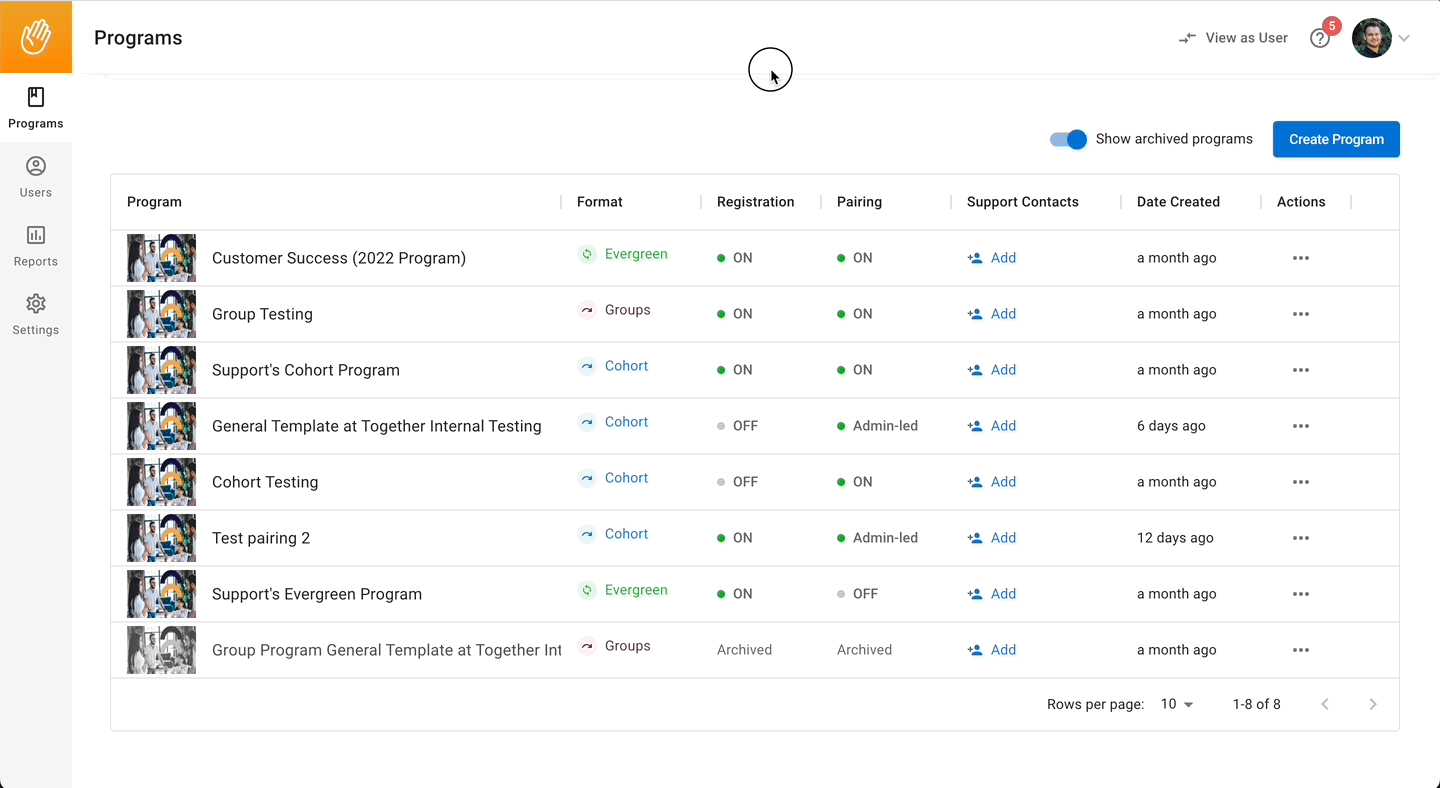 Health Metrics:
Once you are on the Monitor Health page, you will see 4 different sets of information:
Sessions Completed
Sessions Upcoming
Email Delivery Analytics
Pairing Health Score
We will break down each of these individually for you below:
Sessions Completed: this metric is just as you would expect, it provides you with a total count of the number of sessions that your users have completed. Each time users meet for a session and it is updated in Together, this value increases.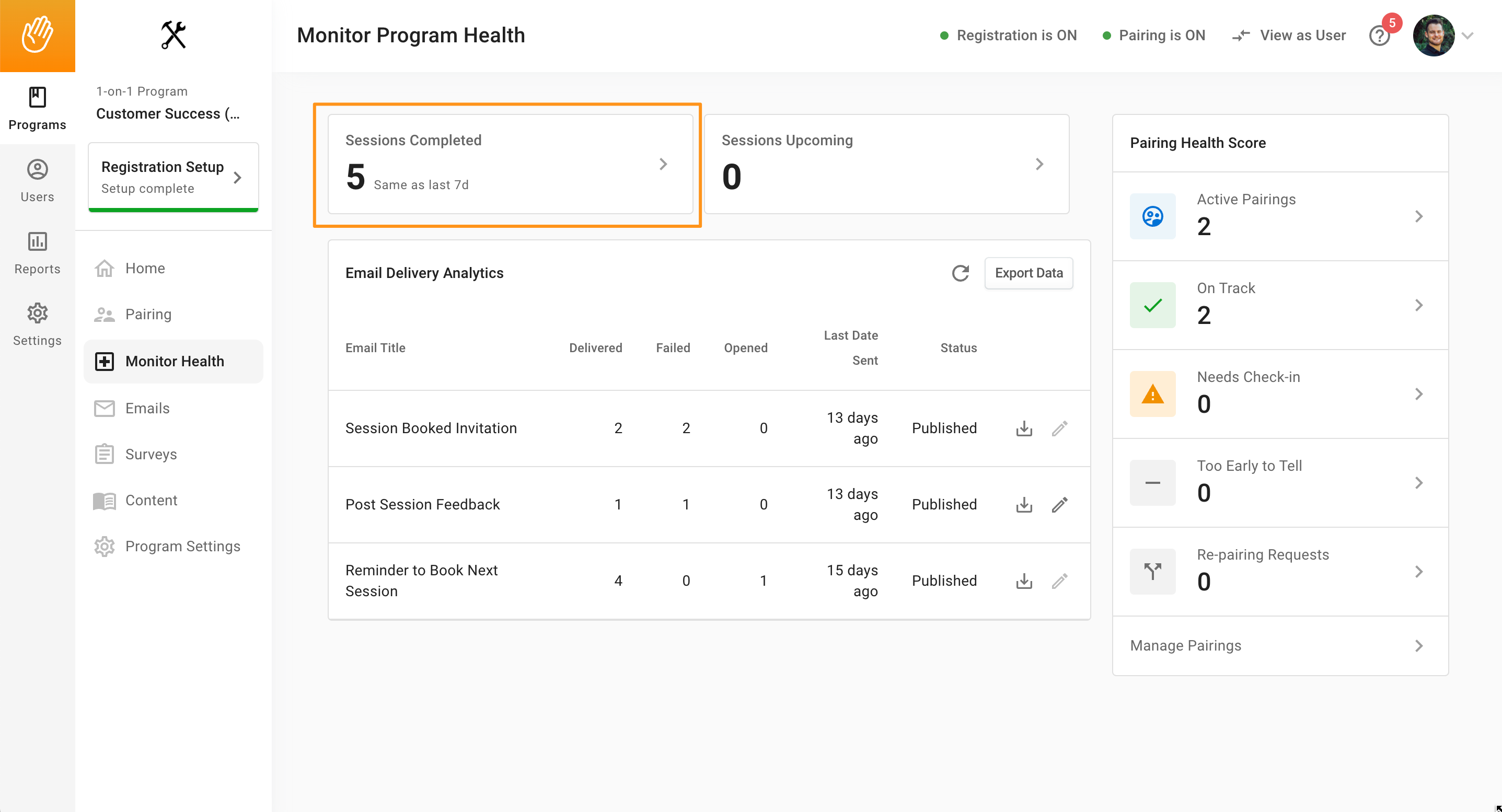 Sessions Upcoming: this metric provides you with a total count of the number of sessions your users have booked in Together but have not yet attended/completed. These sessions are a representation of all future sessions planned for your pairings. This value will go up and down depending on new sessions booked, and booked sessions that have since been completed.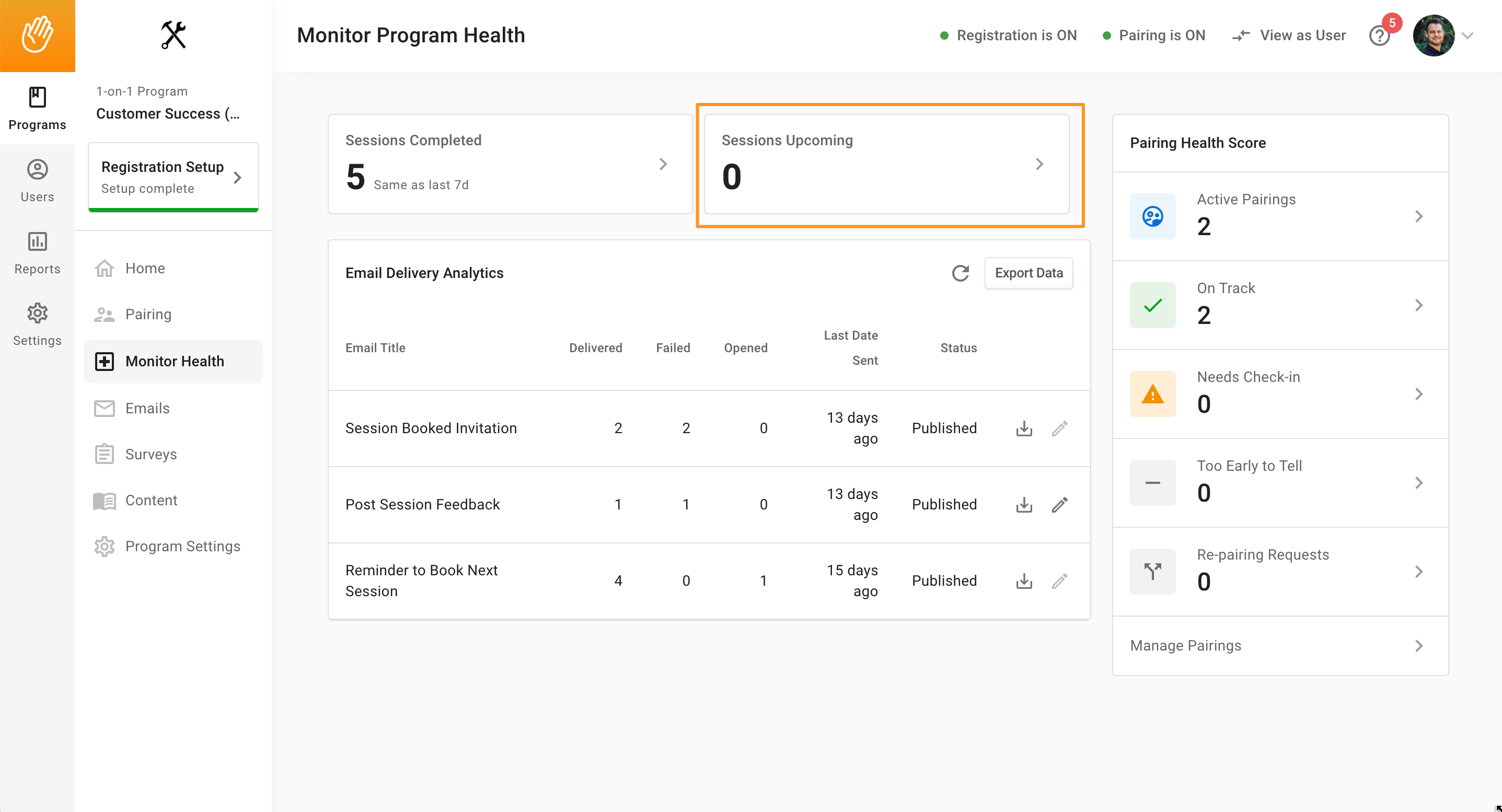 Email Delivery Analytics: here we show you a table that outlines some of the important session-related emails that have been sent to your users, along with delivery metrics such as how many may have failed to be delivered, how many users opened them, as well as when the most recent email has been sent.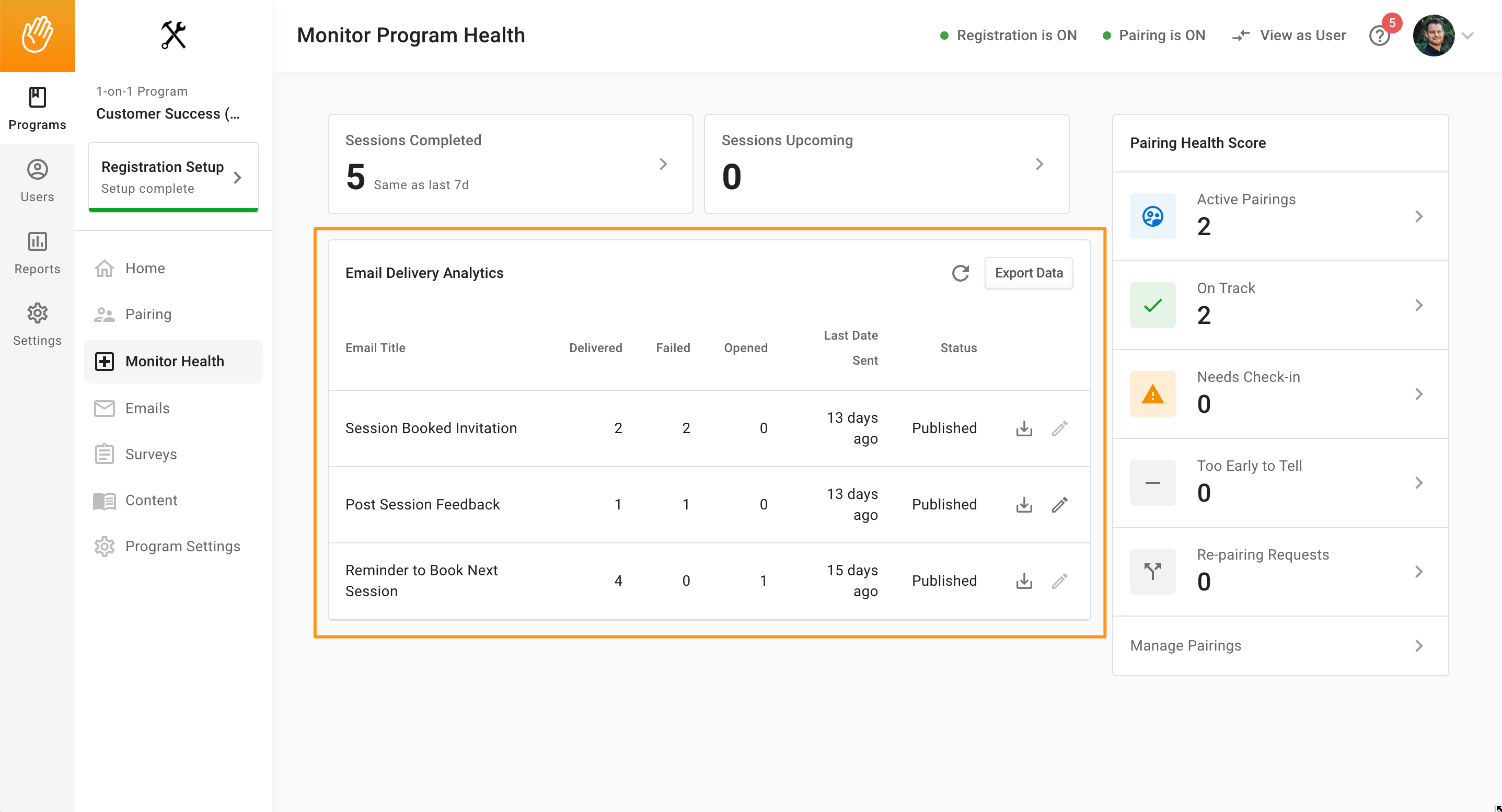 Pairing Health Score: here you can see 5 different views of your current pairings at a glance. For more detailed information across each category, simply click on the arrow or surrounding box: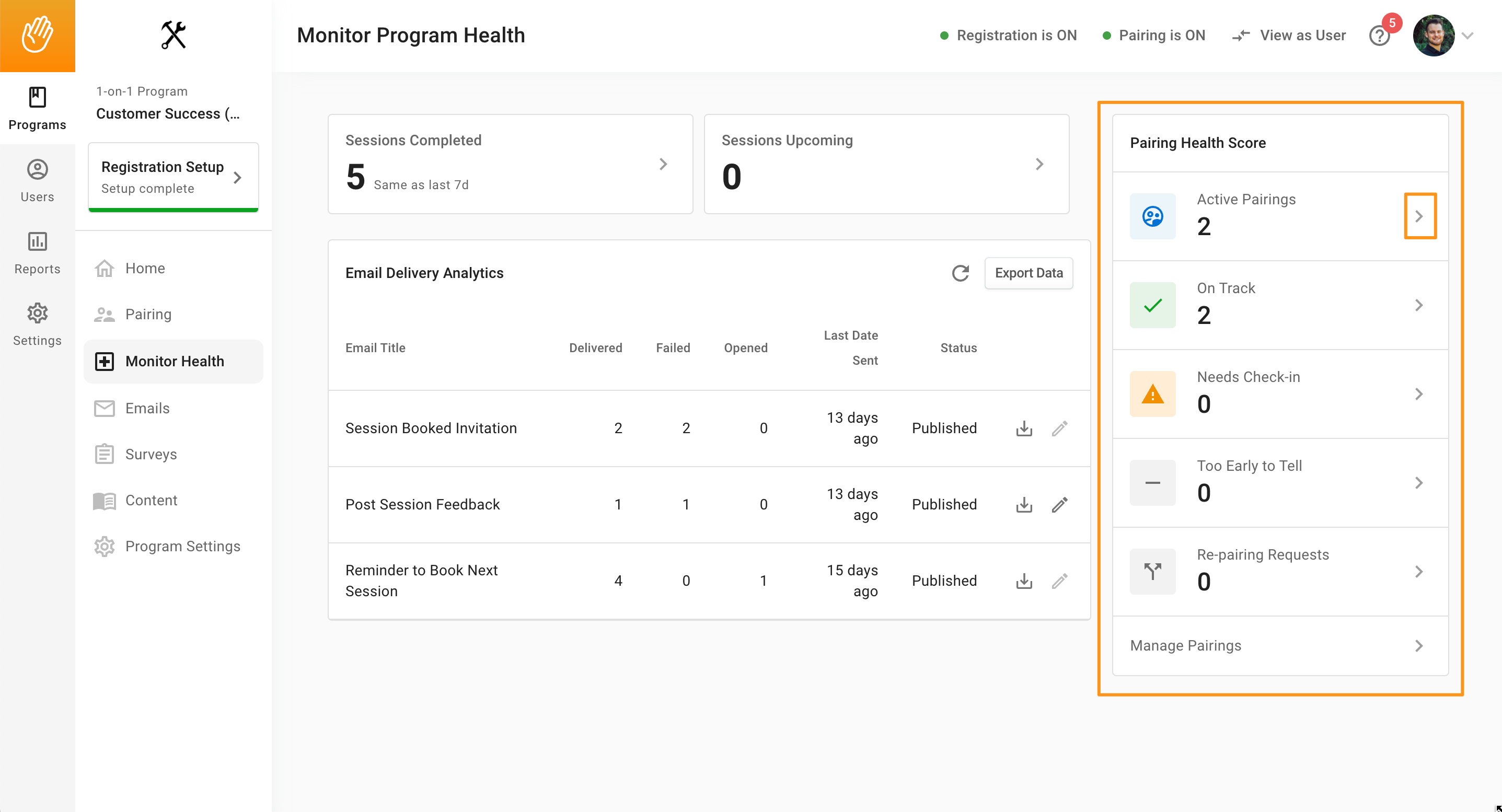 Pairing Health Score Table(s):
Once you select one of these options, you will be taken to a table with more details about each of the relevant pairings: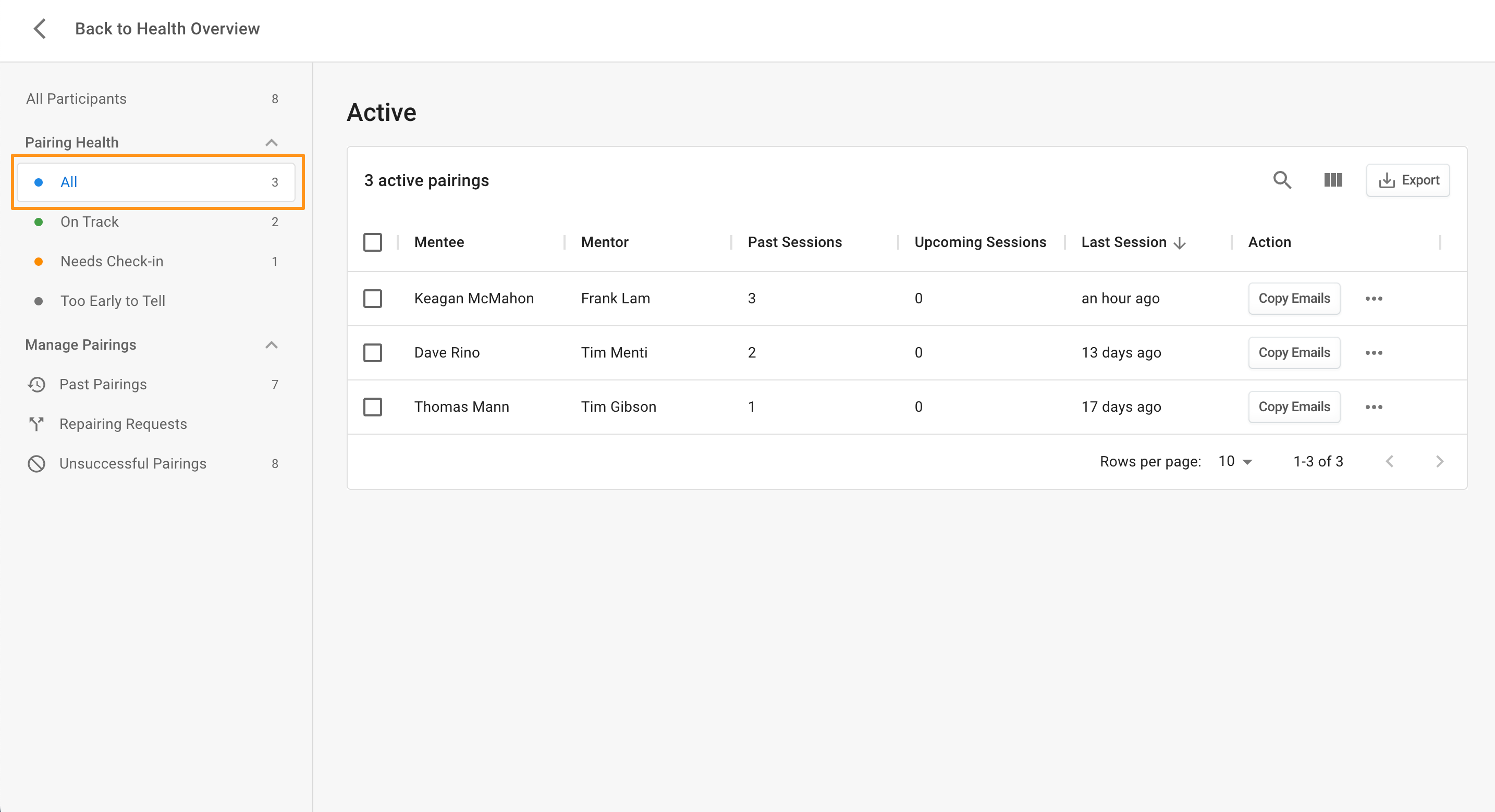 In my case, two of my pairings are considered On Track, and it looks like they've had a couple previous sessions: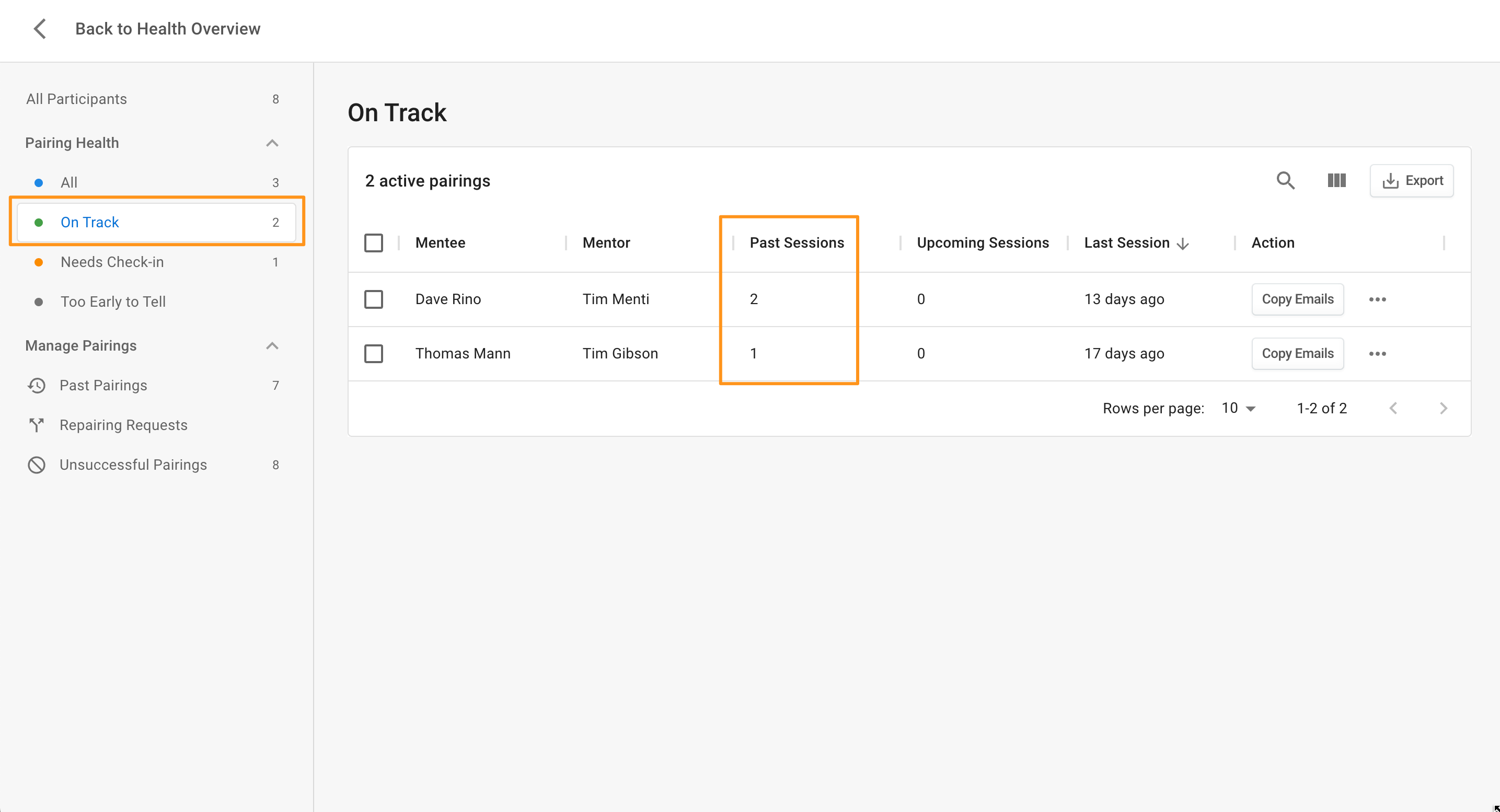 Sometimes though pairings will need to be examined a bit further, these pairings will be placed in the Needs Check-in tab. Pairings can be placed in this tab for a number of various reasons, some include low session feedback scores, no sessions booked, etc: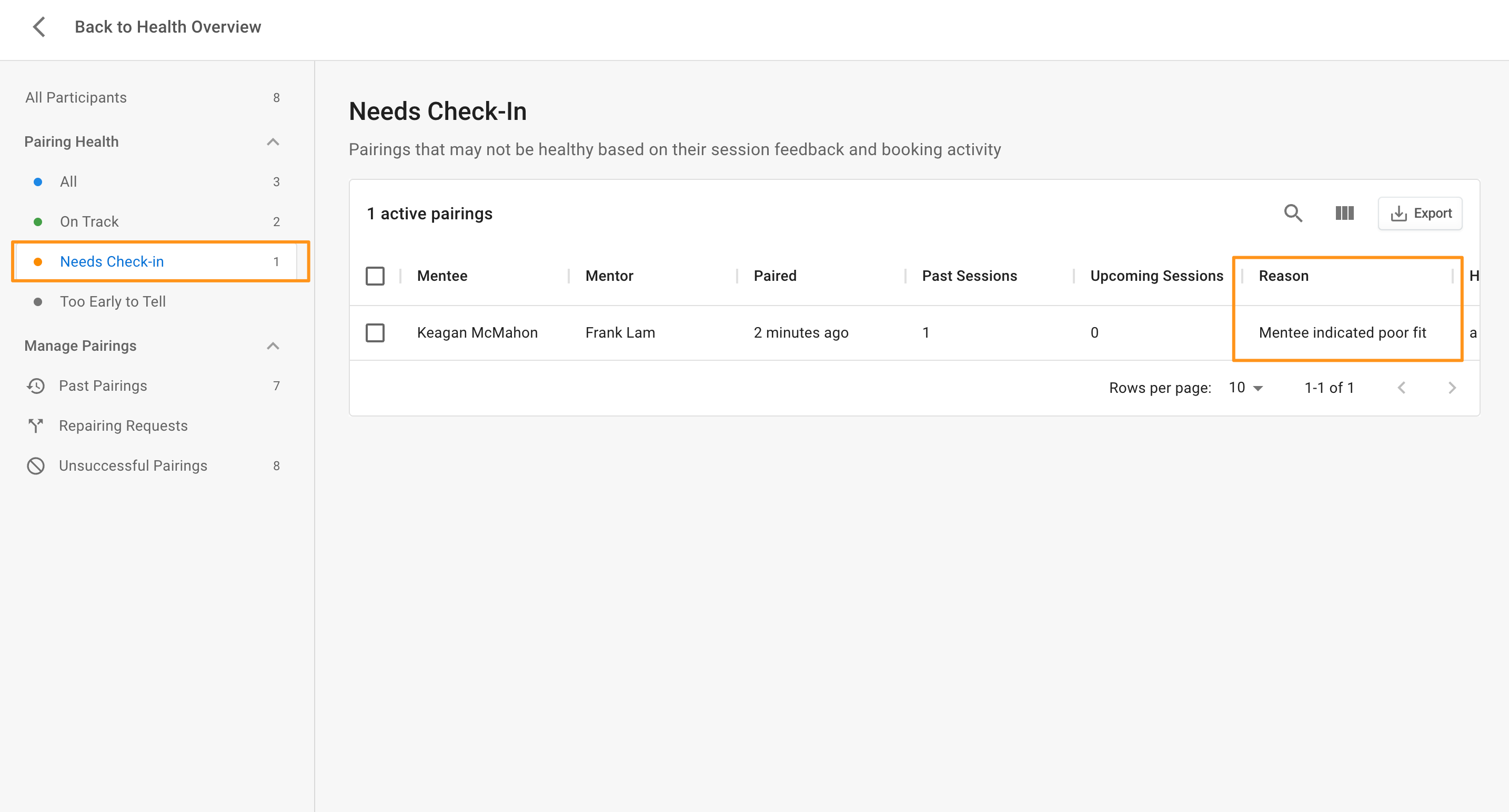 For new pairings where we might not have enough data to decide yet, they will be placed in the Too Early to Tell tab until they can be sorted into On Track or Needs Check-in: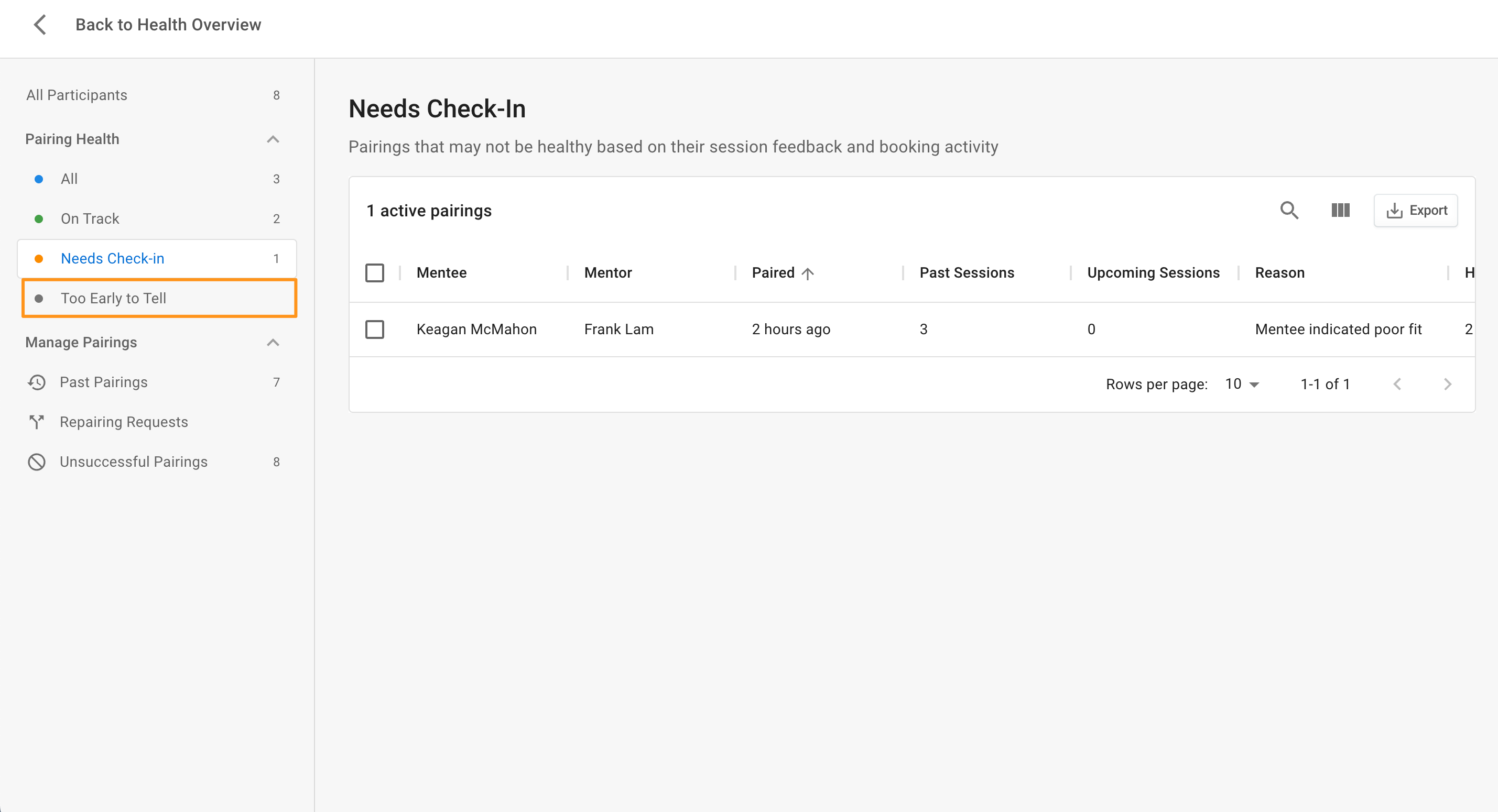 Checking in on Your Pairings:
If you notice any of your pairings noted as needing a check-in, there are two good ways to take action on them:
1. End the pairing and leave a note for the users, and decide whether you would like to disqualify the pairing between the two in the future:
To do so, select the pairing you would like to end, scroll to the end of the table, click the option icon and then Stop Pairing. You will then see a modal pop up where you can enter a note, decide to disqualify the pairing or not, choose whether to notify the users, and then end the pairing: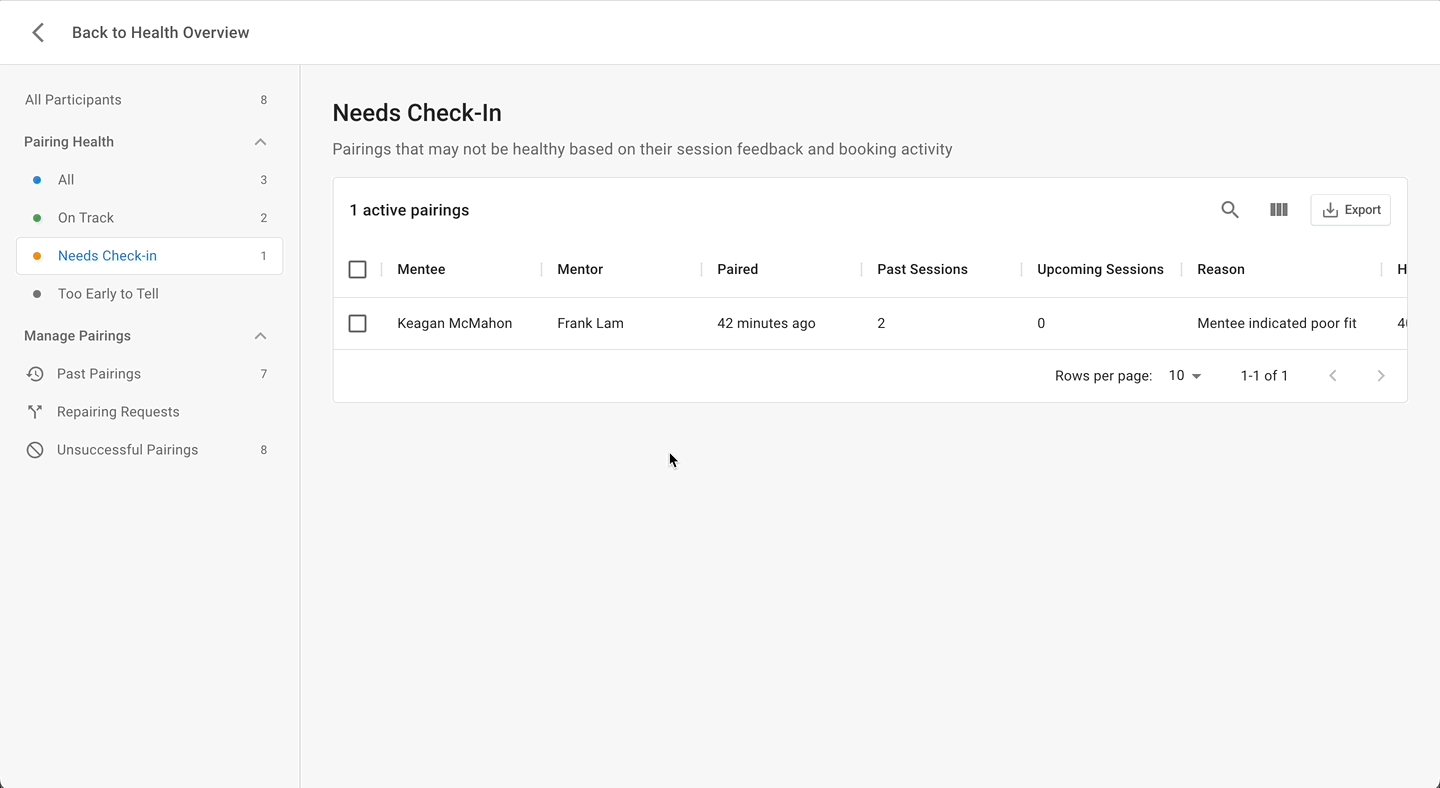 2. Email your users to follow up on what might be going wrong or preventing them from having a successful pairing:
To email these users, select the pairing from the table, click Send Emails then Draft Custom Email:
Now you will be presented with our email editor. Here you can tailor your email however you would like and send yourself a test email to confirm how it will look. Once you're ready to send it out, click Preview, and then Send: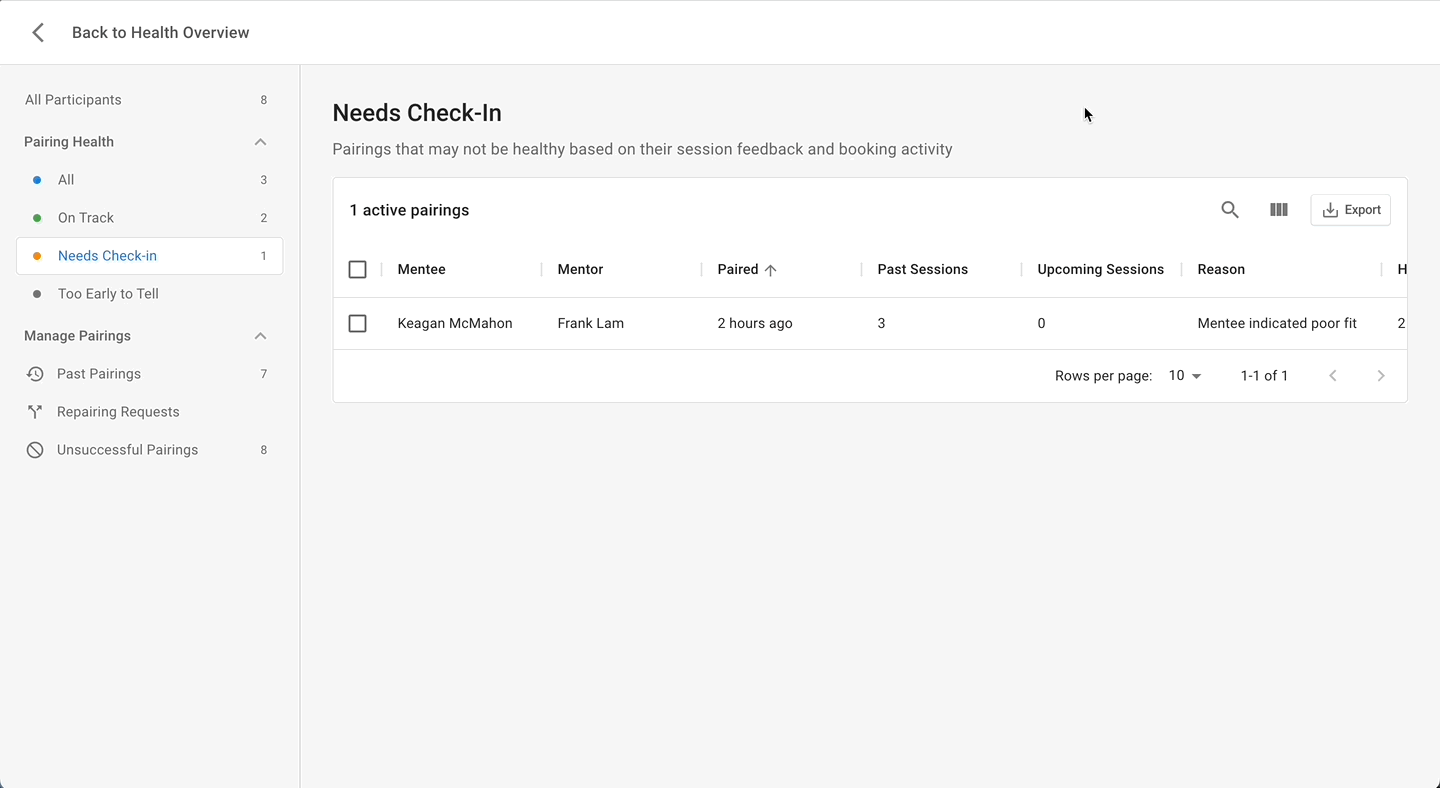 Manage Pairings:
You may also see the record of Past Pairings by clicking on that tab near the bottom, here you will see a few key details about them:
The users in the pairing
When it started
When it ended
How long it lasted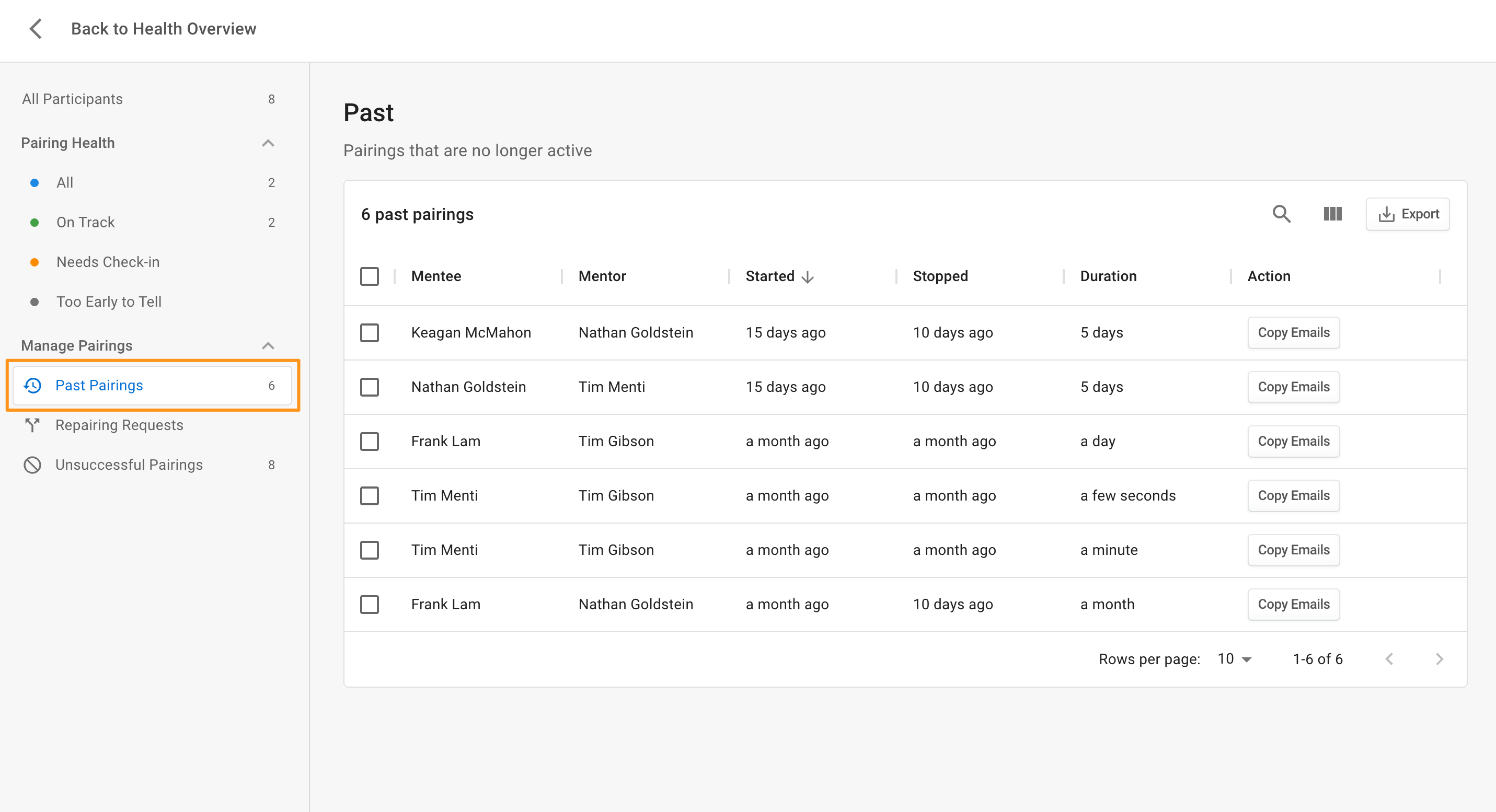 If you have any mentees/mentors request a repair, those requests will appear in the Repairing Requests below the Past Pairings tab: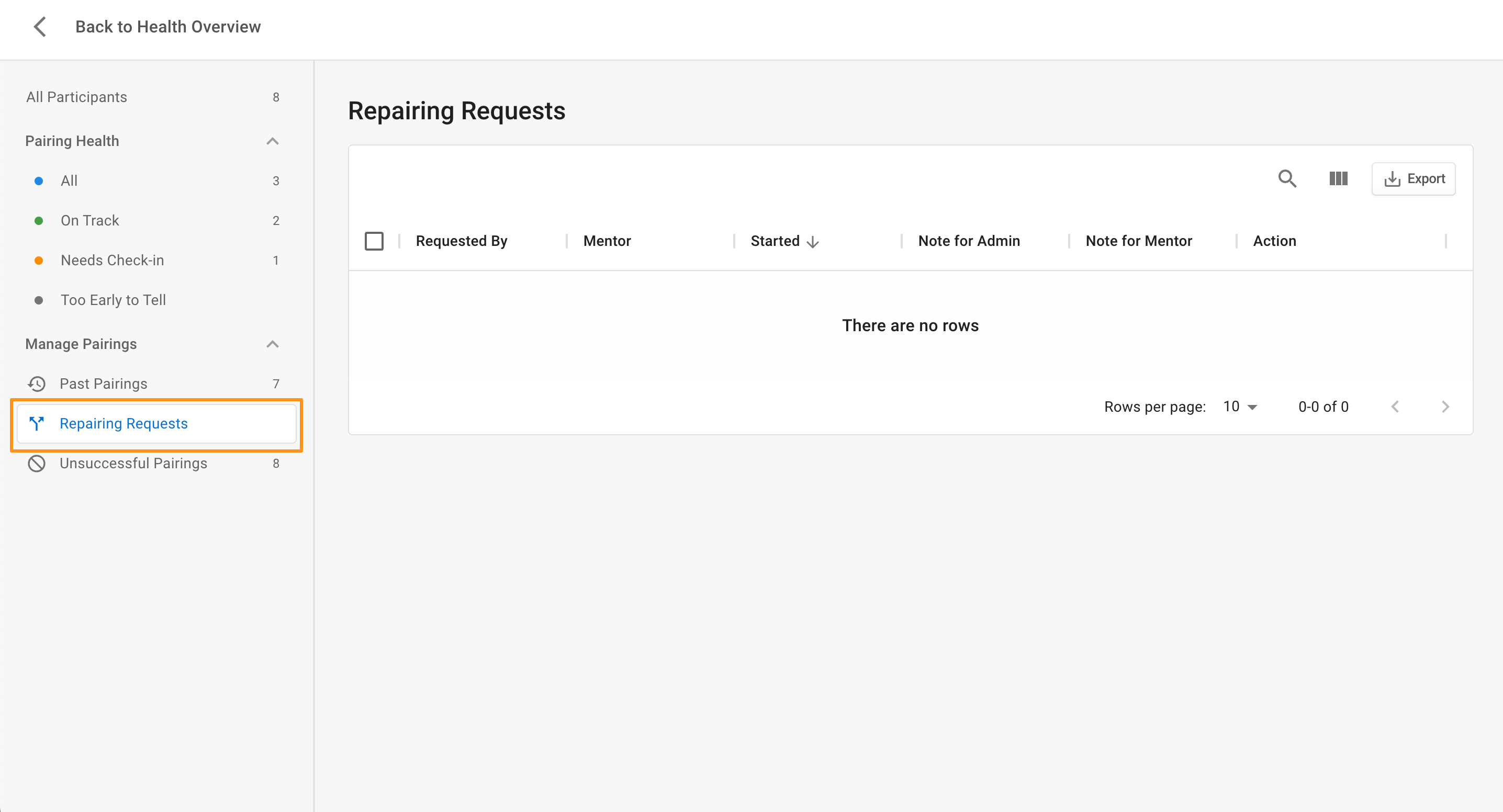 At the very bottom of the page, we have the Unsuccessful Pairings tab. Here you will be able to see two different views of unsuccessful pairings, those that were declined for whatever reason, as well as those that have been disqualified from future pairings (i.e. a user selected to not be paired with another user in the future):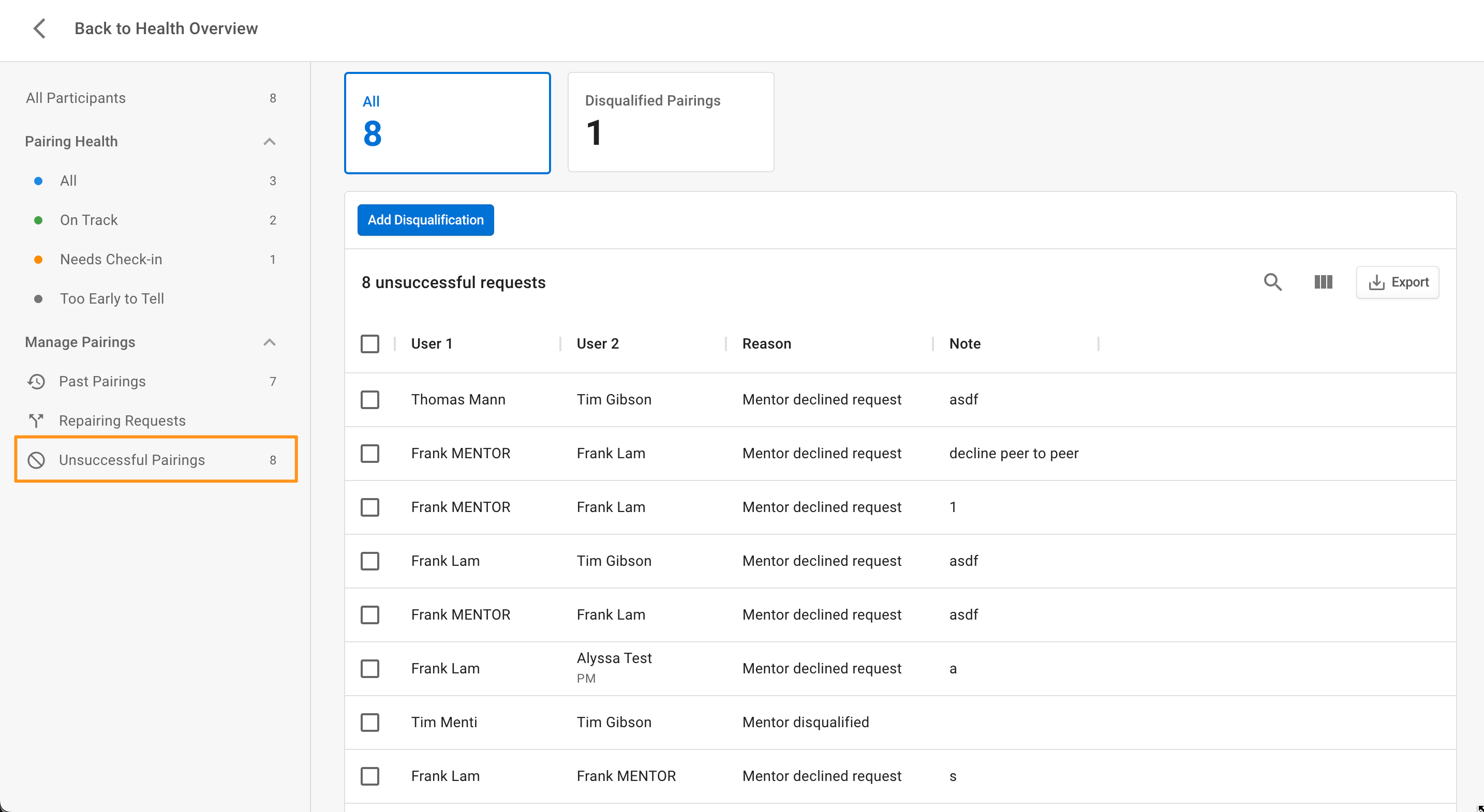 Have more questions? Submit a request here and let us know how we can help!