Email Templates:
The 3rd step towards launching registration is to review your program's Email Templates. To get started, click on the link from your Registration page (

):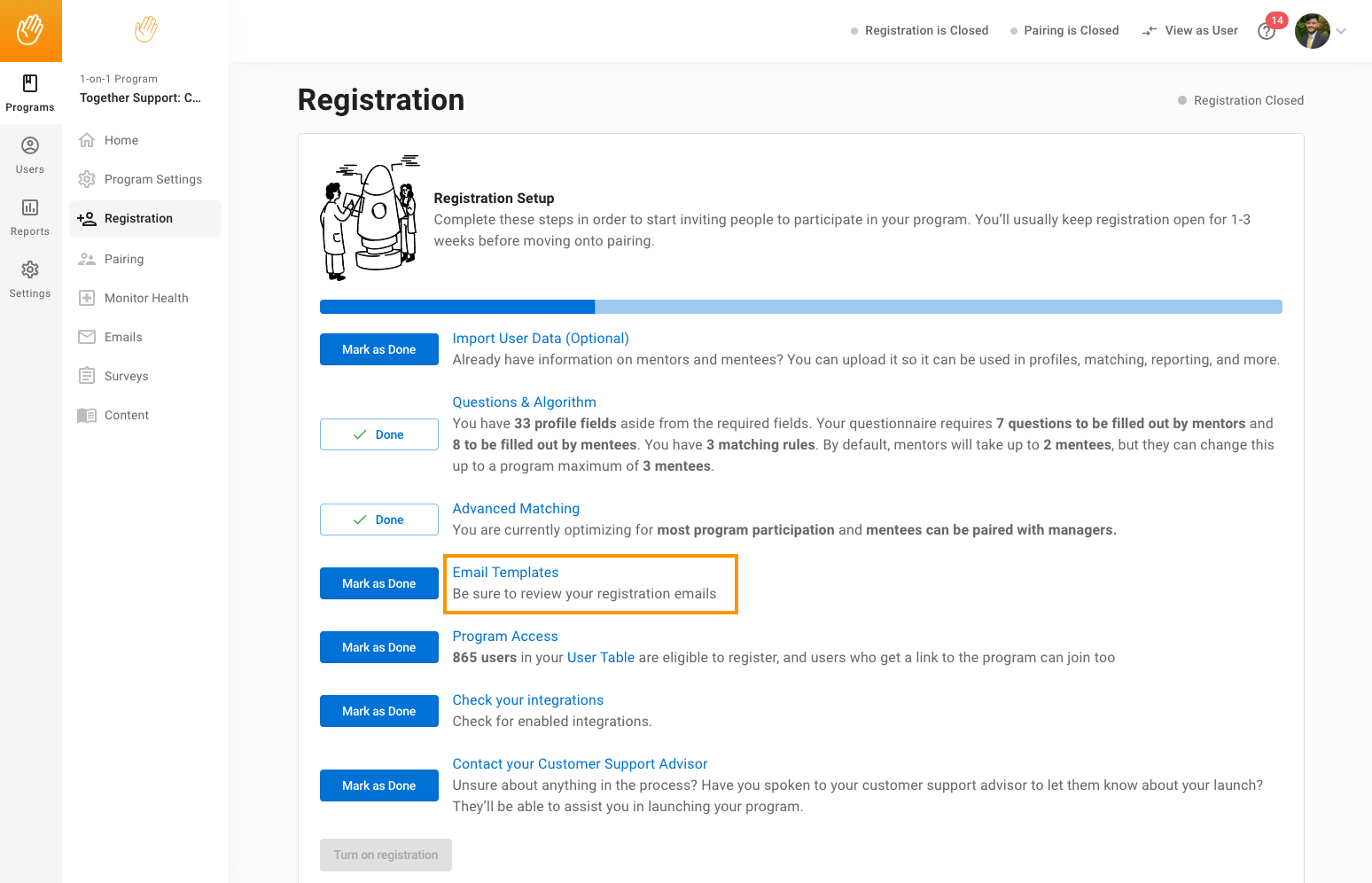 Here you will see a table of each of the various emails that will be sent to your users. To add/change the category of emails in this table, click on the dropdown menu beside Email Category: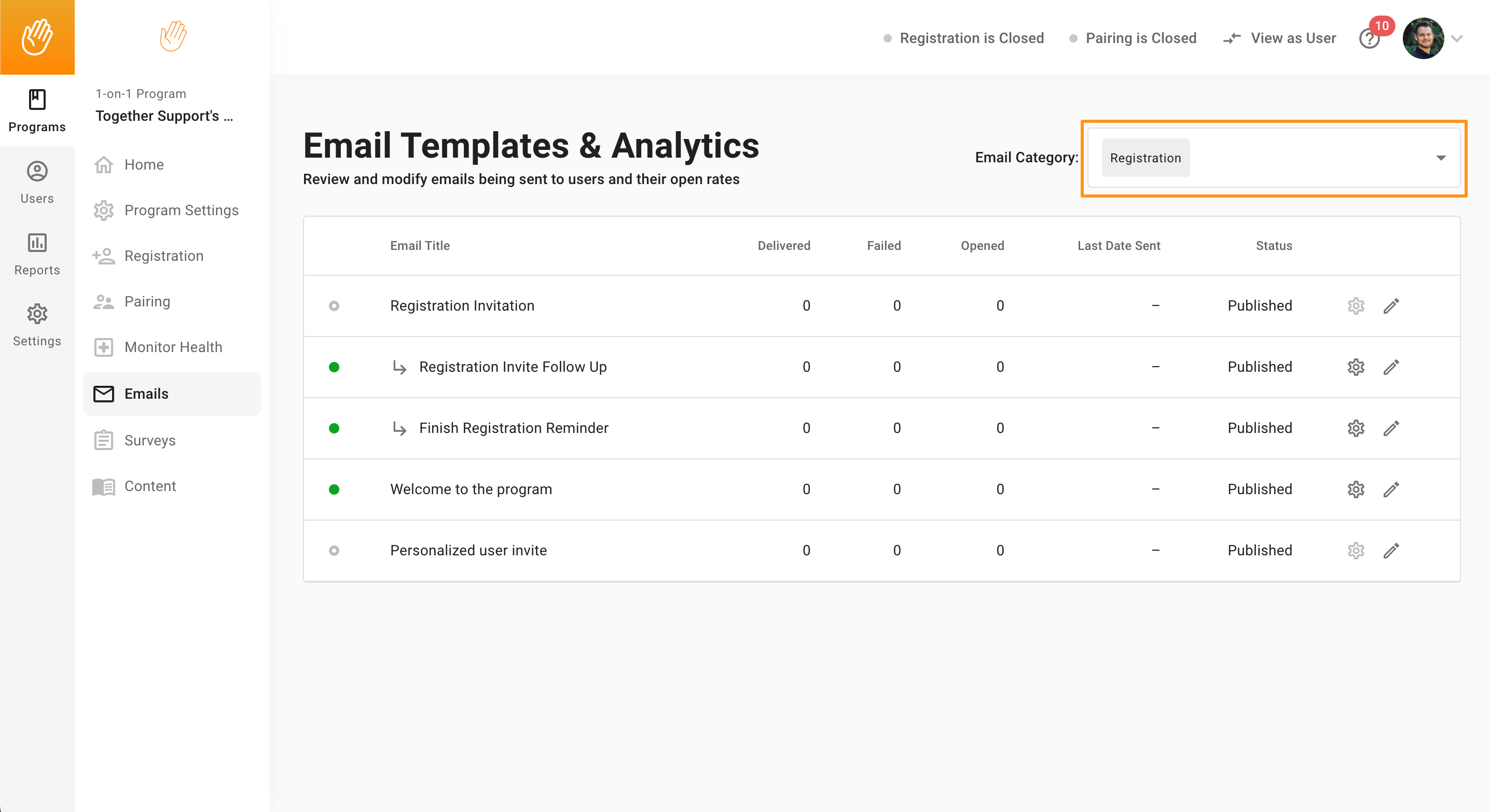 Each email template listed in this table will have either a green or unfilled grey dot beside the title:
Emails with a

green

dot are those that are currently being sent out automatically from the platform
Emails with an unfilled

grey

dot are emails that must be triggered manually by yourself/another admin.
Emails with a filled

grey

dot are emails that normally are triggered manually, but have been disabled by an admin.

For more information on changing notification settings for these emails, check out our article here: Changing Email Frequency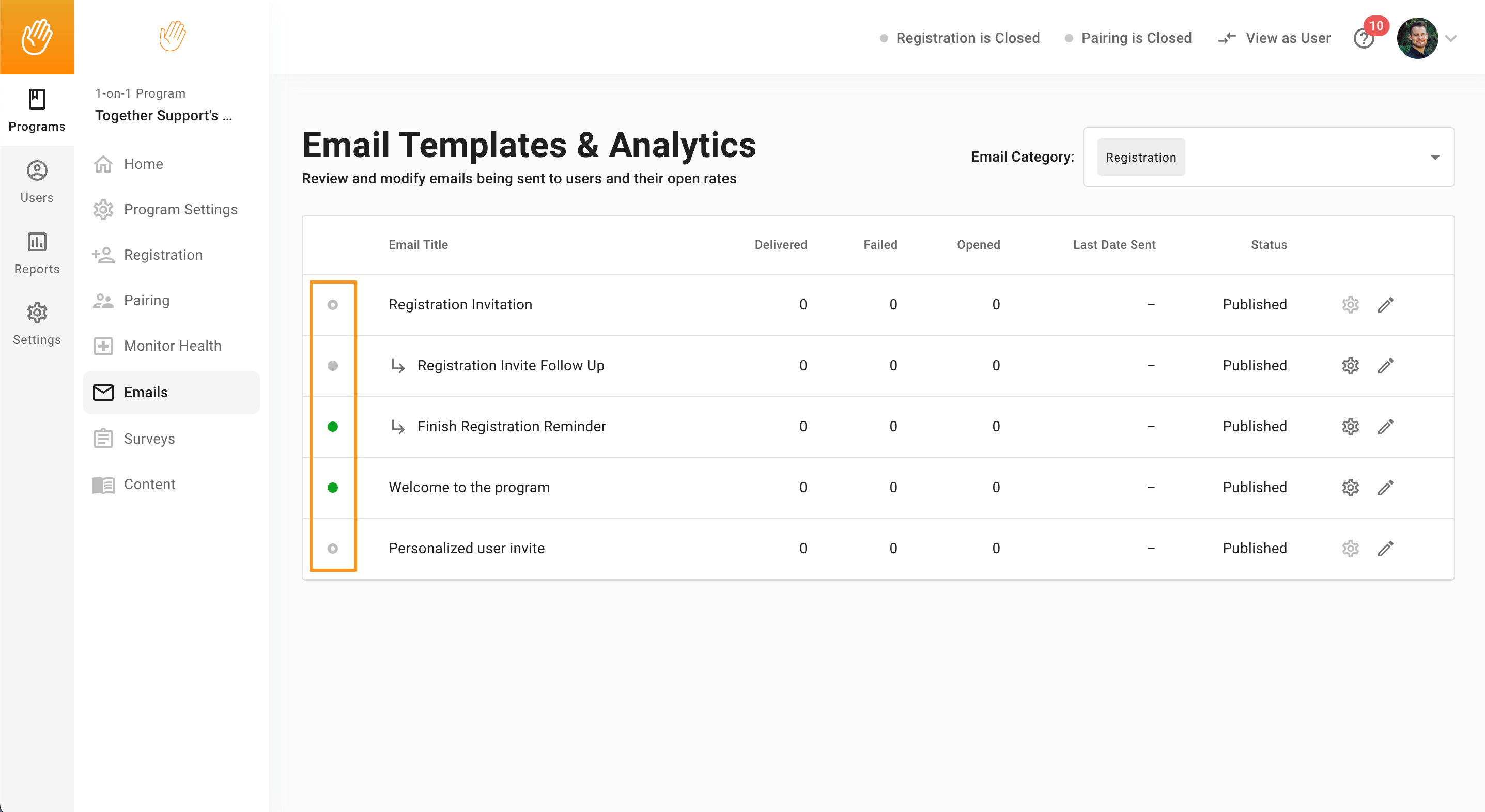 Review Templates:
To begin reviewing an email template, simply click on it within the table - this will bring up a preview of the email: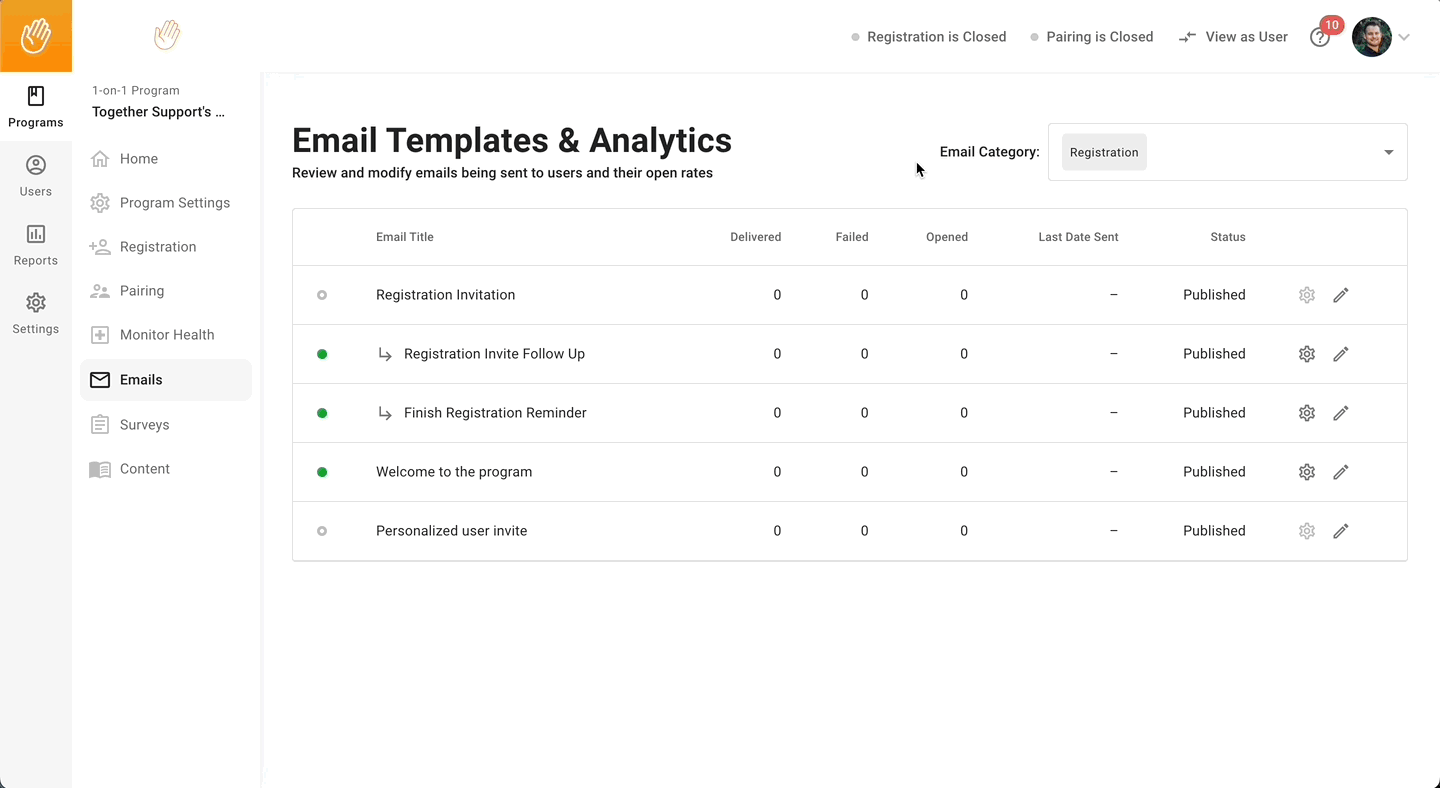 Within the email preview you will see a number of different options:
Edit the subject line
Toggle between email versions for the specific email template
Manage template version delivery
Send a test email
Edit specific email content
Edit email style
We will walk through each of these features in more detail below.
Editing the Subject:
Within the email preview near the top of the page, you can click on the pencil (

) icon beside the subject of the email to edit it. Once you have decided on a new subject be sure to click the Publish button: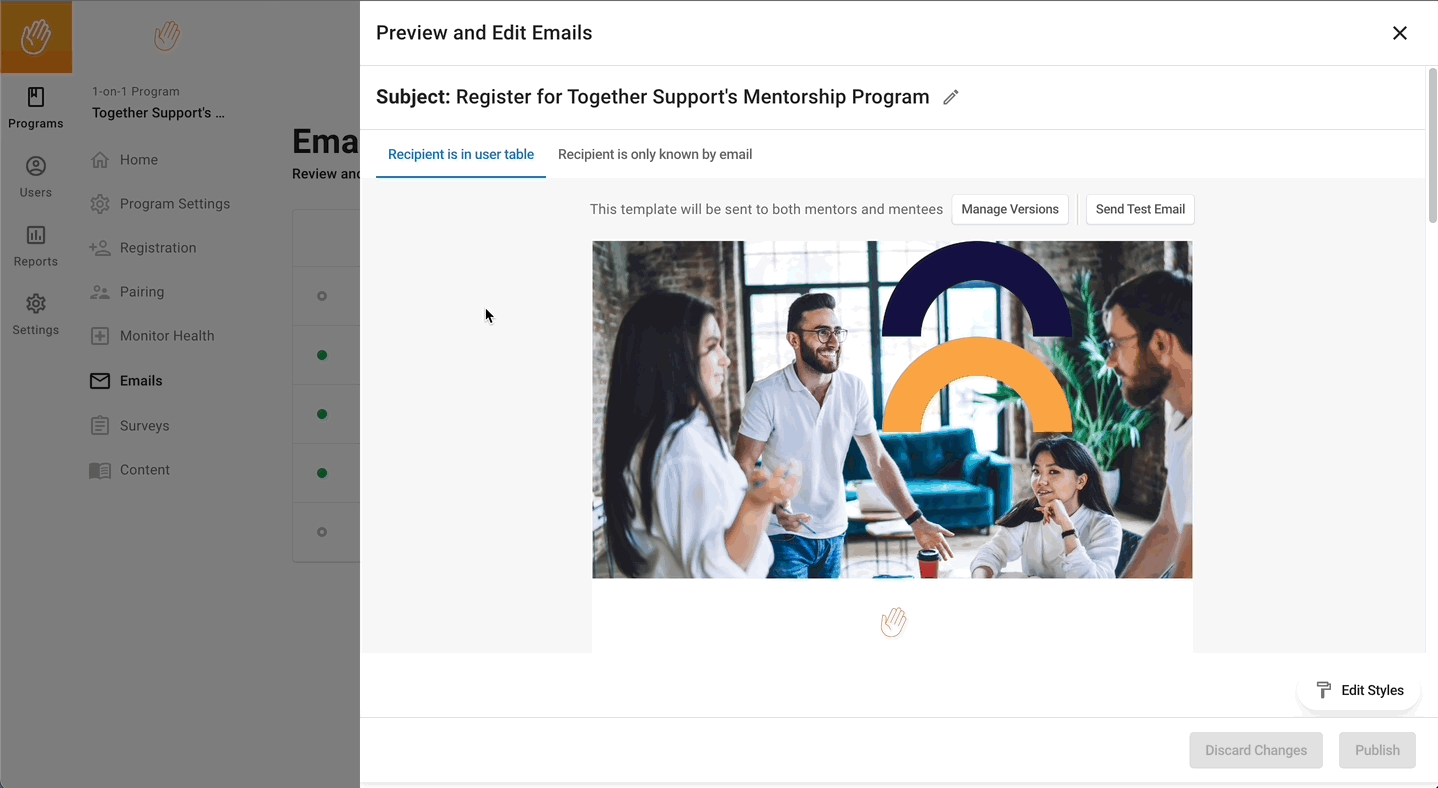 View Different Email Versions:
Sometimes depending on the email you're previewing and the current state of your program, a specific version of an email may or may not be more relevant to you. As an example, our Registration Invitation email has two versions:
One version is specific to users who are listed on your Users Table ().
The other version is sent when the recipient is only known by their email, and not listed on your Users Table () at the time it is sent.
To review each of the available template versions, click on them under the subject line: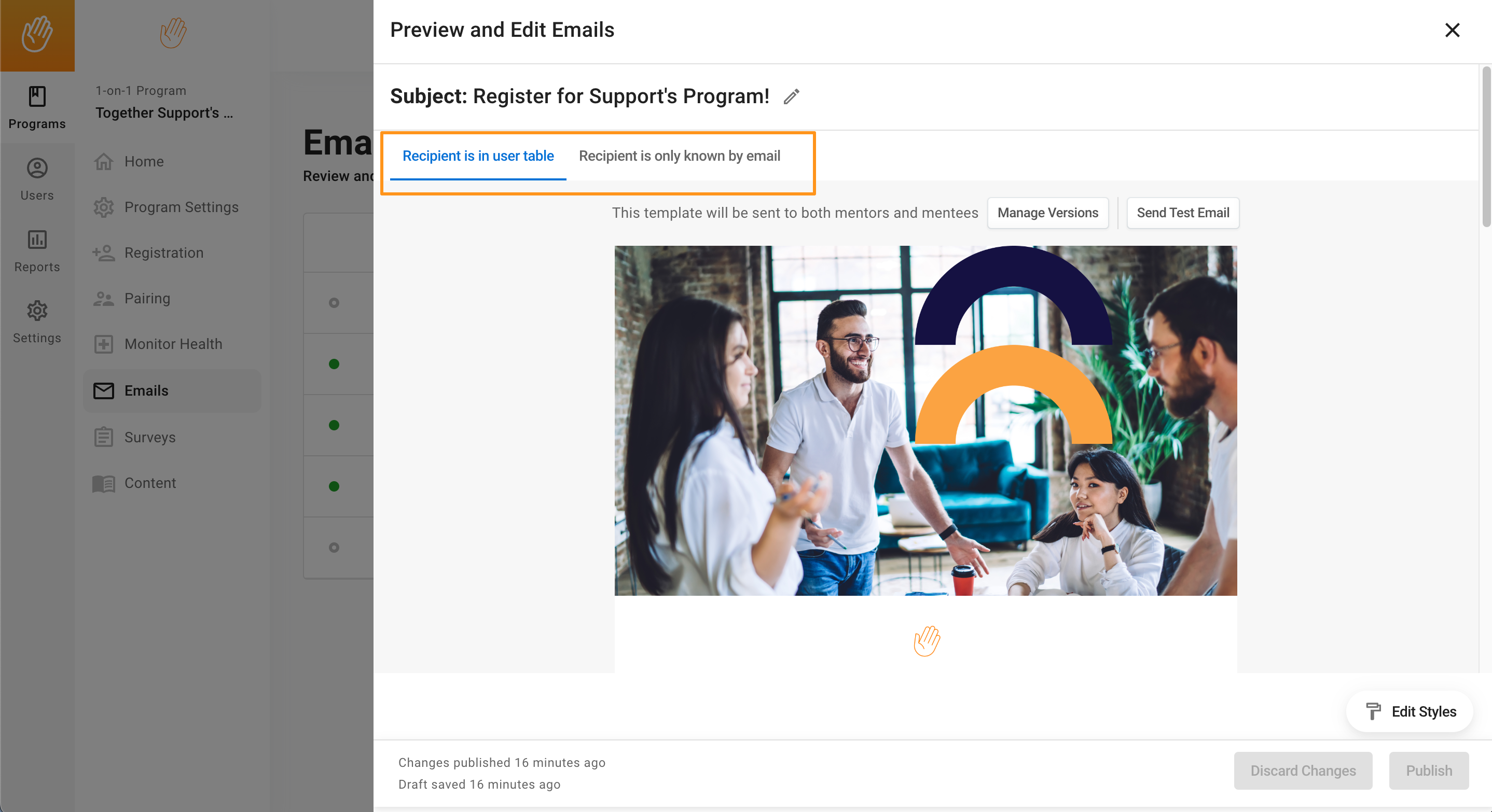 Manage Template Version Delivery:
Some emails sent from Together will have the ability to change which template is delivered to a specific group of users (i.e. different templates to mentors, mentees, and/or both).
Note: only a set of specific email templates have version-specific delivery.
To change your version delivery, click on the Manage Versions button: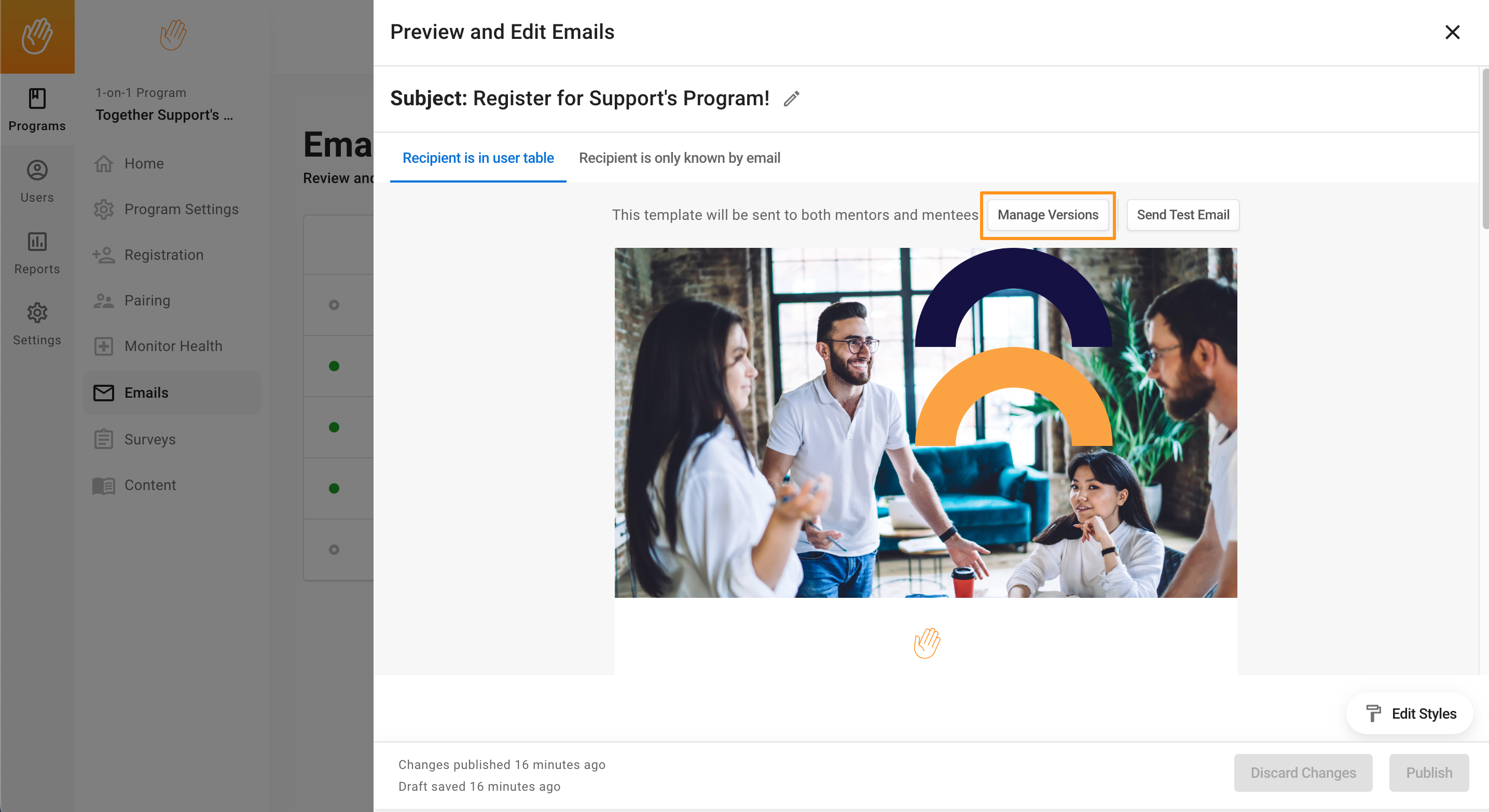 Here you will see the option to send this template to those that are eligible to register as mentors, mentees, and both mentees & mentors. Alternatively, you can also opt to send different templates to these groups if you would prefer that option instead:
Important: in order to take advantage of different version delivery, youmust have set program access rules for your program, otherwise changing these will have no effect - we will cover program access rules in the next step of the registration setup.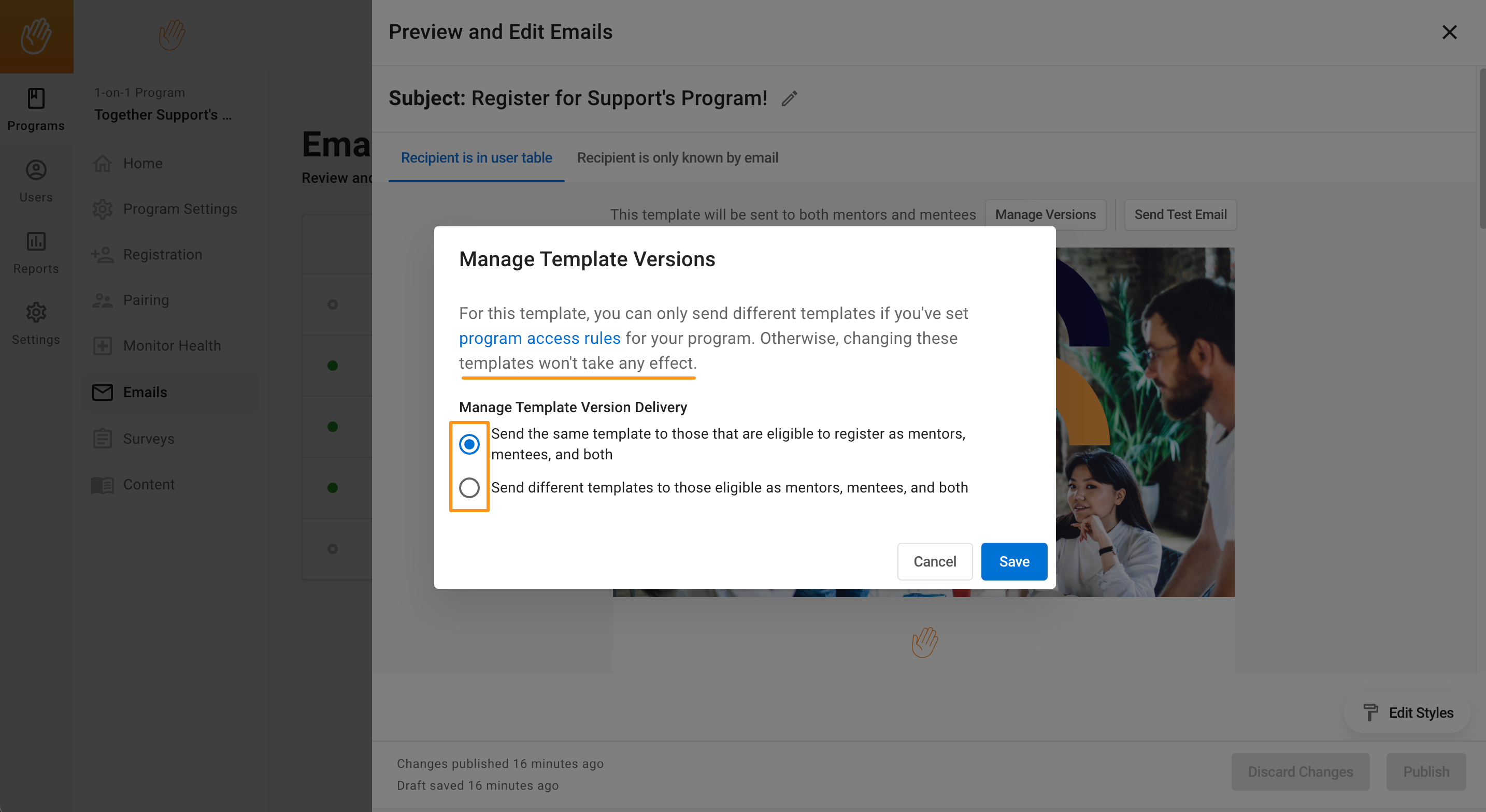 Opting to send different templates to each type of user will create different versions for each group that you can edit individually:
For my program, however, I will opt to send the same template to both mentors and mentees.
Sending Yourself a Test Email:
At times it can be easier to see what an email will look likefrom a user's perspective, in order to facilitate this for our admins, we provide you the ability to send yourself a test email. To send a test email to your address on file, click the Send Test Email button:
Don't worry, these test emails will only be delivered to you, no one else will receive these yet!
If you're interested in what and when emails are sent out from Together, check out our article here!
Edit Email Content:
If you click on any of these emails, you will have the opportunity to view and edit a few key aspects. The parts of the email that you may edit within this view can be seen by hovering over them with your cursor. If you make changes to any of these emails, make sure you click the blue Publish button to finalize any of these changes.
Some examples include: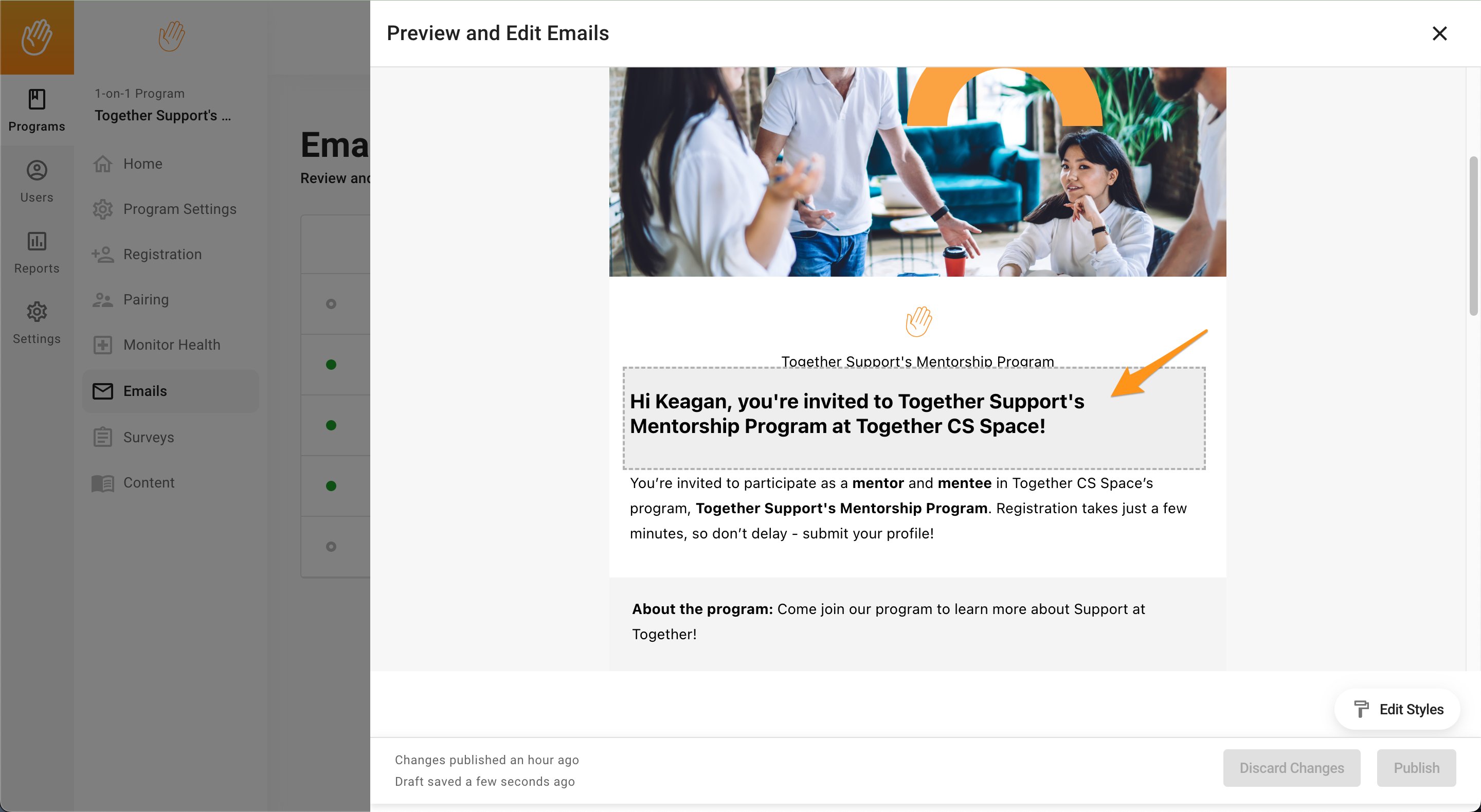 The description paragraph under the title of the email: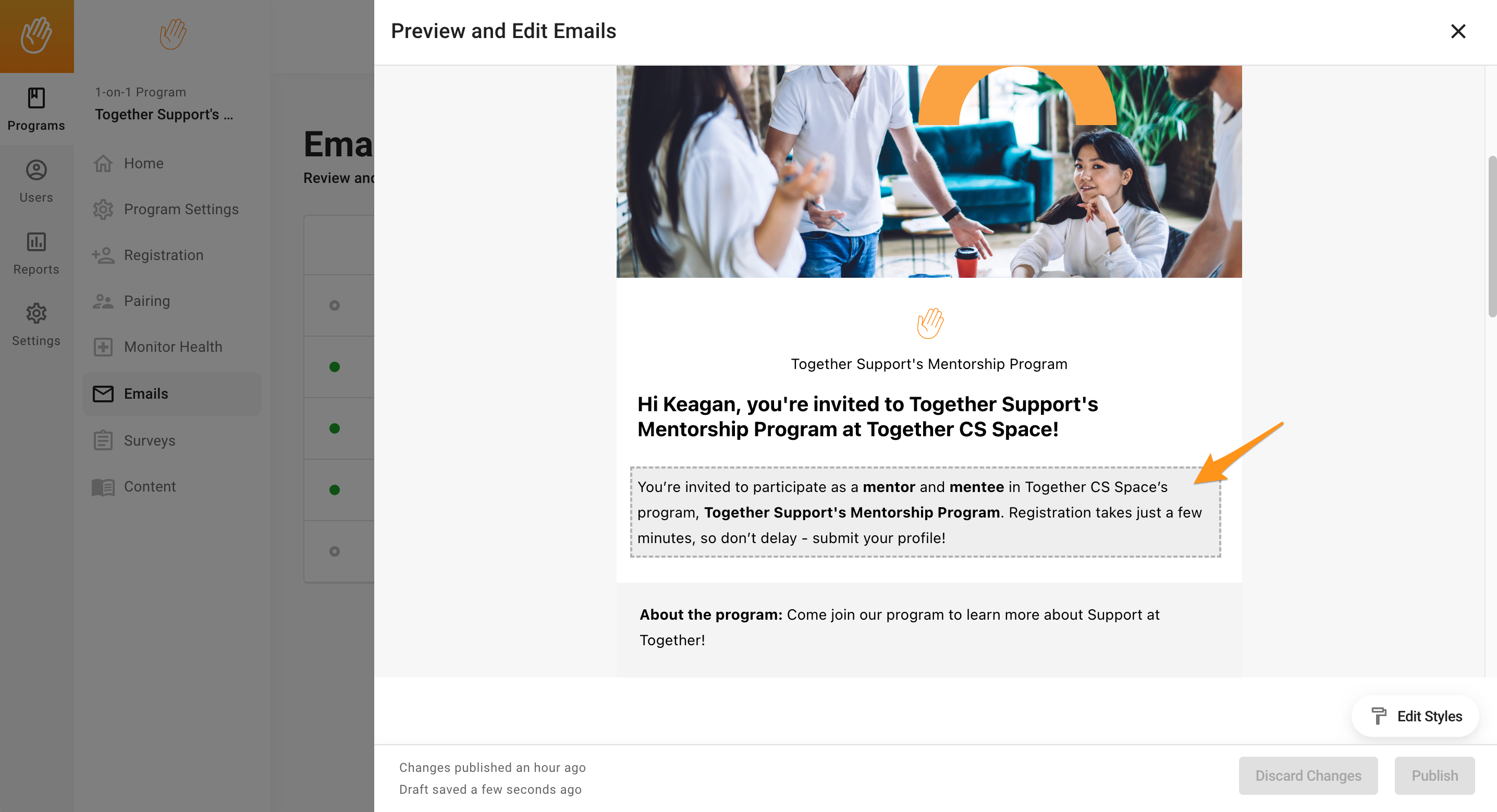 We encourage you to review each of these templates and hover over the various components of the email to find what you might want to edit in the email.
In order to edit the text itself, once you click on a textbox highlighted with the grey border a text editor page will open for you to update the copy to your liking: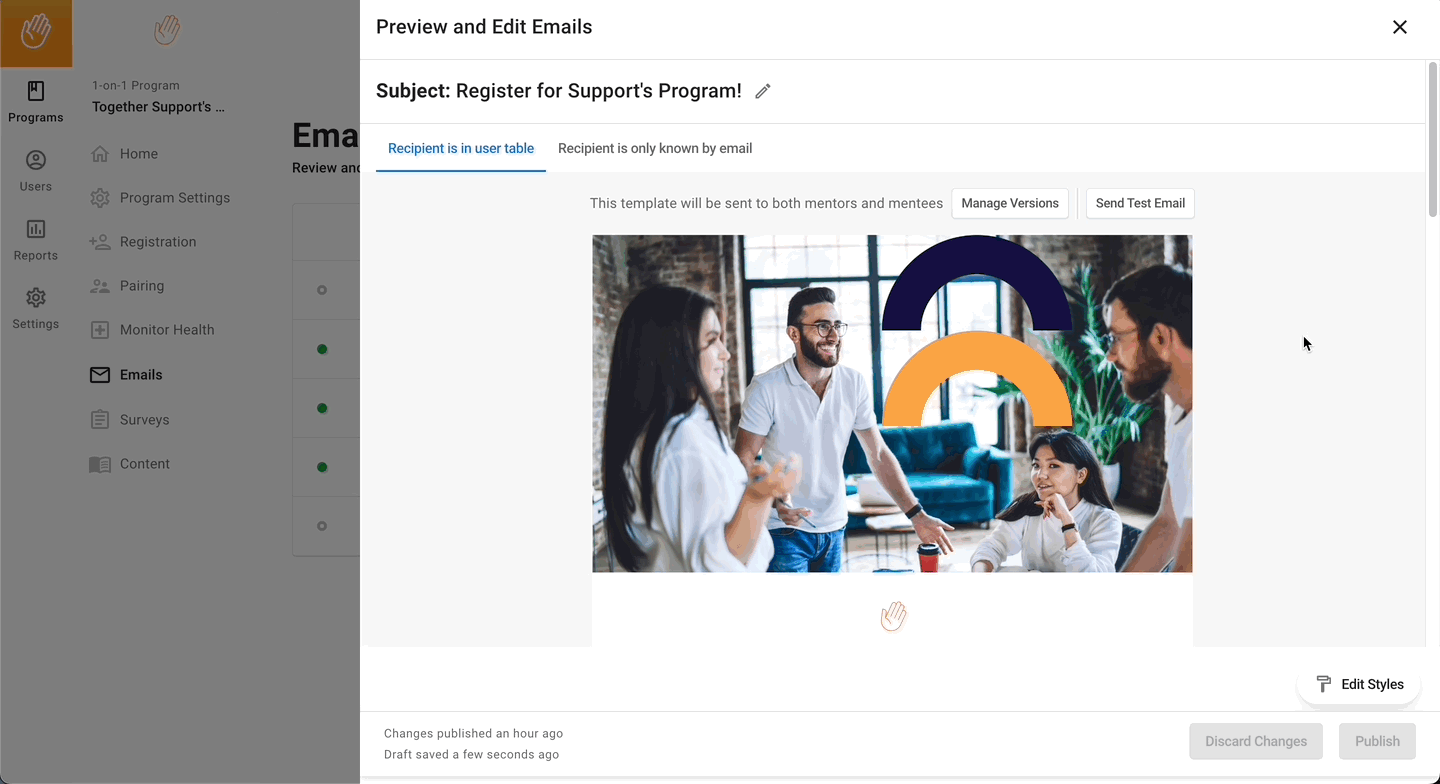 You may also include custom variables within your emails as well, such as a user's first name, the organization name, the program name, etc. To include a variable within your email, when drafting your email and in the text editor, click on Insert Custom.
From the dropdown that appears, you will be able to select the custom variable you would like to display. In my case, I have chosen the email recipient's first name and used our organization name within the header of this email.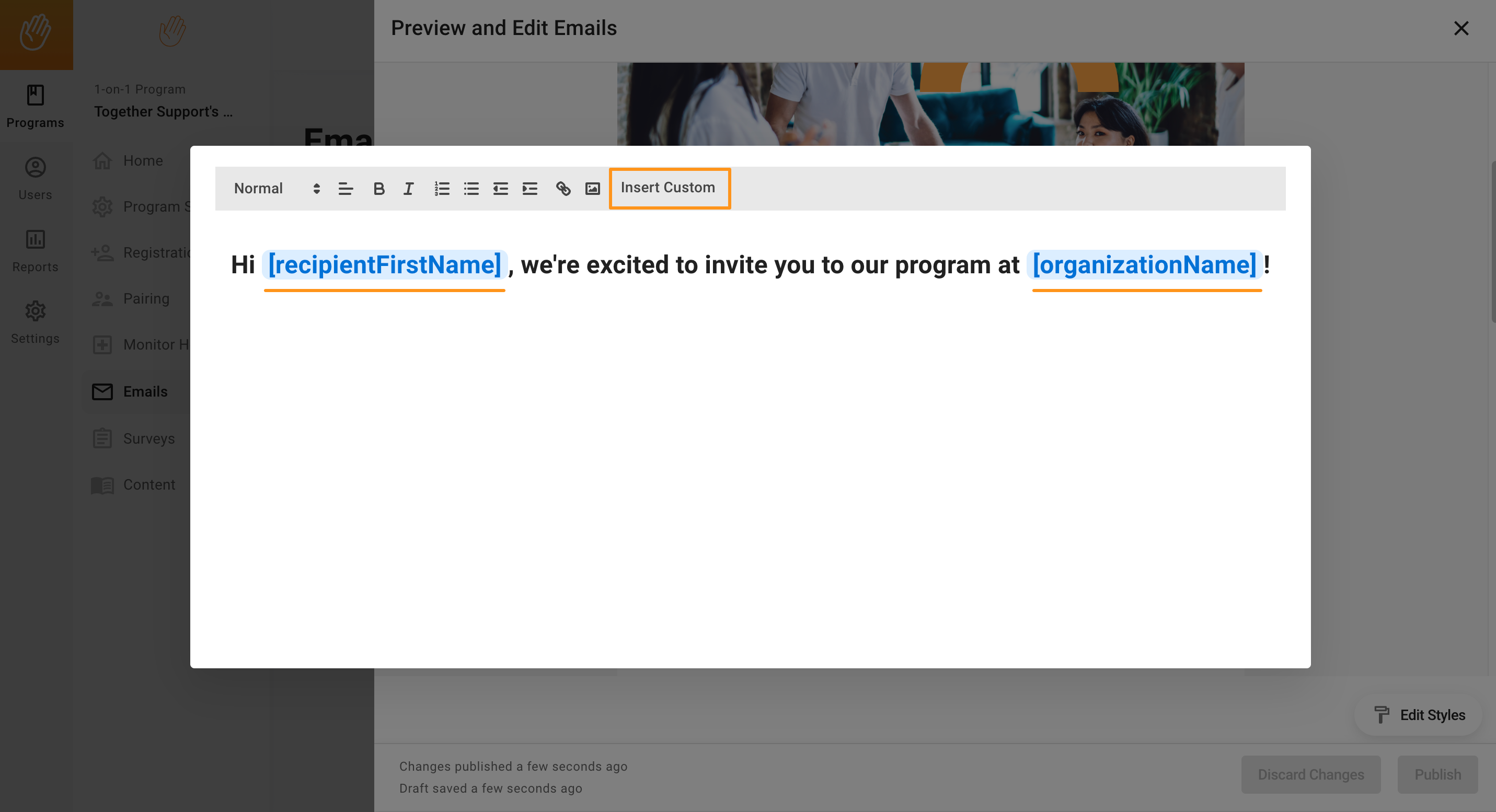 Once you have finalized the rest of the text for this you can click outside of the text editor. Now you can see here what this will look like, in my case, the recipient's name is "Keagan", and my organization's name is "Together CS Space":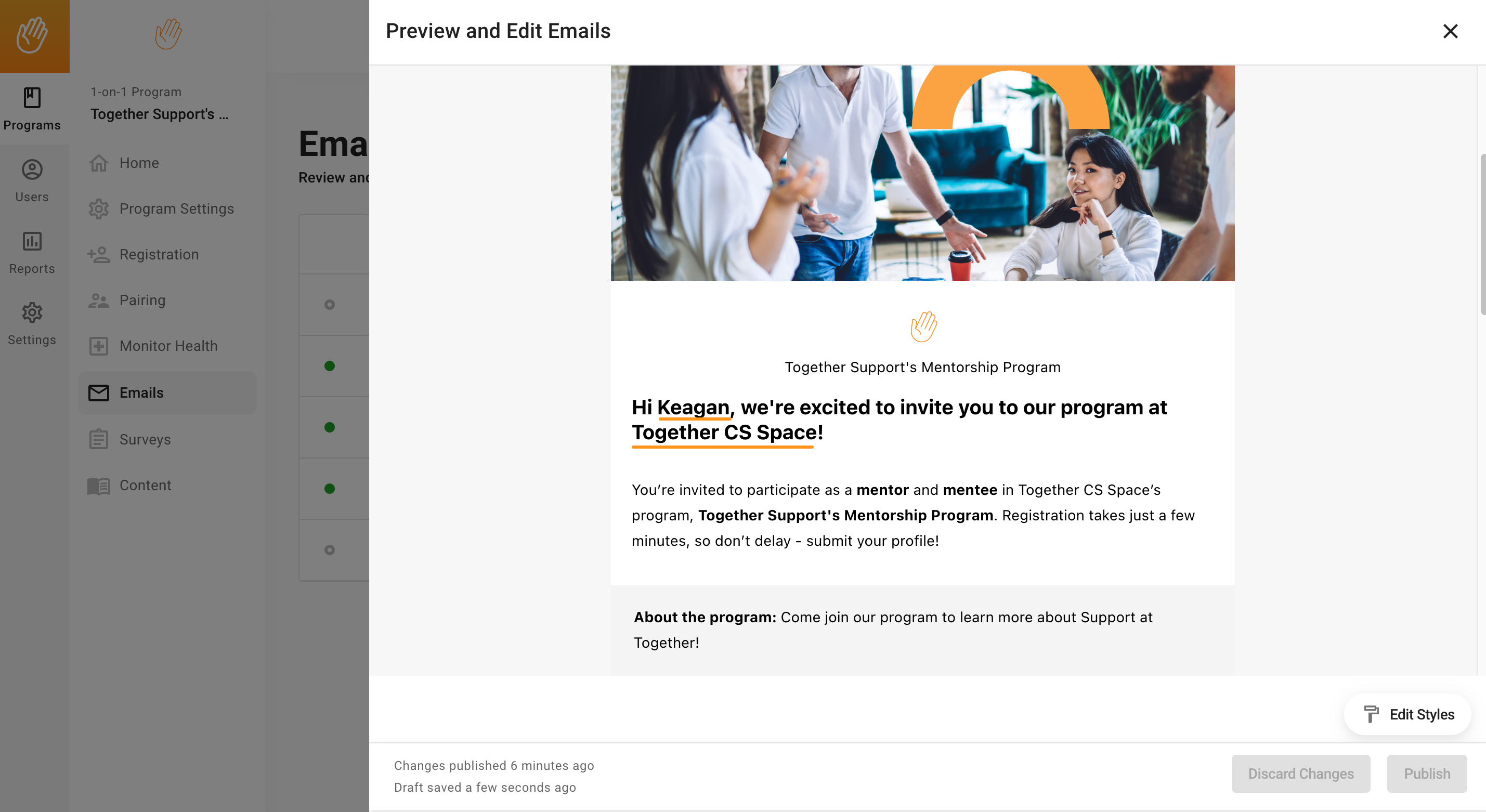 Editing Styles:
The last step in reviewing an email template is to edit the style. To begin, click the Edit Styles (

) button near the bottom right corner: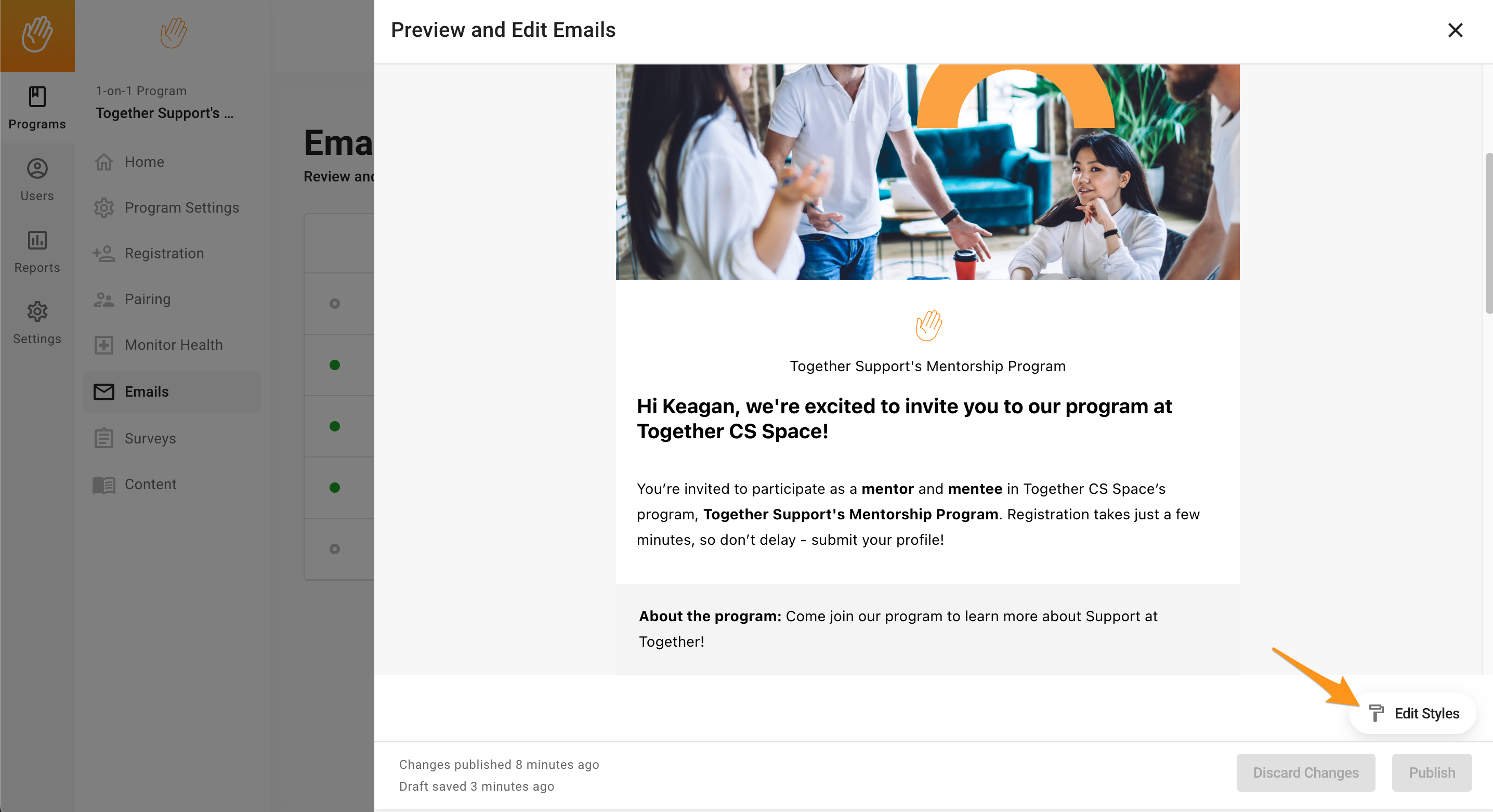 This will allow you to set both your Call-to-action button and your header to be either your primary color, secondary color, or black, as defined by your organization's colors within your Settings page. After selecting these colors, be sure to click the Save button to see these changes reflected in your Emails.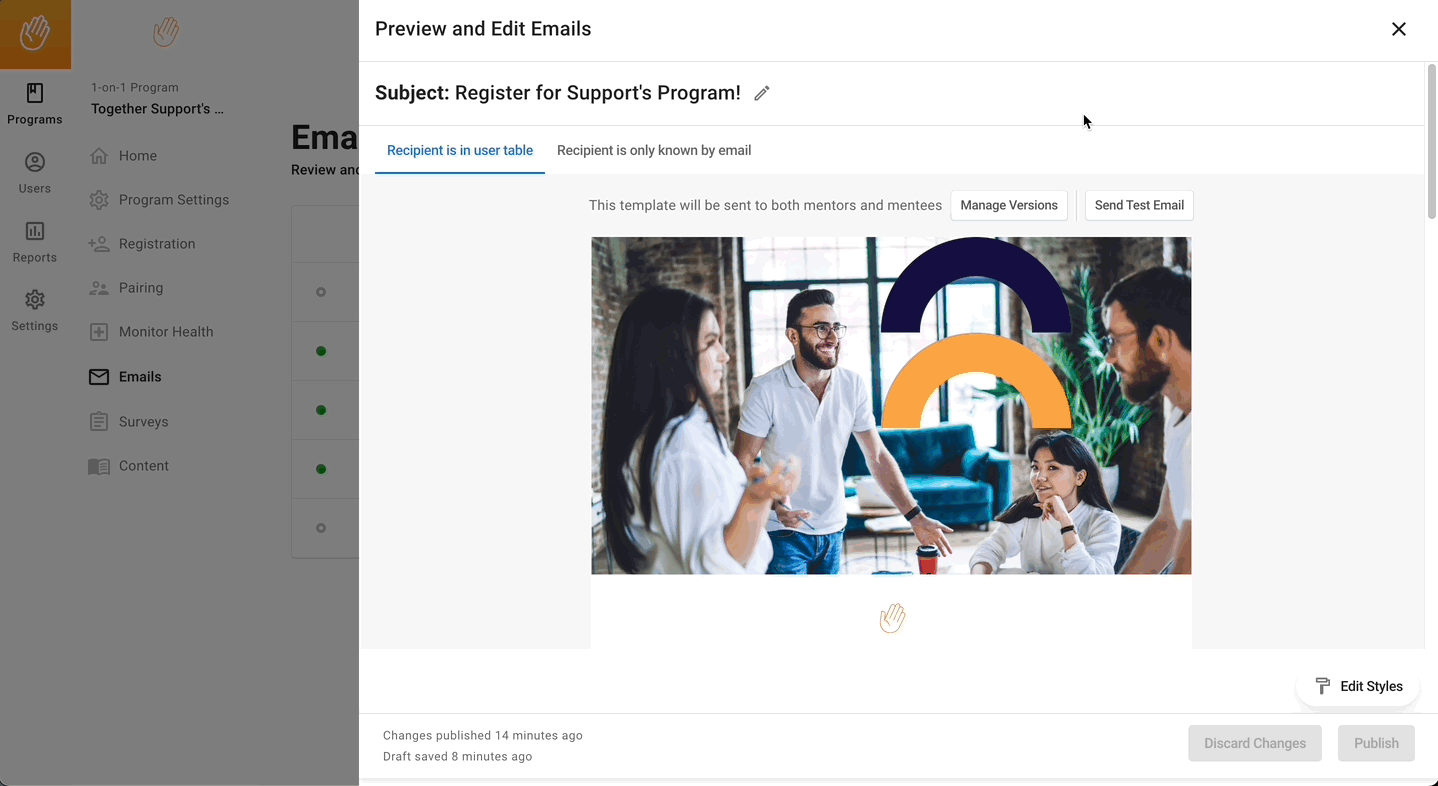 Once you have each of your email templates how you would like them, you can head back to your Registration (

) page to check this step off!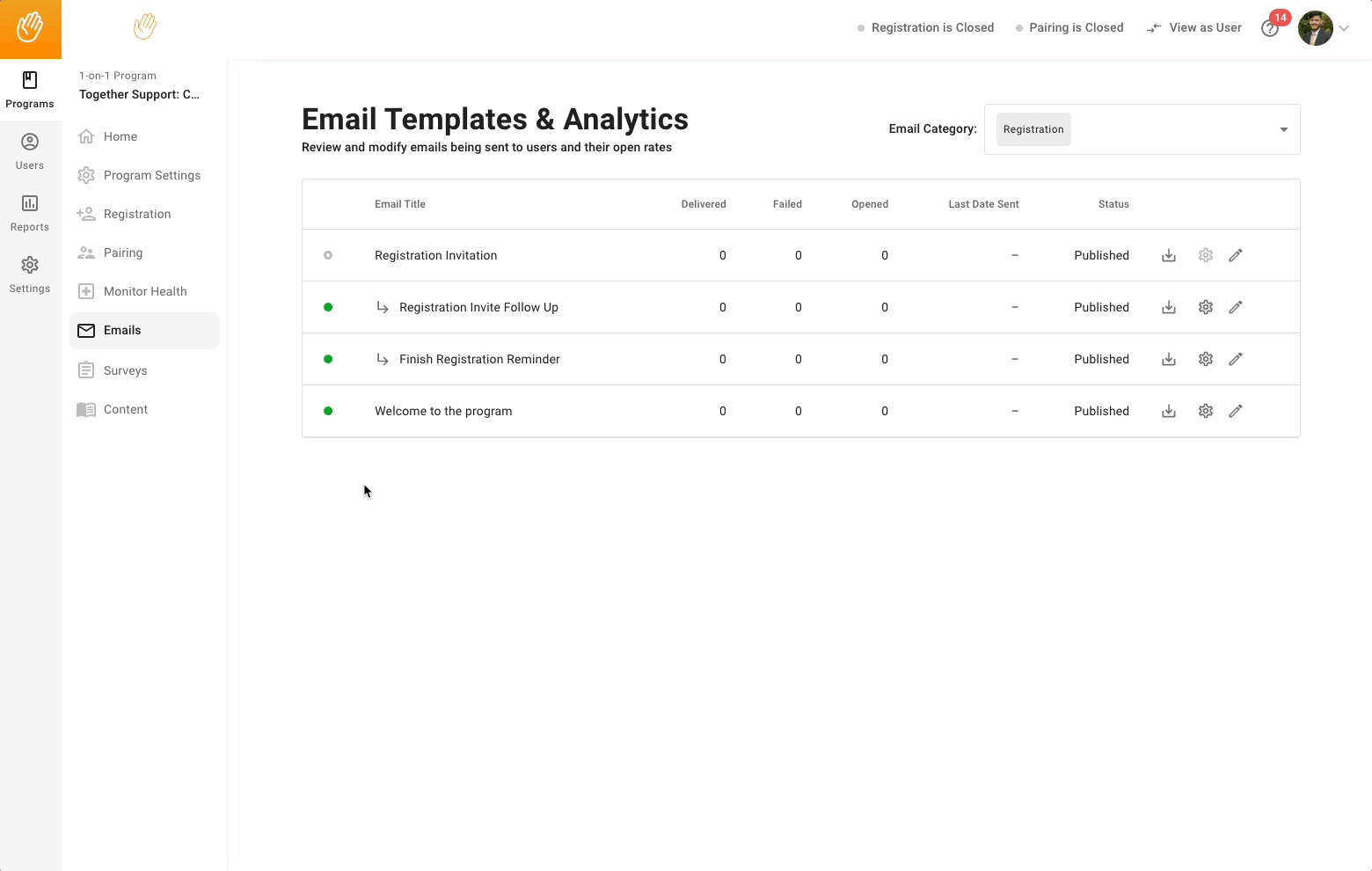 To continue building your Evergreen program, head over to Step 6 - Program Access
Have more questions? Submit a request here and let us know how we can help!
Share
Was this article helpful?
0 out of 0 found this helpful