Once you're ready to start matching, you can click the Turn on Matching button at the bottom of this list:
Note: don't worry, emails will not be sent out yet! You will have a chance to invite your users to match, we will cover this step next.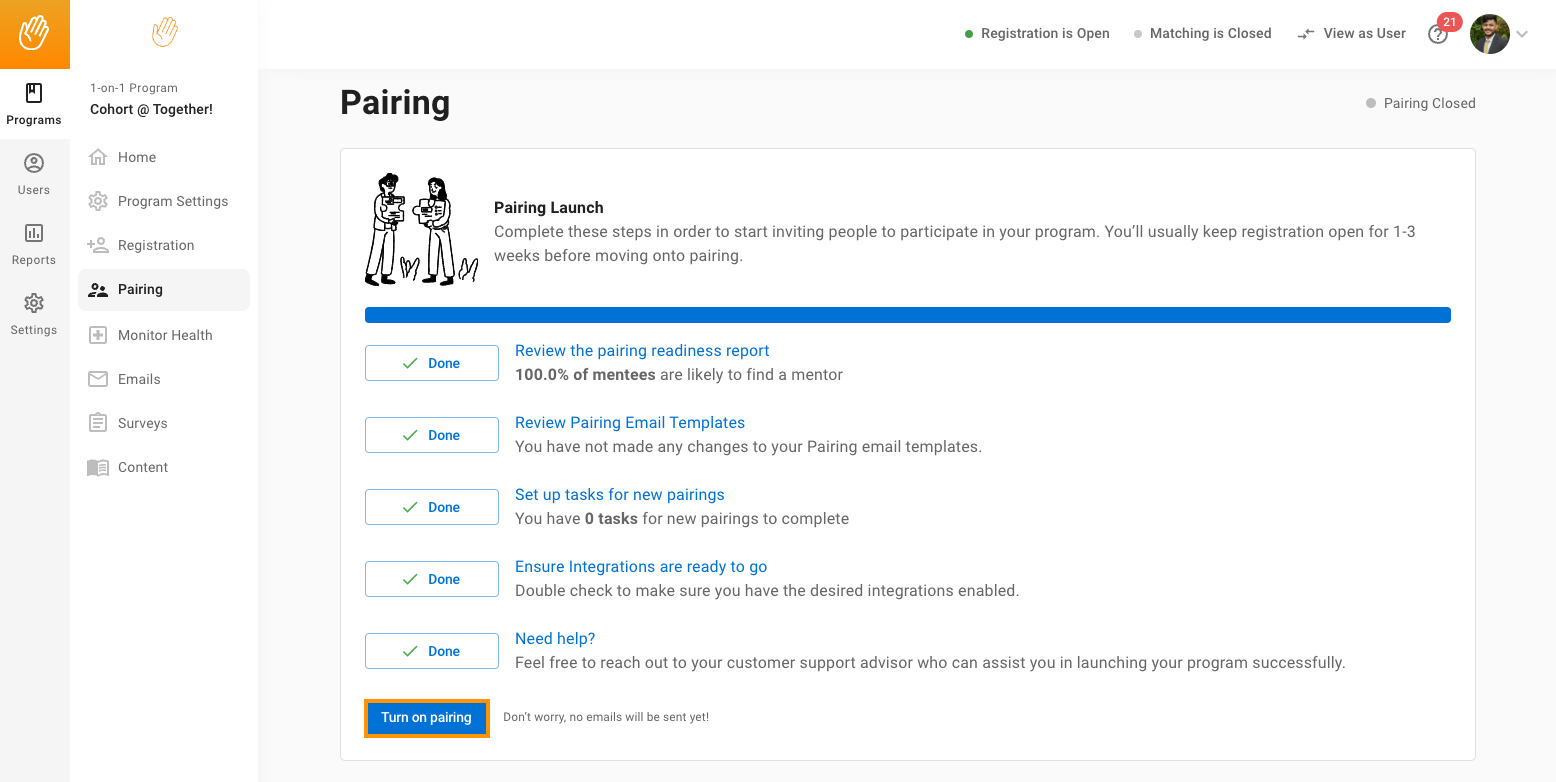 Note: The Admin-led matching process is currently only available in Cohort programs.
With matching enabled, the next step is to invite your users to match. Once you turn matching on, you should be automatically taken to your Unpaired Mentees table. If you need to access this later on, you can always do so by clicking on the Unpaired Mentees tab under your Matching Funnel: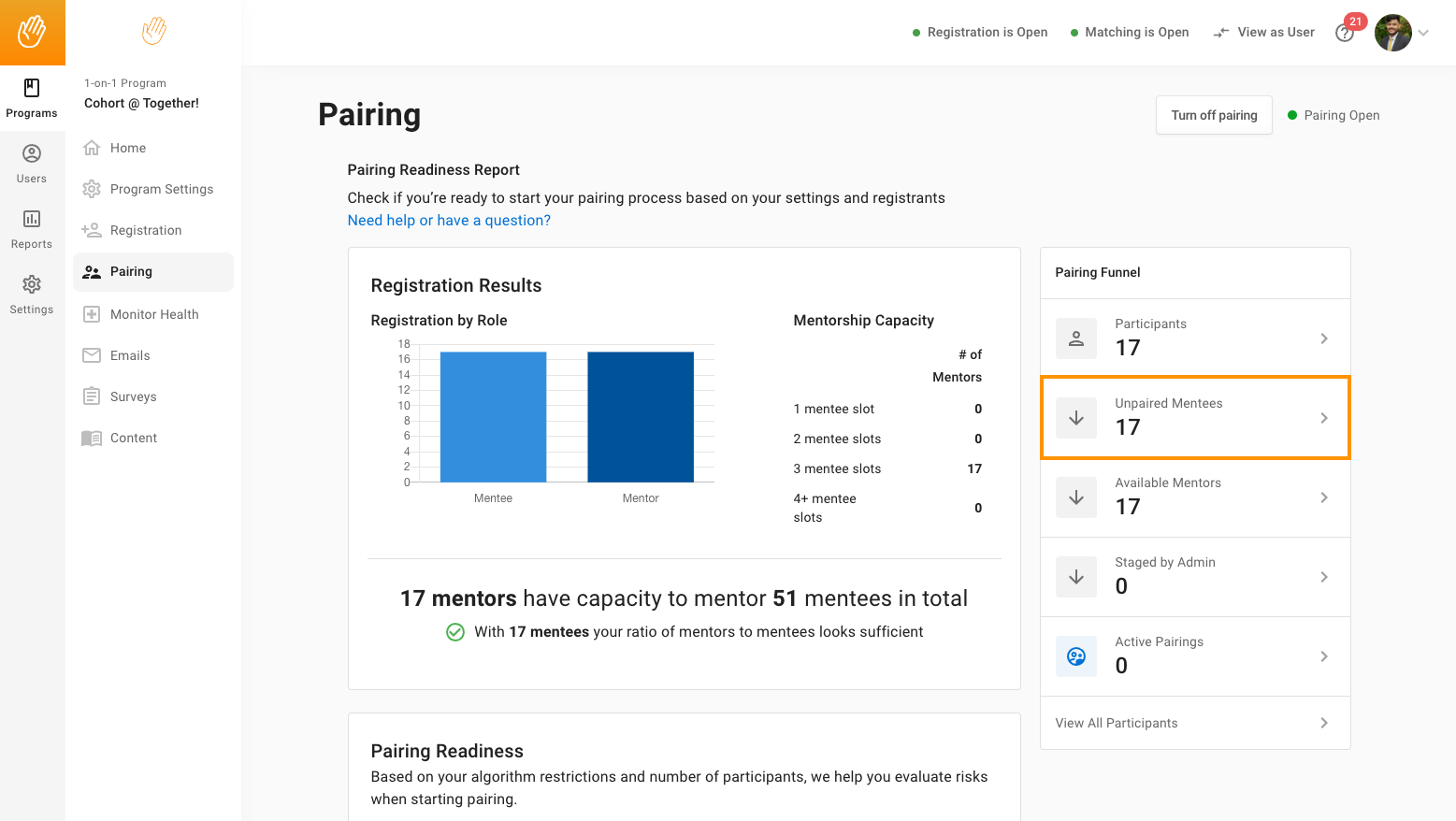 From the unpaired mentee's table, you can select the mentee you would like to match: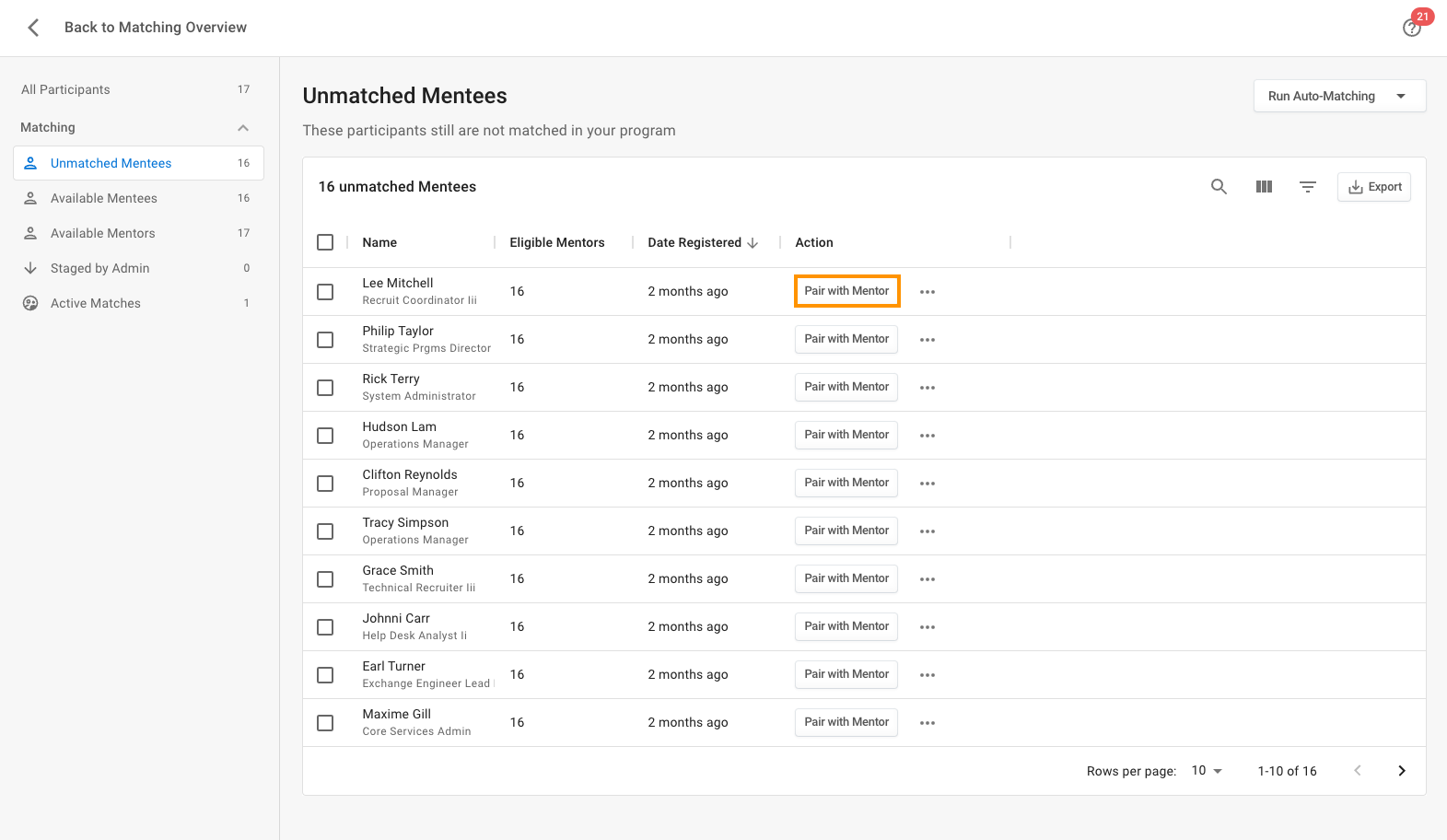 For example, I'm going to match Joey with a mentor. To do so, click the Match with Mentor button beside the mentees' name:
Once you click the button, a page will pop up with a list of potential mentors that you could match the mentee with. Once you find the right mentor, click on their profile. From here, you can either Assign the matching to Staged Matches or to Active Matches.
Staged Matches: these are matches that you have created between a mentor and mentee, but haven't sent to be live/active yet. When you assign a staged matching here, no emails are sent yet, you will still need to send this matching to Active after Staging it.
Active Matches: these are matches that you have created and are now live. Once you do this, both the mentee and mentor will be notified via email that you have matched them together.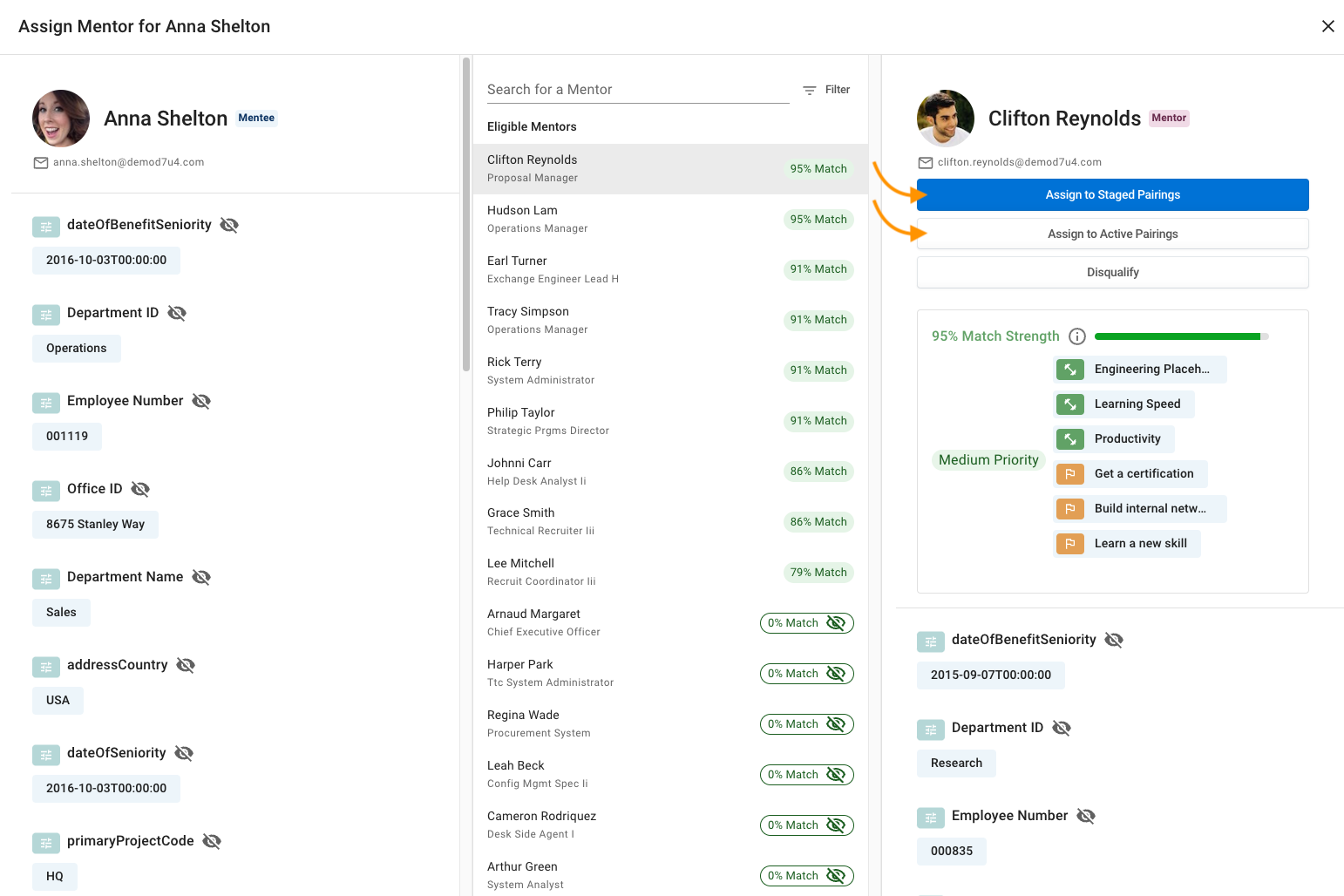 To demonstrate, I will set this matching to Staged first, then to Active after. First, I click the Assign to Staged Matches button. Now, under the Staged by Admin tab, you will see this new matching:

Here you can either Approve or Discard the matching. If you have staged multiple matches, you can quickly click the Discard All or Approve All button at the top of the table to apply the same action to all staged matches.
If you would like to approve or discard individually staged matches, click the

or
to approve or discard the matching respectively. Once you click Approve, you will see a pop-up to confirm this action before the matching notification is sent to the mentee and mentor: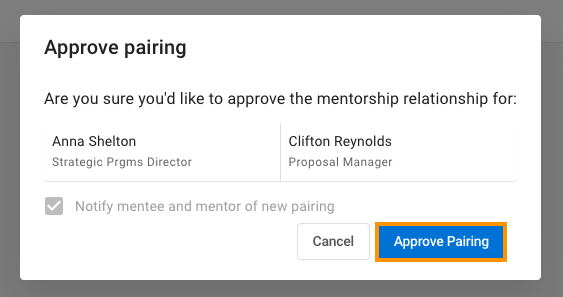 Once I approve this matching, you will see it listed under the Active Matches tab here:

For administrators who would like our algorithm to create matches automatically, we suggest you take advantage of our Auto-Matching feature. To use Auto-Matching, click on the Run Auto-Matching button under either the Unpaired Mentees or Available Mentees tab(s):

Once you click this button, you will see an option to Send to admin approval (staged). Clicking on this option will open a prompt informing you that the system will Stage optimal matches based on the matching algorithm you created. Click the Auto-match with admin approval button to continue.

Important: none of these matches will be live once you run Auto-Matching, you will have to go into the Staged by Admin tab and approve these matches before any of the matches go live, similar to how you would if you manually staged matches yourself: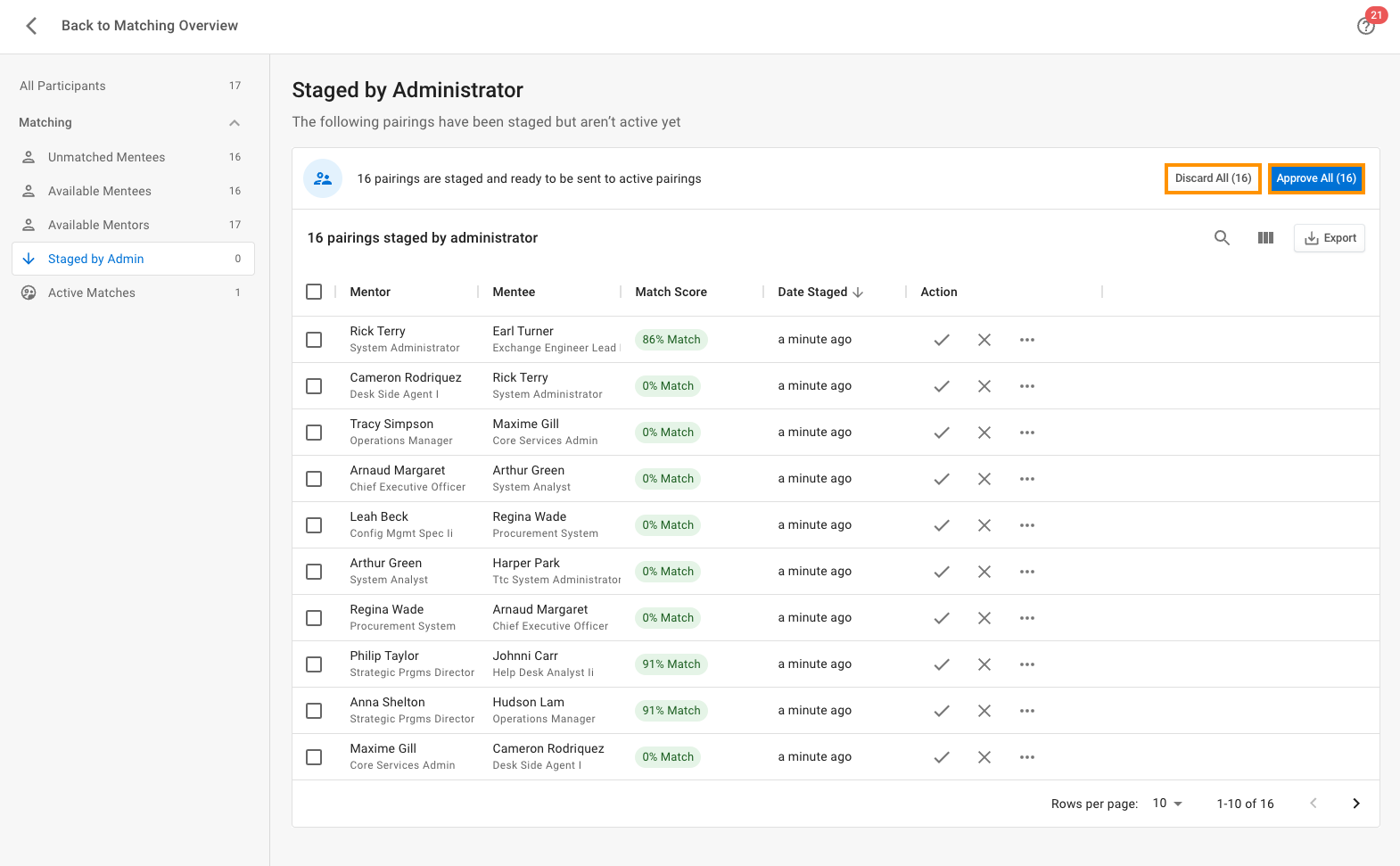 Pro Tip: Click the Export button to download the matches. You can share this with others in your organization to get approval or feedback before you activate matches.
The last step in your matching launch is to periodically monitor how matching is going. To do so, you can check in on the Active Matches section:

You may also end matches at any time by clicking on the 3 dots beside the matching, and clicking End Matching. If you ever need to view the data in this table in another program, try leveraging our Export feature where you can download a full list of your active matches.
We highly recommend you check out our Monitor Health guide once you have launched matching. Here you will be able to see a number of important things, such as the number of sessions completed, active matches, and what matches might need a check-in among others:
Have more questions? Submit a request here and let us know how we can help!
Share
Was this article helpful?
0 out of 0 found this helpful