As administrators, you often need to migrate participants from one program to another. Whether it's for strategic reshuffling, user requests, or program alterations, our mentorship software is designed to make this process smooth and efficient. Here, we will guide you through the steps to successfully migrate single or multiple users between programs.
To begin participant migration, head to the Users section. From here you can select a single user or multiple users based on your requirements: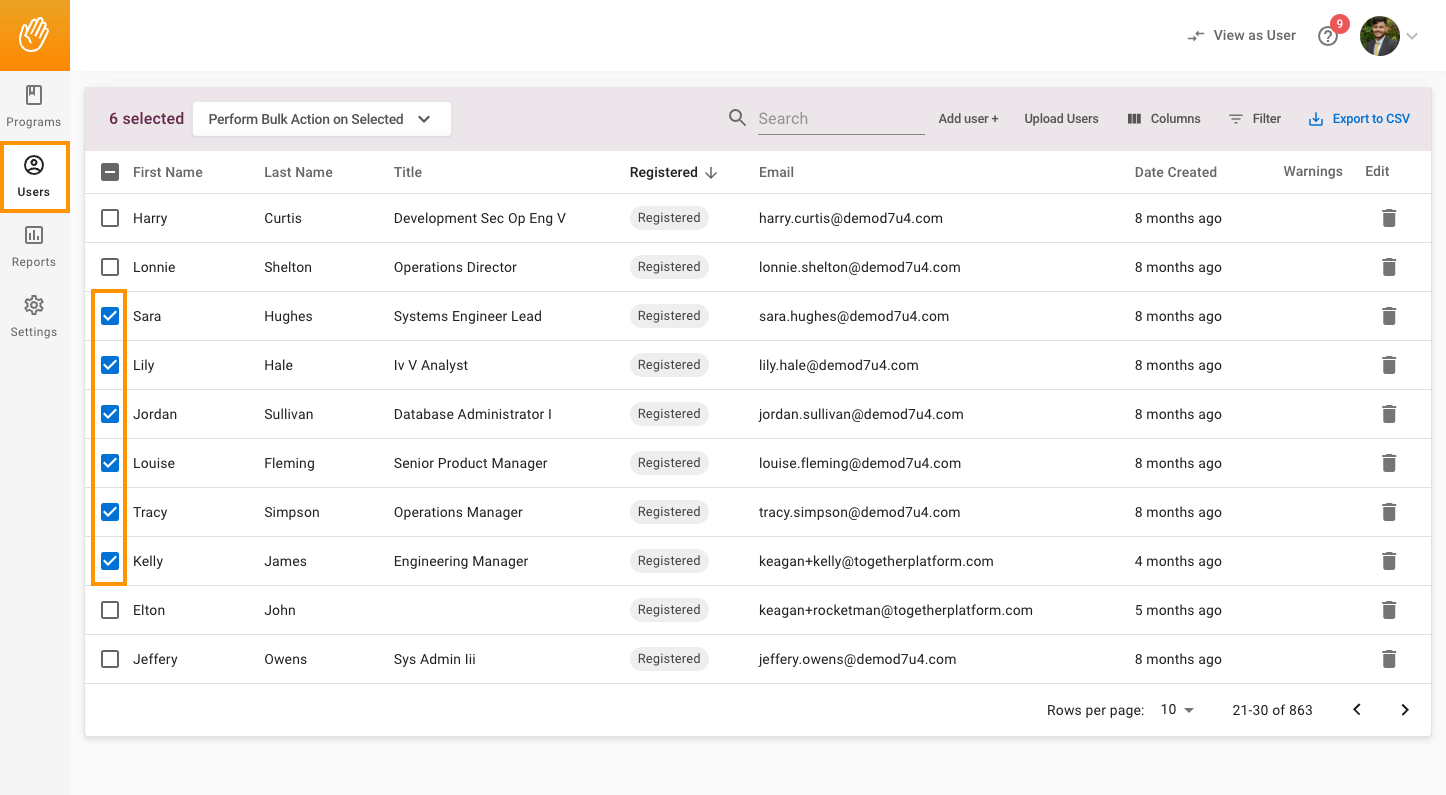 Once you have selected the participants you wish to migrate, click the Perform Bulk Action on Selected button. Here, you will have 3 choices for migration, Add to program as mentor, Add to program as mentee, and Add to program as both mentee and mentor.
In my case, I will select Add to program as both mentee and mentor. On this page, you can choose the program you wish to migrate the selected users to and click the Next button:

On the Review users with issues page, you will be notified of any errors that may be caused due to the questions & algorithm setup or program access settings. These errors may be related to matching rules and strengths and types of roles available in the program (only mentor, only mentee, can be both mentee or mentor):
No errors displayed: if the selected users are eligible to be migrated as the selected role(s), click the Next button to proceed:

Errors displayed: in this example, the program the users are being migrated to requires users to be either a mentee or mentor and not both. Since I selected the Add to program as both mentee and mentor option, I will receive this error. In this case, I have the option to resolve this error by clicking on the Settings button located under the Resolve column. This will redirect me to the program Questions & Algorithm page, allowing me to change the Role requirements. If I do not resolve this issue, I cannot migrate the users successfully:
Once you have successfully passed the Review users with issues section, you will be asked to Review users with warnings. On this page, you will be notified of any users that do not have answers to registration questions for the program they are being migrated to. You will have the choice to either edit the questions under the Resolve column or notify the users to edit their registration questionnaire responses by visiting their profiles once they have been migrated successfully. Click the Next button to proceed: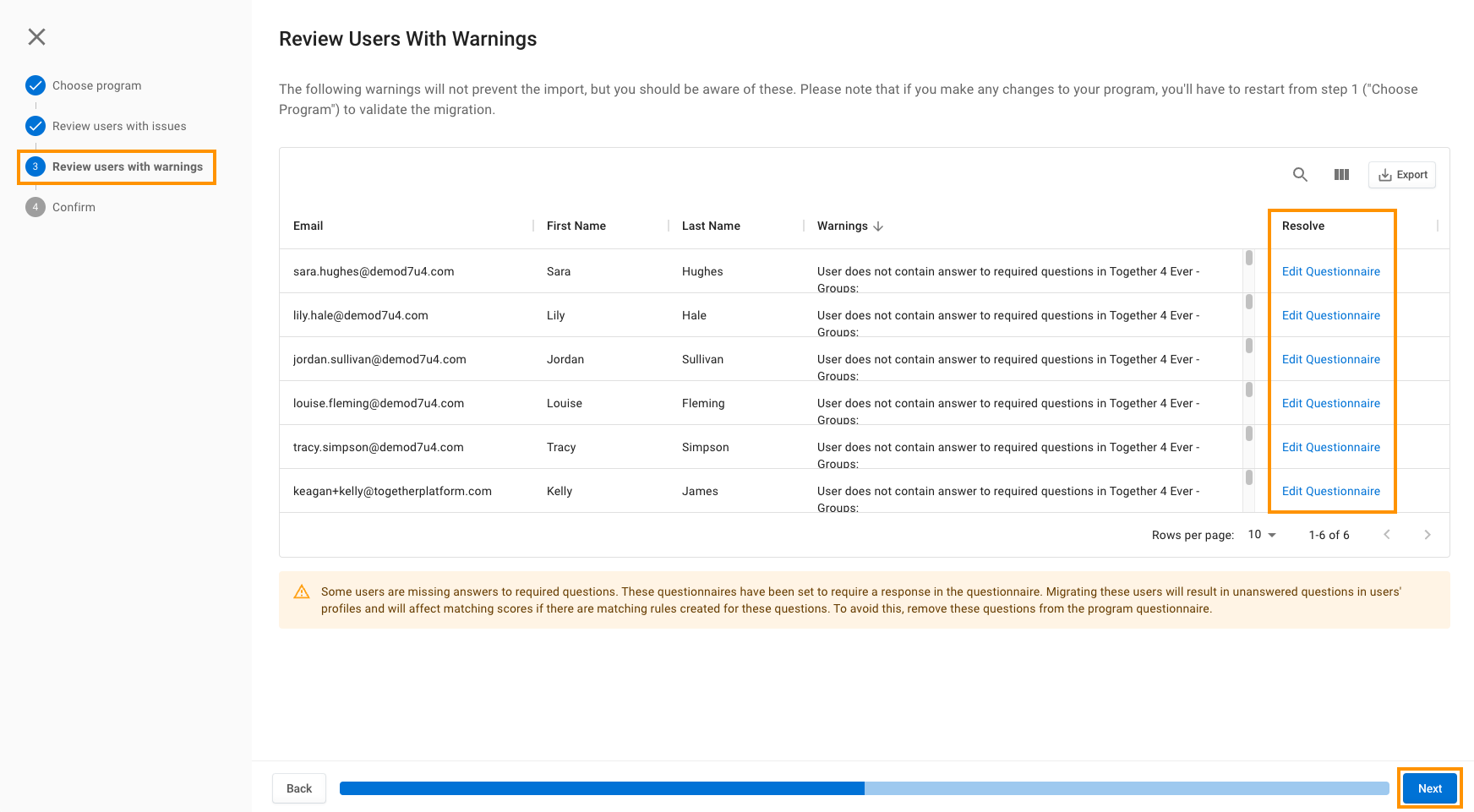 On the Confirm page, you can review the users you are about to migrate and you can also choose to send registration emails to participants if you wish. These emails will include the Welcome To The Program and Submit Your Mentor Preferences emails. Click the Finish button to complete the migration process: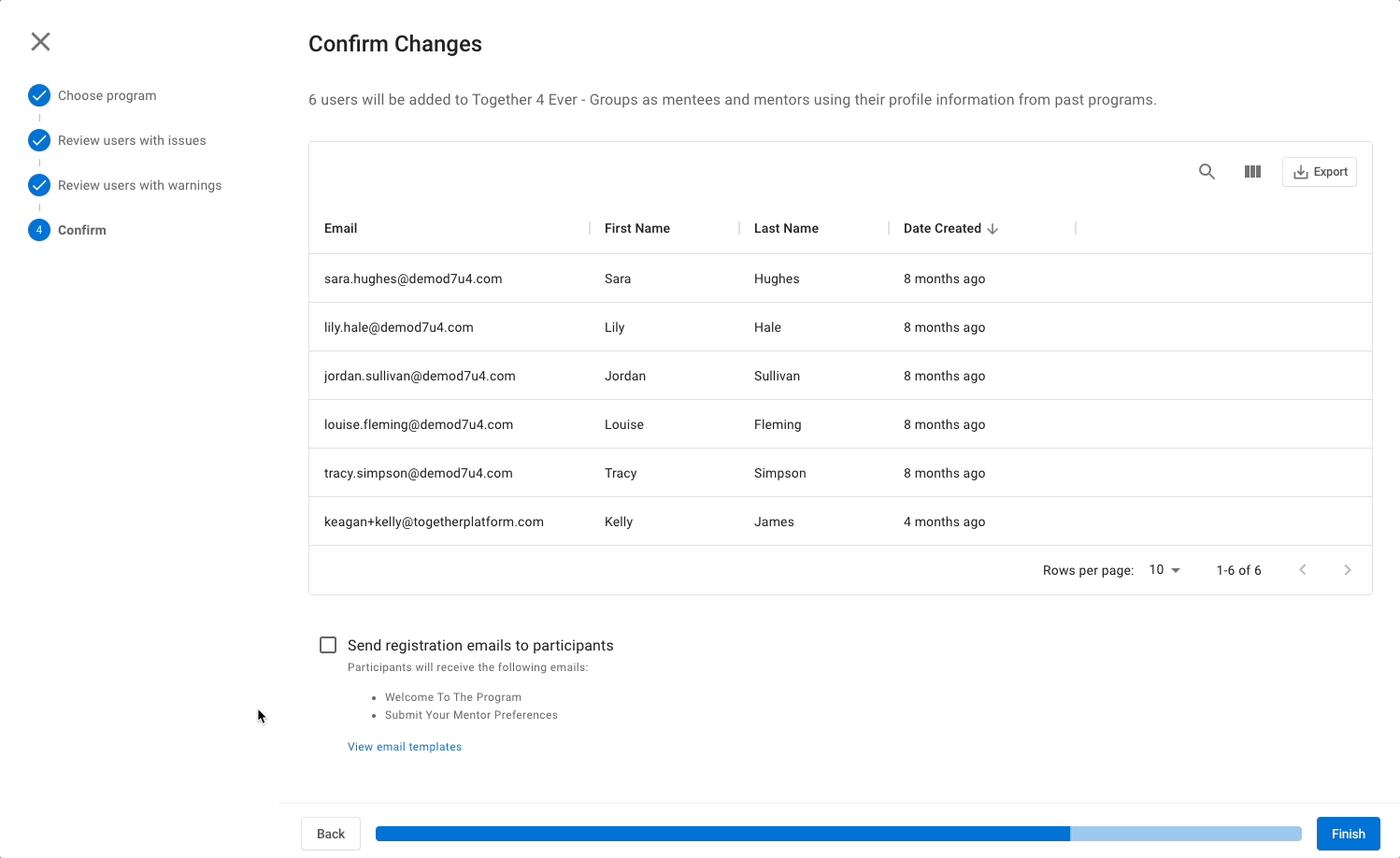 Note: the time to migrate users may vary based on the number of users being migrated.
Have more questions? Submit a request here and let us know how we can help!
Share
Was this article helpful?
0 out of 0 found this helpful