What are Organization-Wide Fields?
Organization-Wide Fields (Org-Wide Fields) bring an update to capturing user information. Admins can import details or gather them during user onboarding. These details are then shared across all programs, eliminating repetitive data entry on the user side and creating multiple questions on the admin side.
Included in this section is a list of pre-set default fields accompanied by a DEFAULT tag, including essential user information such as First Name, Last Name, and Email. These default options are the core components of the standard user information that constitutes user profiles across the platform and is filled by all users when they join Together!
Note: These fields apply to both Mentors and Mentees and cannot be customized for just one type of participant or role.
Why It Matters:
Simplified Data Handling: No more filling in the same info repeatedly. Organization-Wide Fields simplify onboarding and keep important insights at your fingertips.
Efficiency Through Reuse: Say goodbye to repeatedly rewriting answers and filling out basic information

again and again

. User responses and data can be recycled, saving time and maintaining uniformity.
Unified User Management: Creating better interactions and data control with one central set of user information.
How to access Organization-Wide Fields
You can start by logging in to your Together Account and selecting your program. From here, you can click on the Program Settings section. Once there, click on Questions & Algorithm, this is where you will find the two new drop-down menus: Organization-Wide Fields and Program-Specific Questions: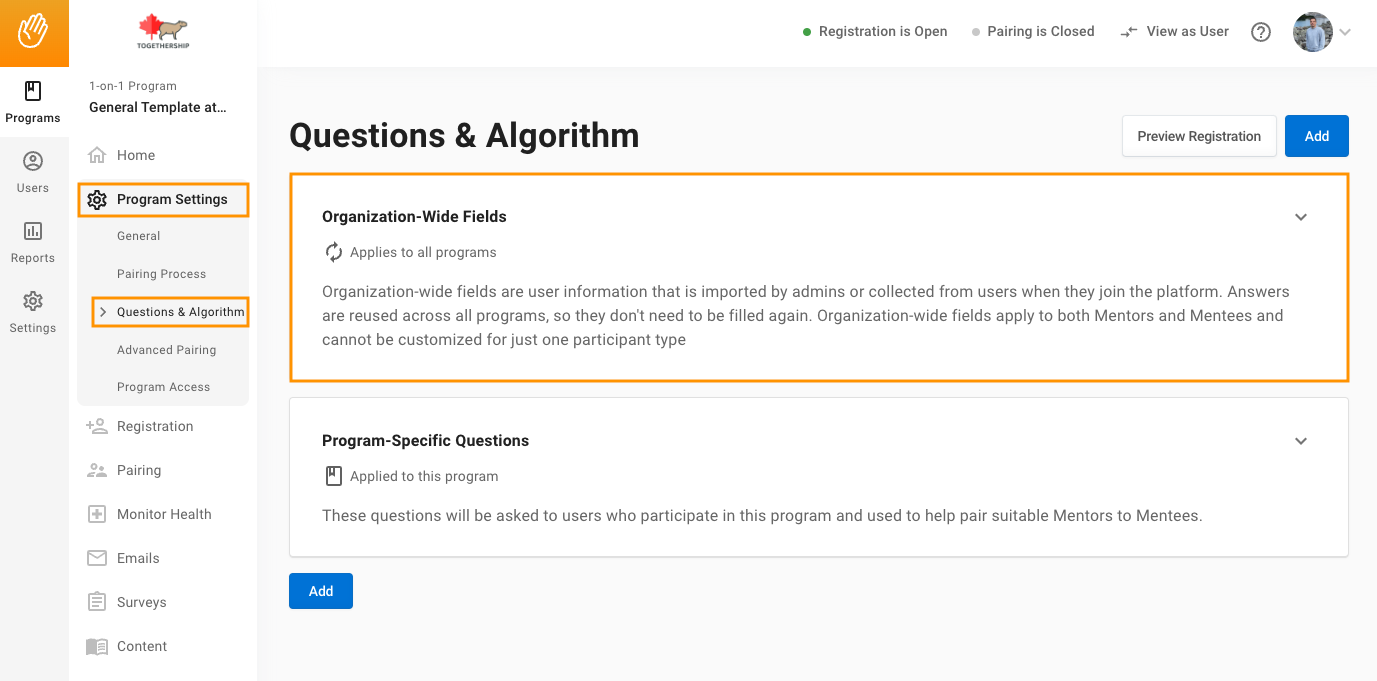 Importing Data into Organization-Wide Fields
On the Questions & Algorithm page, click the blue Add button towards the top right-hand side of the Questions & Algorithm page. This will open a menu where you will see four options: Reuse questions from another program, Import data, Add a program-specific question, and Add a organization-wide question. Click on Import Data. From here, you will be guided on how to Import User Data (Uploading via CSV or HRIS Sync):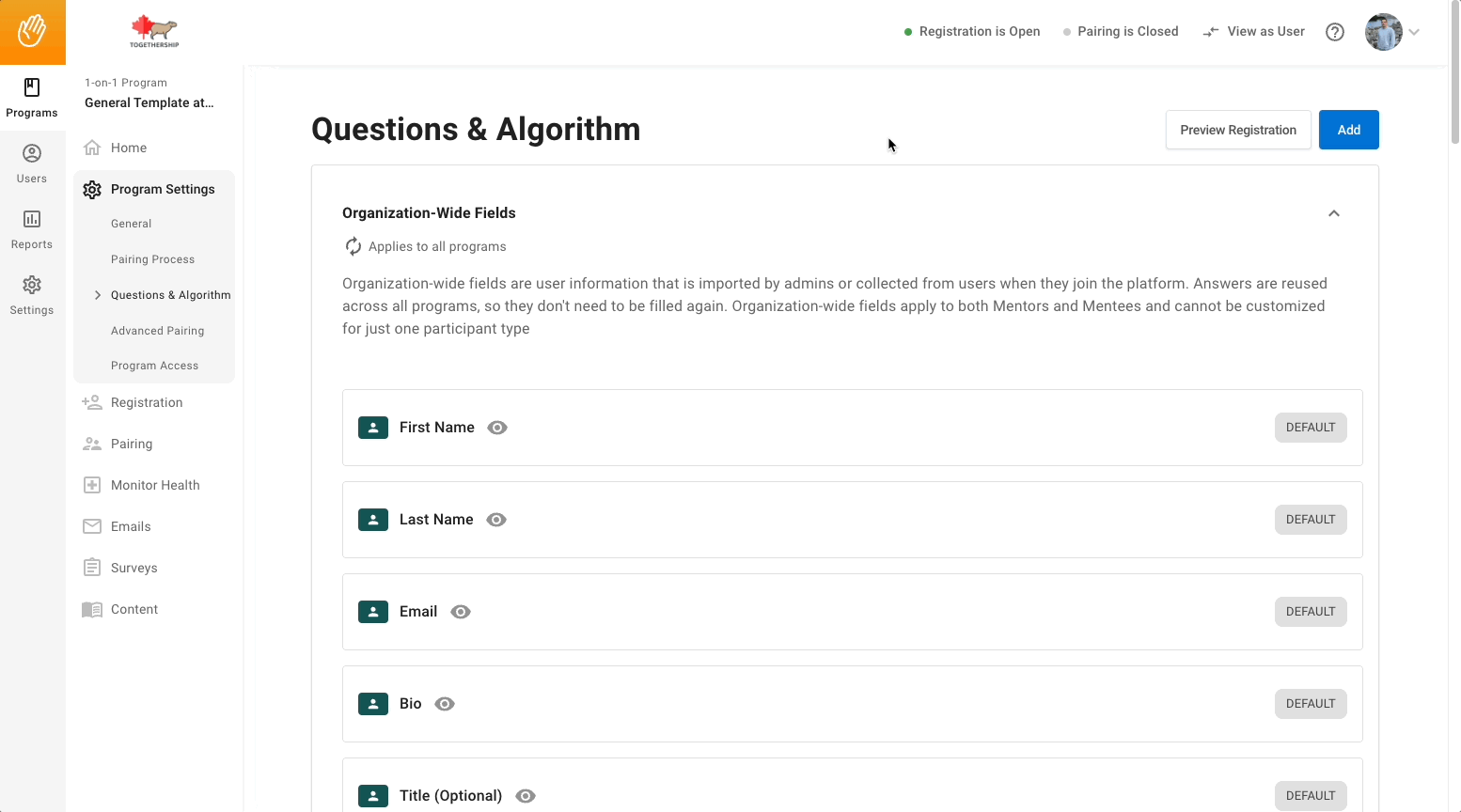 Once you have completed this process and your user data has been imported, you will see new fields created under the Org-Wide Fields menu. An IMPORTED tag will accompany these new fields:
Renaming Your Imported Fields
To rename a field, click on it and enter the new name in the text box provided. After updating the field's name, simply click anywhere on the page to save your changes: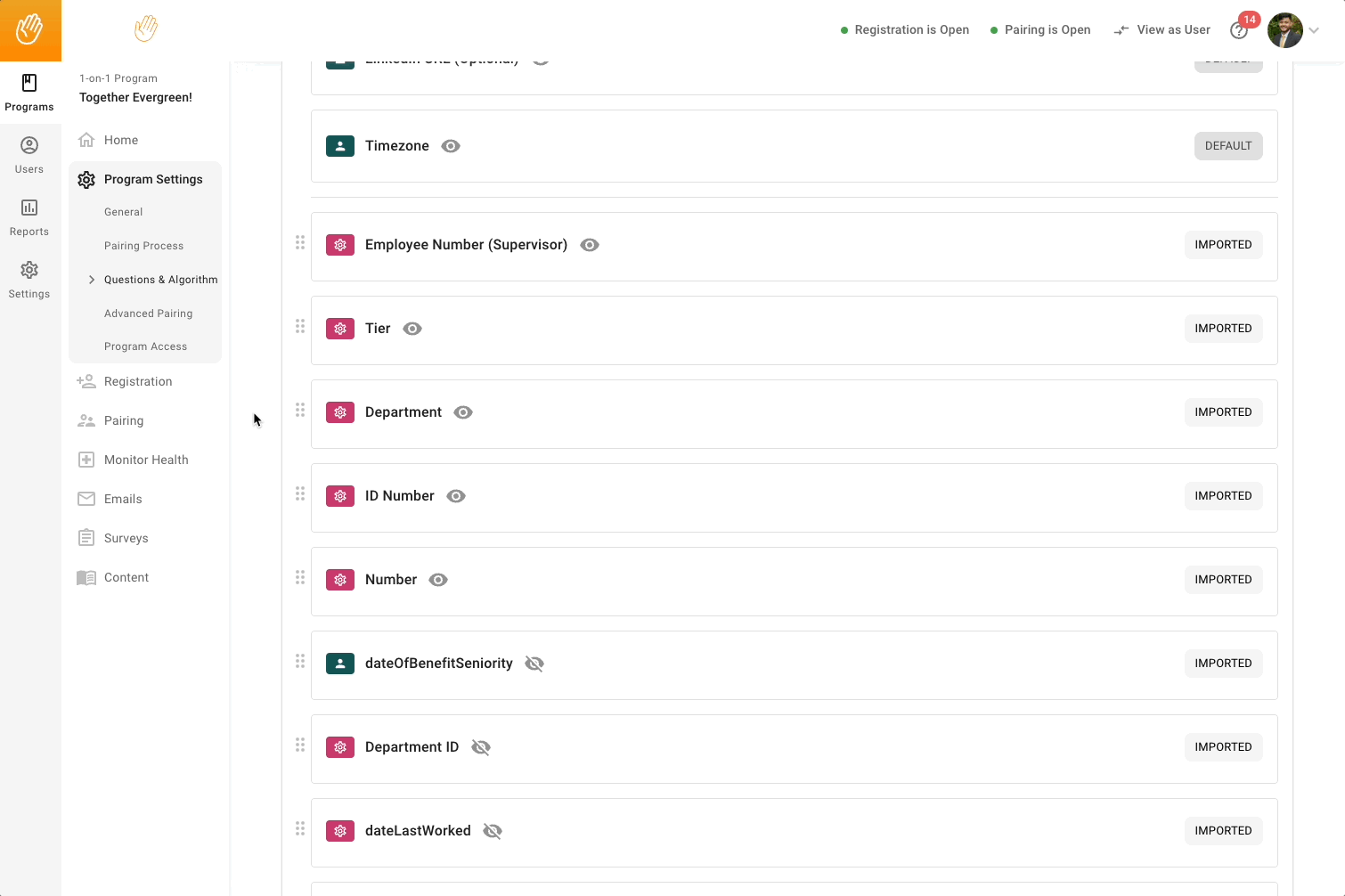 Setting Visibility For Imported Fields
To set visibility for a field, click on it followed by the Edit button. From here you will see two options under the "Who will be able to see this answer?" section:
1. Vsibible to admins only: Only admins can see and use this information.
2. Visible to everyone: Participants and admins can see this field on their profile.
Once you have made your selection, click the Finish button to save your changes: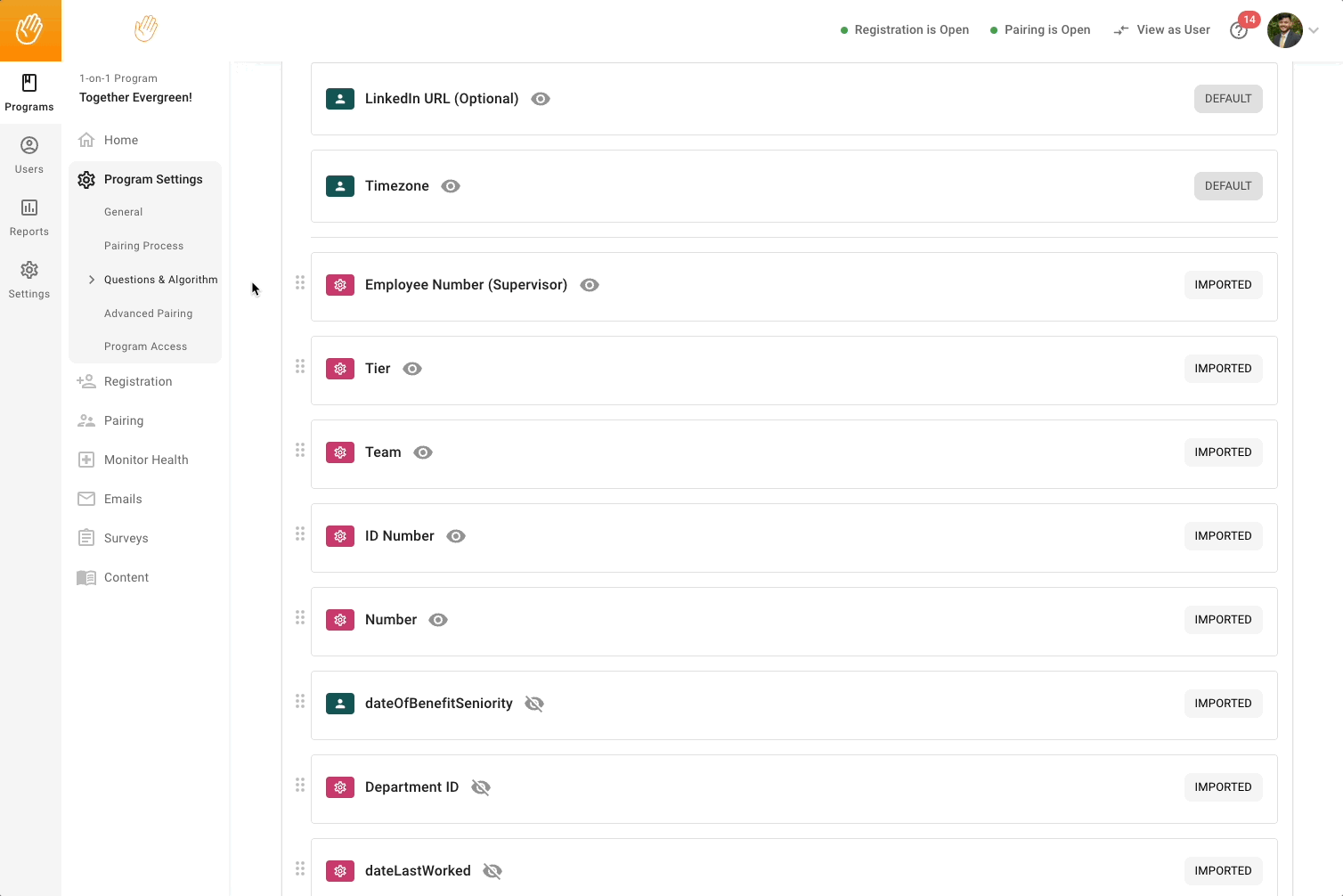 Converting Questions into Organization-Wide Fields
The process of converting existing questions into Org-Wide Questions is a breeze! Click on a non-DEFAULT field from the Program Specific Questions menu, then click on the "Convert to Organization-Wide Question" button:
You will see a pop-up appear asking you to confirm if you would like to convert your question. Click the "Convert and apply to all programs" button to complete the process: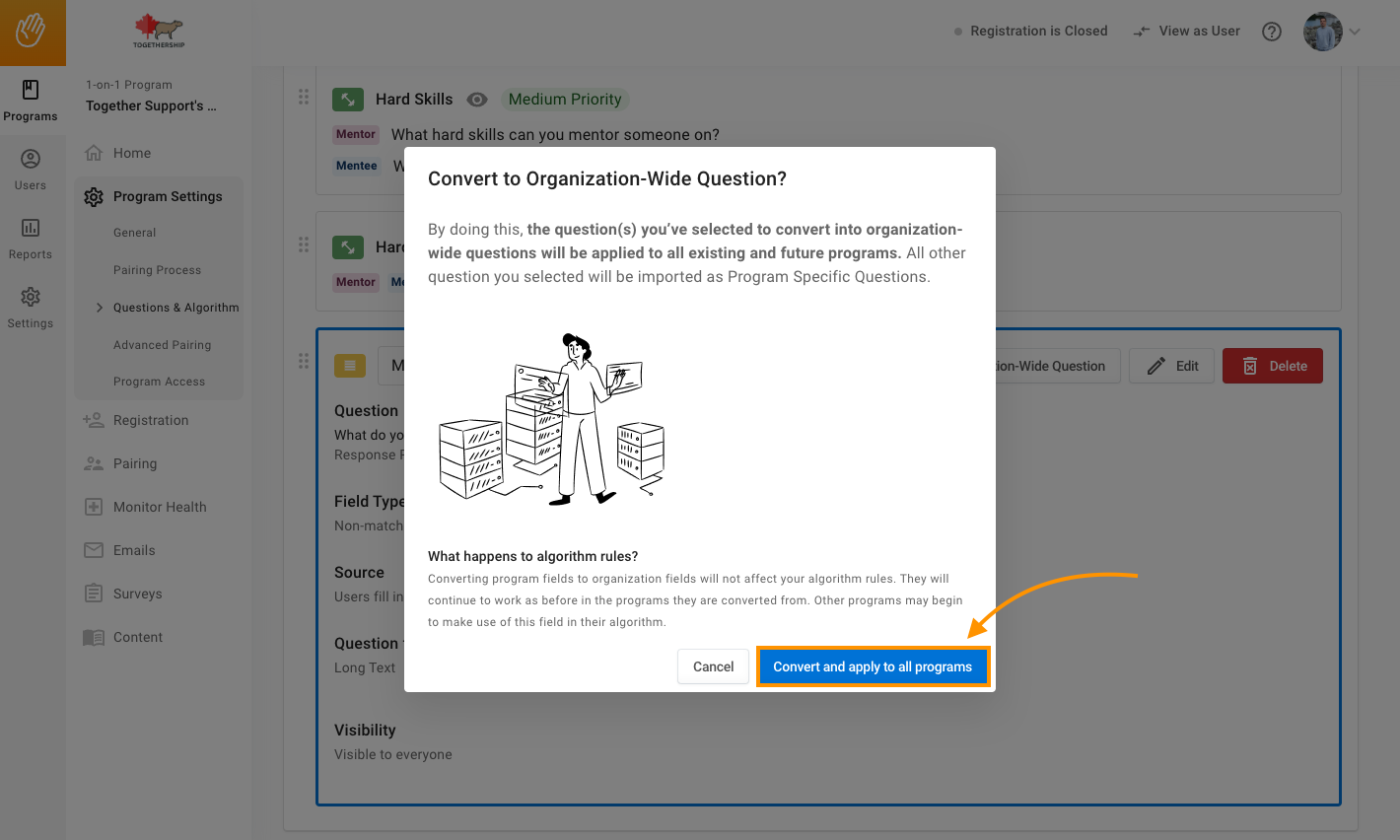 Once your question has been converted, it will appear in the Organization-Wide Fields drop-down menu!
Have more questions? Submit a request here and let us know how we can help!
Share
Was this article helpful?
0 out of 0 found this helpful