Staying informed about important updates and reminders is crucial, especially when it comes to your engagements on the Together Platform. In this FAQ article, we'll walk you through the steps to customize your notification preferences, ensuring you receive the information that matters most to you, in the way that suits you best.
When you sign into the Together Platform, simply head over to your "Profile" tab and then to "My Settings" to access the "Notification Preferences" section:

Types of Notifications
In the Notification Preferences section, you have the ability to customize the types of notifications you want to receive:
Essential Emails: These are mandatory and consist of critical updates related to your enrollment and pairings, such as pairing requests, agenda updates, and notes. Essential Emails are turned on by default and cannot be turned off.

Upcoming Scheduled Session Reminder: This notification serves as a reminder sent the day before a scheduled session.

Reminder to Schedule a Session: If a session hasn't been scheduled based on the recommended frequency, this notification will remind you to do so.

Agenda Updated Notification: This will inform you if the agenda for a session was edited by your pairing.

Mentorship Digest: This notification provides updates on to-dos and new program registrants. You have the option to receive the Mentorship Digest weekly, bi-weekly, or monthly.
All of these notification options are toggled on by default, but you have the flexibility to adjust them according to your preferences, with the exception of Essential Emails which are mandatory. Once you've made your selections, don't forget to click the "Save" button to ensure all your changes are stored and applied: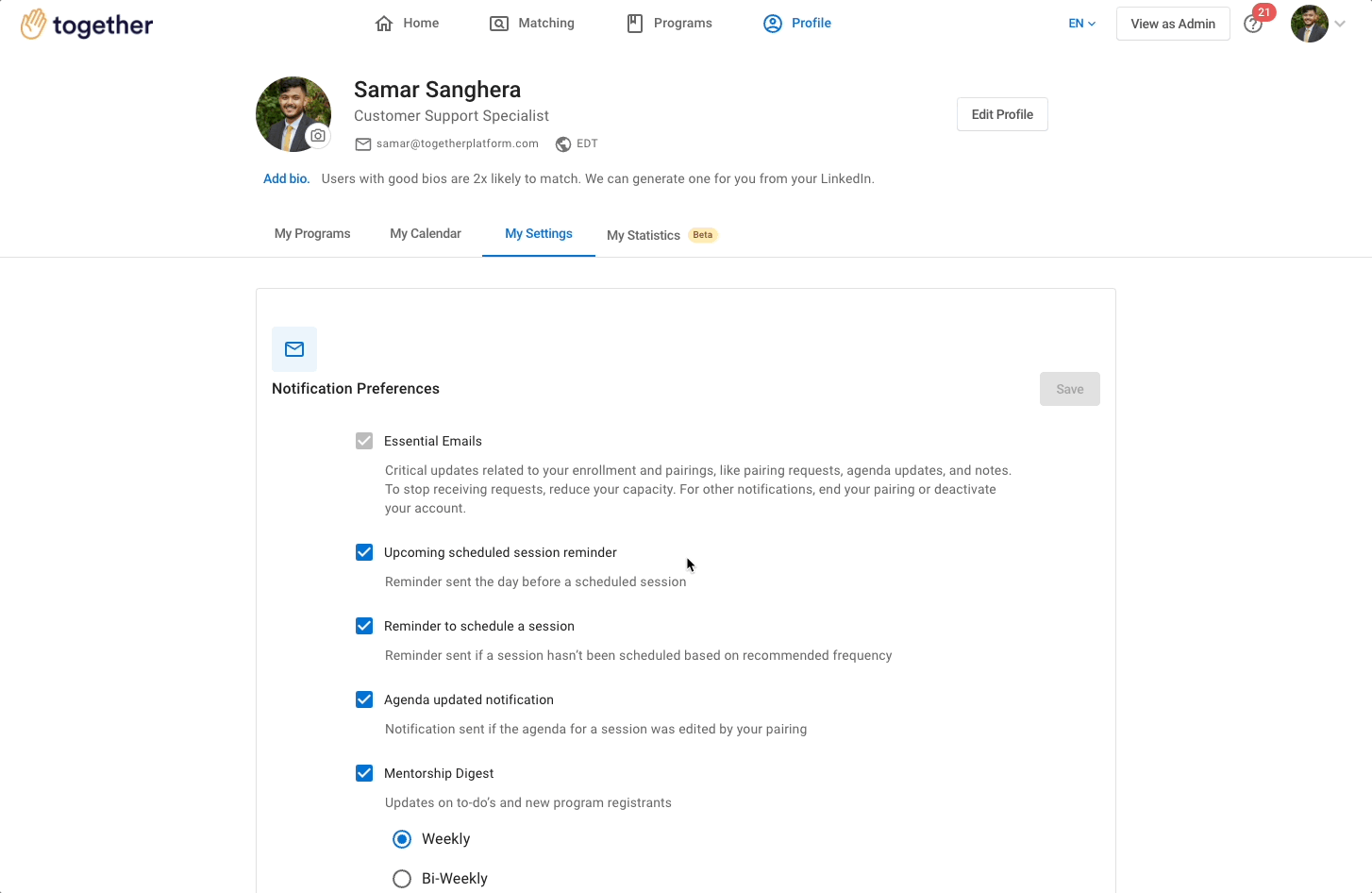 Notification Delivery
You have the option to choose how you receive your notifications, with email being the standard and default method. If Slack or Teams are integrated into your Together Platform account, these will appear as additional options for your notification delivery. All available methods are toggled on by default, but you can easily switch any of them off by unchecking the corresponding box. Again, remember to click the "Save" button to store your changes: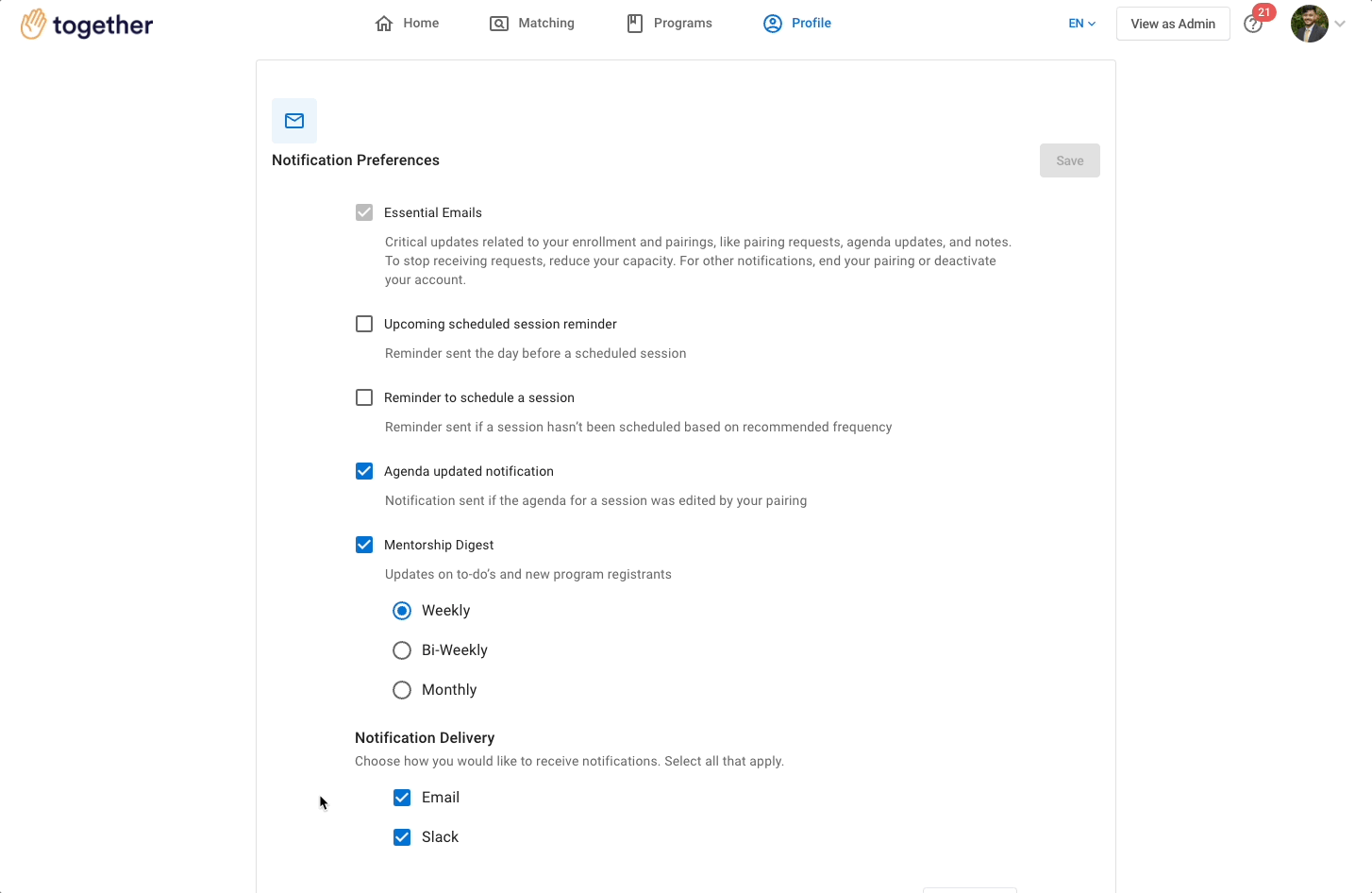 Notification Delivery Examples
Below are examples of how notifications might appear when delivered via different methods:
Email: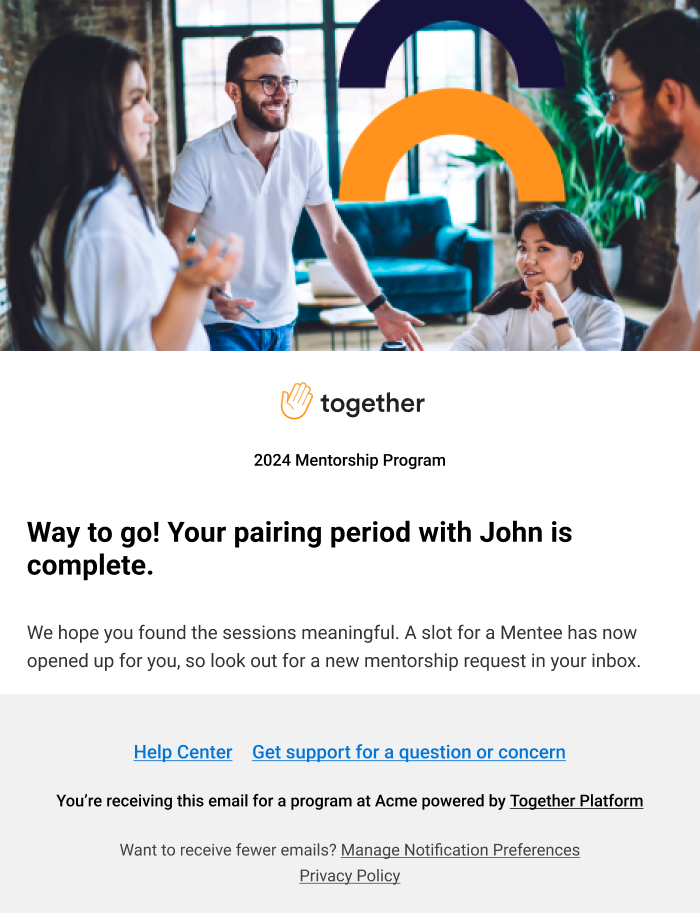 Teams:

Please note that the appearance of Slack and Teams notifications may vary based on your settings and preferences within those platforms.
Have more questions? Submit a request here and let us know how we can help!
Share
Was this article helpful?
0 out of 0 found this helpful