Mentees will partake in four key steps along their journey within the mentorship program. Check them out here in our Mentorship User Flow!: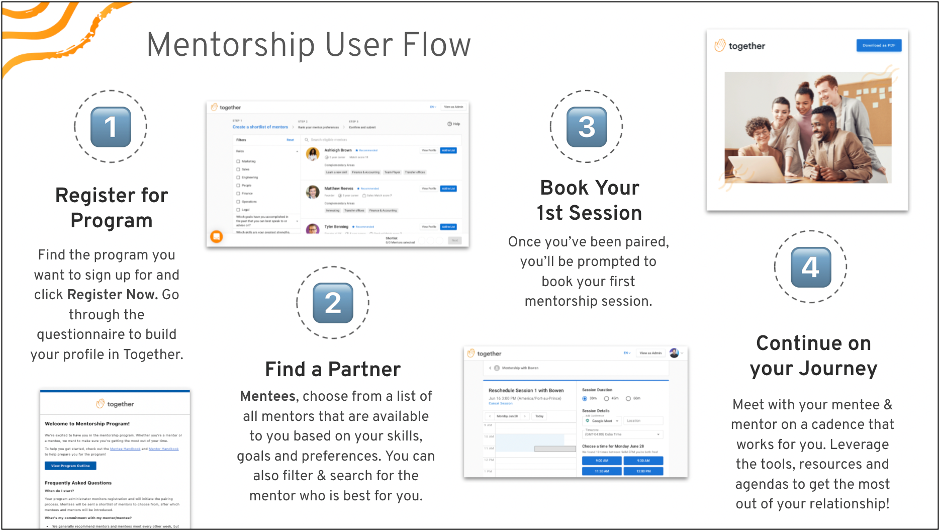 Registration
You will receive an email and/or a link to register for the mentorship program from your organization's admin. When you register, you will be asked to complete a questionnaire.
If you are a mentee, the results will recommend a number of mentors for you to choose from. If you are a mentor, after you have completed the questionnaire, you will wait for a mentee to choose you. An admin also has the option to set pairs with assistance from the algorithm on their own.
Profile & Preferences
You will be prompted to create your profile prior to answering the questionnaire. If you want to make changes, log into the platform and navigate to Profile > Edit. Additional preferences can be changed in the tabs below.

Pairing: Cohort vs Evergreen Programs
Evergreen Programs - Mentee Led (with Mentor Approval):
As a mentee, you will receive an email to prompt you to request a mentor. Once you have submitted your request, the system will send an email to the mentor you have chosen asking them to review the request and either a) approve all sessions, b) approve an introductory session only, or c) decline the request and provide a response if desired.
Here is what a request looks like from the mentor's perspective:
Mentors will be able to click on one of the three response options. If they choose to decline the request, they will be able to enter a response that will be sent back to the mentee along with the email notifying them that the request has been declined.
If the mentor does not decide within 3 business days, the request will expire and the mentee will be sent another email asking them to request a new mentor instead. Once one of the mentor requests is approved, the flow ends there and the Mentorship Assignments email is sent out to the mentee and mentor who are now paired.
If an admin decides to auto-pair all mentees and mentors, no emails will be sent out for mentees and mentors to make decisions.
Tip: Mentors receive emails to approve of taking on a mentee on a "first come first served" basis. As a mentee, it's important to choose your mentor as soon as possible before the mentors that you have in mind get paired with another mentee because they asked first.
Evergreen Programs - Mentee Led (Mentee's Choose/without Mentor Approval):
For Evergreen programs that have opted to not use the Mentor Approval feature, once mentees request a mentor the pairing begins immediately. Once requested the Mentorship Assignment email is sent out to both the mentee and mentor automatically.
For a more in-depth look at pairing in Evergreen programs, take a look at the Evergreen section here:
Cohort Programs - Admin Led vs Mentee Led:
Depending on how your organization has set up your program, you will either follow the Mentee Led process, or the Admin Led process. For Mentee-Led programs, mentees will choose a mentor from a shortlist of recommendations. With Mentee-Led programs using the Mentor Approval feature, mentees will rank their mentor preferences from a shortlist of recommendations. Once mentees submit these preferences, mentors will receive an email and be able to either approve or decline the pairing request. If they decline, the next mentor on the mentee's preference list will be reached out to. For Admin-led programs, both mentees and mentors will be paired together by an admin and informed via email before you can schedule your first session.
For more information on each, check out these sections:
Scheduling
A mentee and mentor both have the ability to schedule a session with each other. Go to your home page and click on the mentor you would like to book a session with. Click into a session that has not been scheduled yet and click Book Session.
View this article for more information on how to book a session.
Have more questions? Submit a request here and let us know how we can help!