Mentees will partake in four key steps along their journey on the Together Platform. Check them out here in our Mentorship User Flow!: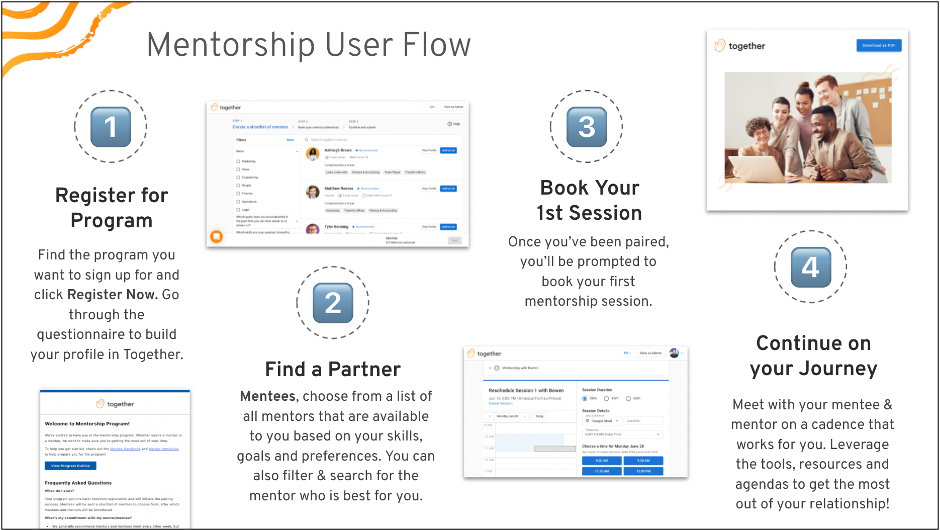 Registration
You will receive an email and/or a link to register for the mentorship program from your organization's admin. When you register, you will be asked to complete a questionnaire.
If you are a mentee, the results will recommend a number of mentors for you to choose from. If you are a mentor,  after you have completed the questionnaire, you will wait for a mentee to choose you. An admin also has the option to set matches with assistance from the algorithm on their own.  
Profile & Preferences
You will be prompted to create your profile prior to answering the questionnaire. If you want to make changes, log into the platform and navigate to Profile > Edit. Additional preferences can be changed in the tabs below.

Matching
Depending on the matching process used for your program, as a mentee you will either be invited to select a mentor yourself or your admin team will select one on your behalf.
Scheduling
A mentee and mentor both have the ability to schedule a session with each other. Go to your home page and click on the mentor you would like to book a session with. Click into a session that has not been scheduled yet and click Book Session. For detailed steps on the scheduling process, check out this article: How do I Schedule a Session?
Have more questions? Submit a request here and let us know how we can help!
Share
Was this article helpful?
2 out of 2 found this helpful