If you feel that your mentor is not a good fit for you, you can end the pairing early by clicking the > arrow next to your mentor's name on your home page. Depending on your organization's setup of the program, you may need to have your request to end pairing approved by your administrator.

Click on "End Pairing Early".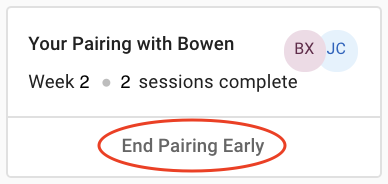 You will be prompted to provide a reason. If you select "Other," please add your reason in the text box provided. You may also checkmark the option "I'd prefer not to be paired again with this person in the future." This information will be passed along to your administrator. Click Stop Pairing when done.
Feedback to your administrator as well as to your mentor will be requested. Your mentor will be notified of the decision to end the pairing early. You and your mentor will re-enter the pairing pool to be available to pair with another person.
What a more in-depth tutorial? Check out the Video Playlist from Together.