1. One-on-One Mentoring (1:1)
The most notable and traditional method of mentoring is on a one-to-one basis. This is where one mentor and mentee enter a mentoring relationship with the aim of guidance and support that is typically in the area of the mentor's expertise. The mentor can directly share knowledge and offer developmental advice that helps the mentee achieve their goal of progression, for example. 
2. Peer Mentoring
Peer mentoring is a form of mentorship where colleagues guide one another. This is especially useful in workplaces where there aren't enough senior leaders or employees to mentor junior team members. For that reason, matching peers to mentor one another is a convenient solution. 
The purpose of mentorship is to help employees build non-judgemental relationships where they support and encourage each other. Peers have a lot they can offer one another through mentorship. They can accelerate each other's growth by sharing best practices, providing support and advice, and being alongside them while navigating through challenging circumstances. 
Why match with a peer? Peer mentorship is a great complement or alternative to traditional mentorship - whether your peer is more or less senior than you. The key difference is that peer-to-peer relationships are non-hierarchical (e.g. you are both responsible for driving the relationship) and can be as formal or as informal as you and your peer would prefer. It's an opportunity to connect with colleagues across your organization in order to exchange knowledge, with and who may be pursuing similar goals or facing similar challenges. Some common themes we see in peer-to-peer relationships are: 
Discussing shared experiences
Strategizing solutions around challenges in the workplace or in the peers' specific functions
Supporting and keeping one another accountable through career milestones or goals
Sharing knowledge and learning more about different business functions
Functional or soft skill-sharing
3. Group Mentoring
This is also quite a common practice and helps when coaching and mentoring are needed to impact more mentees in a shorter time frame. This type of mentoring is beneficial if there is a shortage of mentors or if something needs to be delivered quickly and efficiently. Group mentoring also offers the benefit of teamwork, support, and inclusion, which can be especially practical for inductions and onboarding. 
4. Virtual Mentoring
Becoming more and more popular and viable in current times, virtual mentoring runs to the same principles and one-to-one mentoring only without location restrictions on either party. Mentoring can still work just as effectively even when offered virtually. With companies offering this as a mentoring method, it competes strongly with the ongoing pandemic and the need for remote working. 
Existing mentorships can transition to virtual mentoring, and in new mentoring relationships, both parties are able to navigate this unfamiliar territory together.
5. Team Mentoring
This method is quite similar to group mentoring, only involving more mentors in a group. This type of mentoring caters to mentees with different needs and attributes and encourages diversity. Typically used in sports, team mentoring allows different viewpoints to be heard and a range of perspectives to receive guidance from 
6. Reverse Mentoring
In the same way that one-to-one mentoring works, reverse mentoring has the same kind of structure, only that a more junior person mentors a more senior person.  Both parties can learn from each other and have input, but the reverse mentoring construct makes it a formal process, so it doesn't just end with the junior listening to the senior. This type of mentoring is especially useful today when companies need updating or fresh ideas to maintain their success. 
Along with different formats for mentorship, there are also plenty of use cases. Together has experience & best practices servicing the use cases below, along with many others.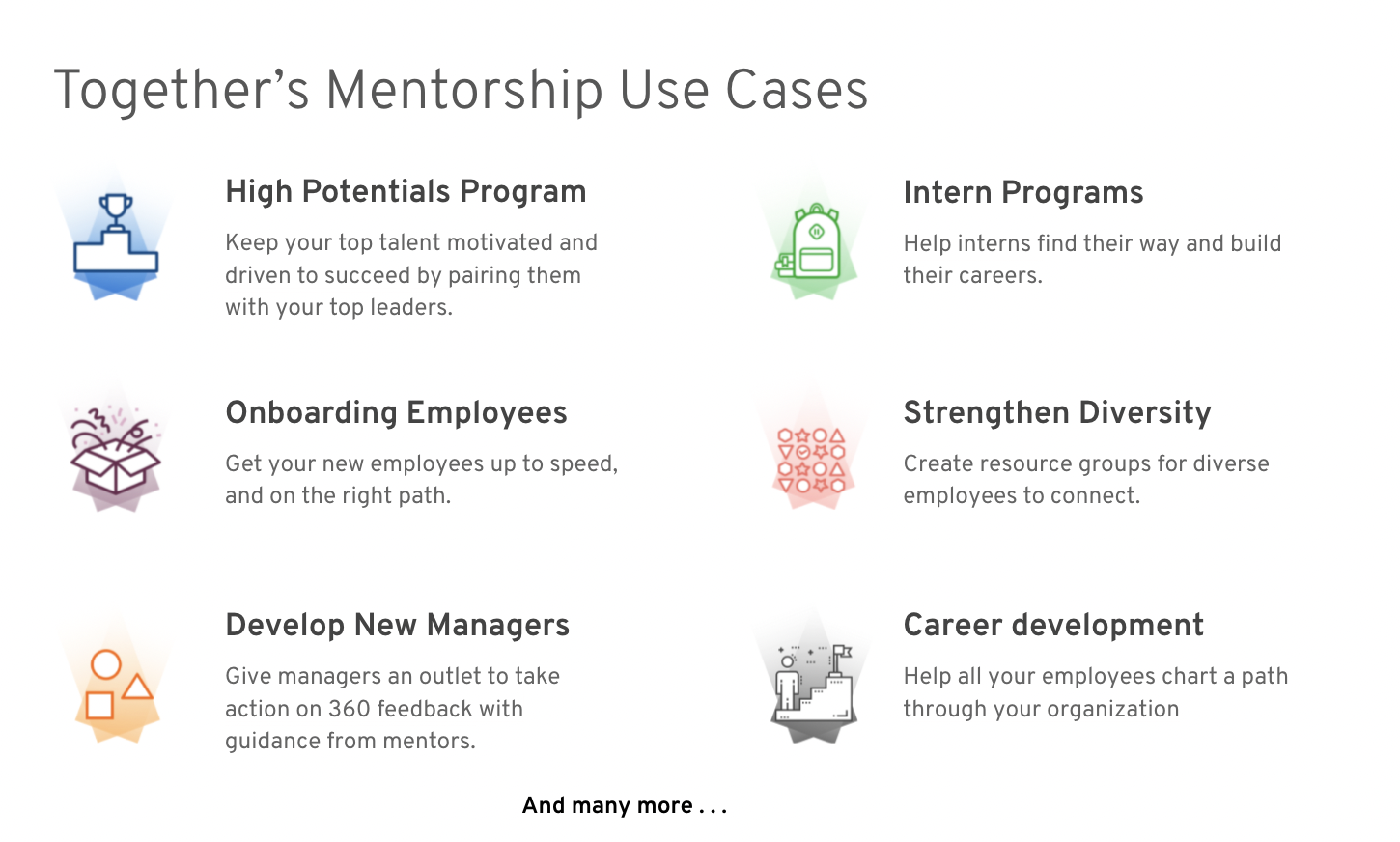 For more information, check out the article: Different types of mentoring and their uses
Have more questions? Submit a request here and let us know how we can help!
Share
Was this article helpful?
0 out of 0 found this helpful