As a mentor, there are two ways you can be paired: (1) Mentee Led or (2) Admin Led. Your organization and program administrator will let you know which program type you are part of.


Mentee led:
1. (Mentors) Approve or Decline Mentee Request
As part of the mentor directory, mentees will have access to your profile and can choose to request you as their mentor. You will only be shown to mentees in which you share common skills, goals, and preferences with. Once a mentee chooses you, you will receive an email (see below) asking you to Approve or Decline the mentee's introduction. You have 3 days to answer this request.
Didn't Receive? Check your Spam or Junk folder frequently to ensure you have not missed the email. If it is in Spam, please mark verify the email & domain moving forward.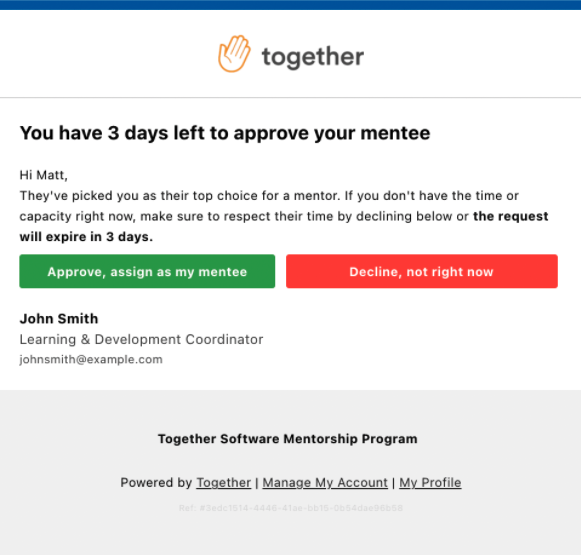 2. (Mentors) Touch base with your Mentee
Once you have approved the introduction, your mentee will be notified. Communicate with your mentee via email, text or phone to find a time that works best for both. The onus is on the mentee to schedule the first meeting.
Admin-Led
If your organization chose to do Admin-Led, you will receive an email from mentorship@togetherplatform.com letting you know who your mentee is. In order to be paired, you must be registered for the mentorship program.
What a more in-depth tutorial? Check out the Video Playlist from Together.