It may feel like there is lots to do, but we promise it is not too much! Below is a checklist of all the items you should "check off your list" before launching your program. Work with your dedicated Customer Success Manager if you are stuck or need guidance!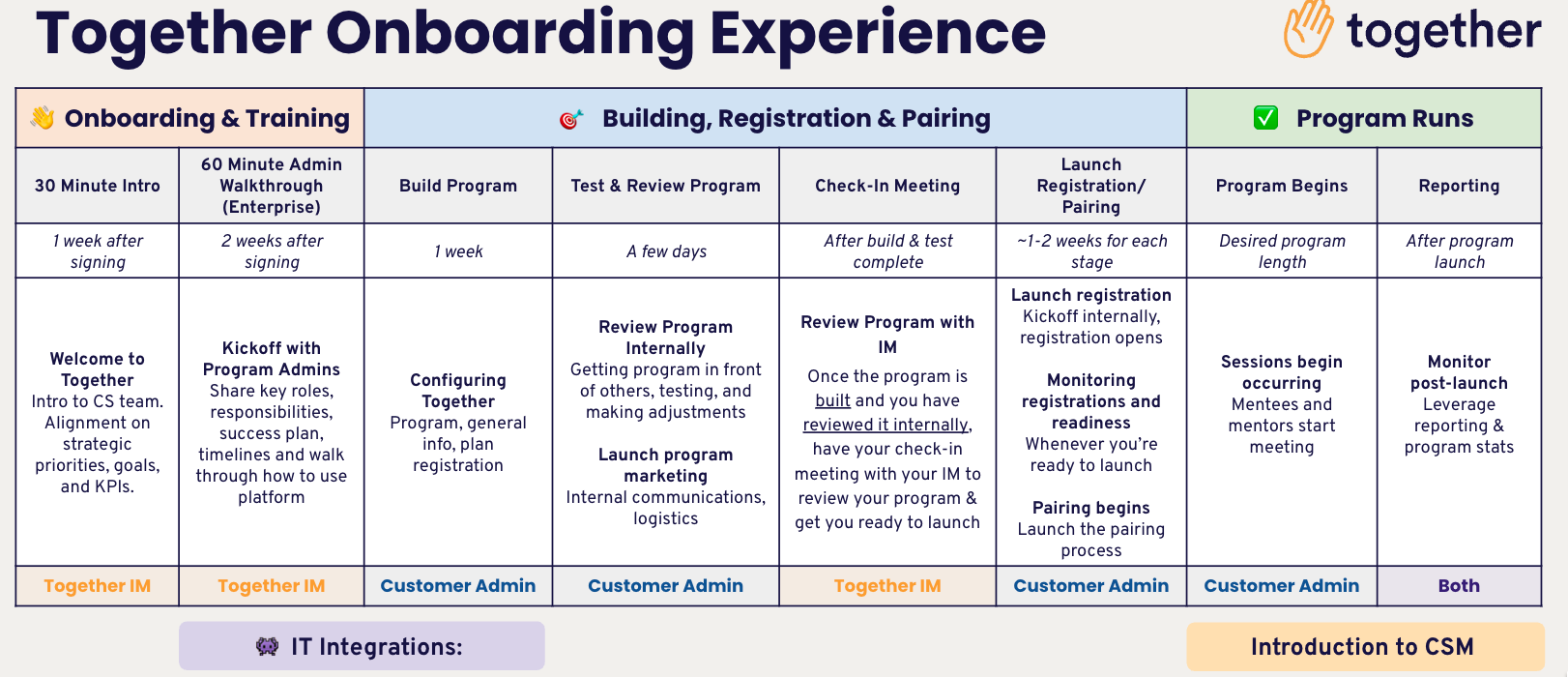 1. Kick-Off & Training
Owner: Together
(Meeting) Intros & Goals Meeting

Introduction to your Implementation Manager (IM)
Discuss Goals, Key Dates, Milestones, and other technical requirements to kick off the program

(Meeting) Admin Training of Together Software

Your IM will walk through a 60-minute online training session to train admins to use the tool. At the end of this session, admins will have access to their paid Together account and be equipped with tools and resources to begin building the mentorship program
Note: Kick-off & Training are available to Professional & Enterprise plans only
2. Integrations
Owner: Your IT team
Within the platform, your team will be able to configure all of your eligible integrations under Settings > Integrations:
You may invite your IT Team by clicking on the Invite IT Admins button on this page to assist with the setup.
Whitelist Together Emails
3. Building Your Program
Owner: You & Your Admin Team
Congrats! You now have the tools to begin building your first mentorship program on Together. The platform is self-serve and user-friendly. Follow the Launch Wizard by completing each task and pressing NEXT at the bottom right corner.
For step-by-step guides to build and launch each of our program types, check out our playlists!:
Each program type generally consists of these steps:
Create the Program

Program Name
Program Description
Program Banner
Configure your Questionnaire & Pairing Algorithm


Review Questionnaire Template & Questions
Customize the Questionnaire with organization-specific answers
Review Algorithm
Add/Remove Additional Pairing Rules
Refine Program Access Settings

Configure program access settings/permissions
Customize Emails, Sessions & Resources

Review All Email templates; make any changes
Review Resources; add & make any changes
Review Session Agendas; add & make any changes
Finalize Program Settings

Confirm Pairing Process
Choose Program Ending (if applicable)
Time to Meet

If you are reading this, you've completed Together onboarding and have built out your first program. Reach out to your Together Implementation Manager to review your program with you and to get ready to launch registration!
4. Begin User Testing
Owner: Both (You & Team Members)
A small test group of 5-10 to try signing in and registering
A small test group of 5-10 to test out pairing and scheduling
5. Launch Your Mentorship Program
Owner: You
If you've gotten this far, there is not much left to do but click send on that email! We would love to be there for your first launch, so reach out to your dedicated Customer Success Manager if you'd like some support.
6. Share with your Network
Owner: You
Don't forget to celebrate a bit! Lots of our customers post on Linkedin & share with their networks the great work they are doing with mentorship. It shows that you, and your organization, are leaders in the mentorship space & are supporting your employees. I've attached a
little social post example
if you want (+ it would help us at Together as well!) We've seen this come from personal accounts or corporate accounts. Make sure to tag @TogetherSoftware :)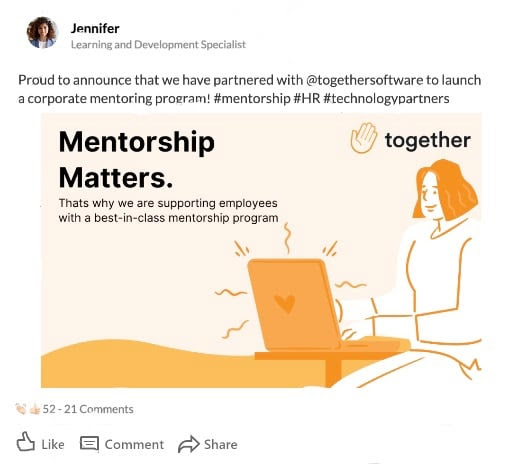 Bonus:
Resources & Marketing Materials
Have more questions? Submit a request here and let us know how we can help!