Navigate to Programs > Pairing > Edit Pairing Setup > Choose Pairing Process.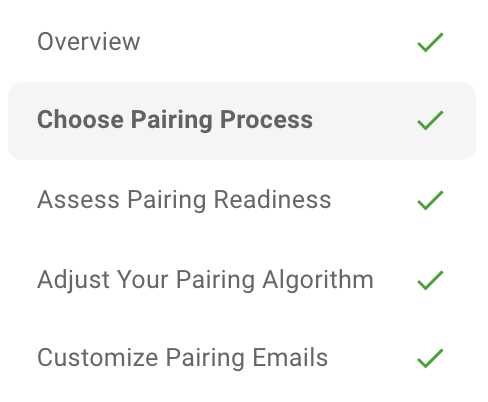 How will users be paired in your program?
You can run the pairing process one of two ways:
Admin led
Only admins can create pairings, but the software helps make recommendations. This is best used for small programs or programs with special goals, like high-potential-talent programs.
Mentee led
Users can create their pairings. In this case, mentees either choose their mentor from a shortlist, or they can rank their mentor preferences and mentors approve of requests. There is also an option for Mentors to approve pairing requests from mentees. This is recommended.
Mentor Recommendations
You can select the number of mentors a mentee can submit when choosing a mentor. This is in case a mentee's first choice mentor is unavailable. The mentor next in line would then be chosen and so forth until a mentor is available.
New Mentor Requests
You as an admin can decide if you need to approve changes in mentors.
Mentor Recommendations Preview
You can choose what preview information is shown to mentees when they choose a mentor.
Automatically End Pairings
You can set how and when pairings should end in your program.
Tip: These settings can also be found in Programs > Program Settings, along with additional Pairing Process options. Be sure to configure those settings to create an optimized program.