To make changes to your program's pairing process, select Program Settings followed by Pairing Process: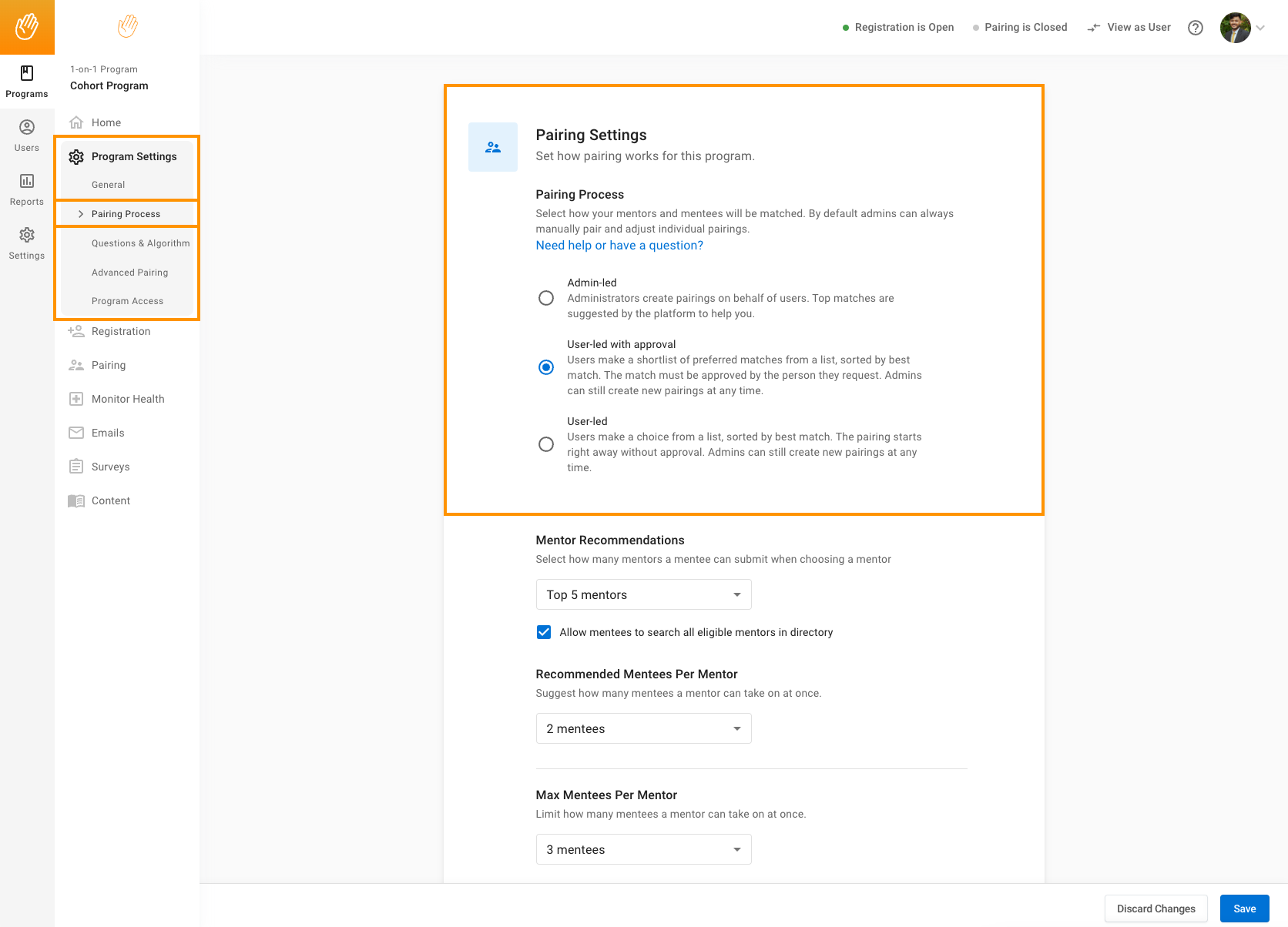 Here you will be able to choose how your mentors and mentees will be matched. There are three types of pairing processes available based on the program type: 
Admin-led (Cohort Program Type Only)
Only admins can create pairings, but the software helps make recommendations. This is best used for small programs or programs with special goals, like high-potential-talent programs.
User-led with approval (Recommended)
Users can create their pairings. In this case, mentees either choose their mentor from a shortlist, or they can rank their mentor preferences and mentors approve of requests. There is also an option for Mentors to approve pairing requests from mentees.
User-led
Users can create their pairings and will be matched right away without approval. Admin can still create pairing at any time. 
Mentor Recommendations and Recommended Mentees Per Mentor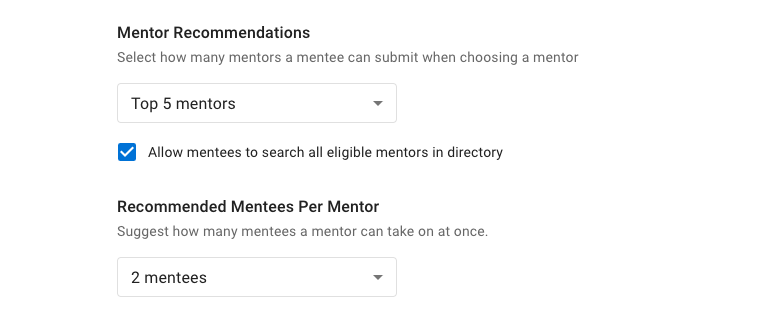 You can select the number of mentors a mentee can submit when choosing a mentor. This is in case a mentee's first-choice mentor is unavailable. The mentor next in line would then be chosen and so forth until a mentor is available. Additionally, you can select how many mentees a mentor is able to take on at once. This can be useful to provide additional coverage for mentees in your program and open up more options for mentees to potentially choose from.
Session Frequency

Here, you can select the pace of the sessions that take place by reminding users to book sessions.
Note: reminders to book the next sessions are dynamic and will match the program's session frequency. 
New Mentor Requests (Cohort Program Type Only)

As an admin can decide if you would need to approve changes that mentees request for their mentors.  
Automatically End Pairings

This setting can be particularly useful if you want to continuously keep pairings fresh and allow participants to match with new mentors/mentees. You can select a specific date you would like pairings to end or choose the amount of time pairings should last. 
Have more questions? Submit a request here and let us know how we can help!