After developing your matching process, the next step in launching a successful Group program is actually creating the groups themselves. Depending on your matching process, the way you complete this will look slightly different for each method.
Let's first start with Mentee Led matching. First, begin on your program home page, click on the Create Groups button: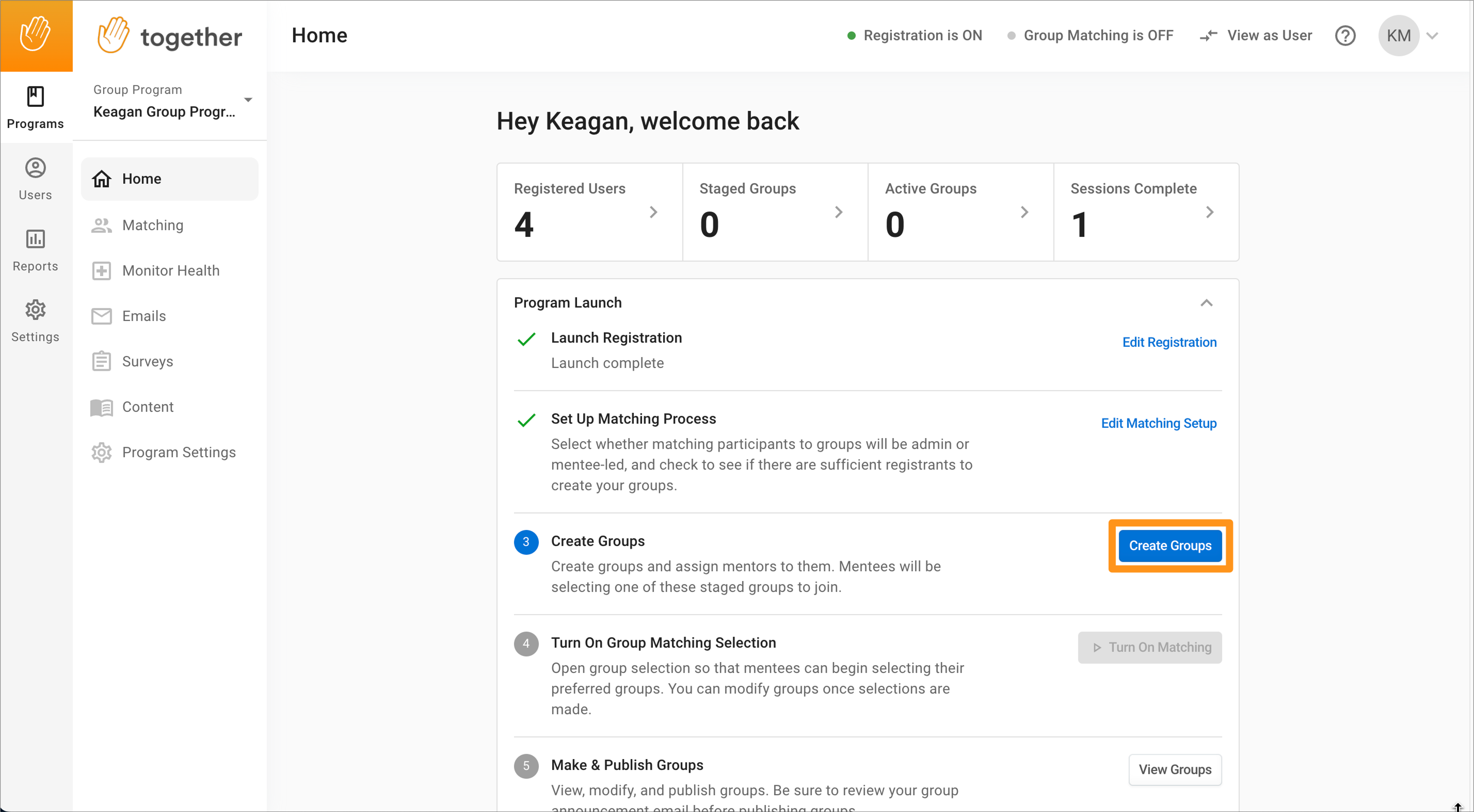 Here you will see your Unmatched Mentors tab. It is important to first Stage Groups with mentors before mentees can choose their group. To stage your mentors into a group, you have two options: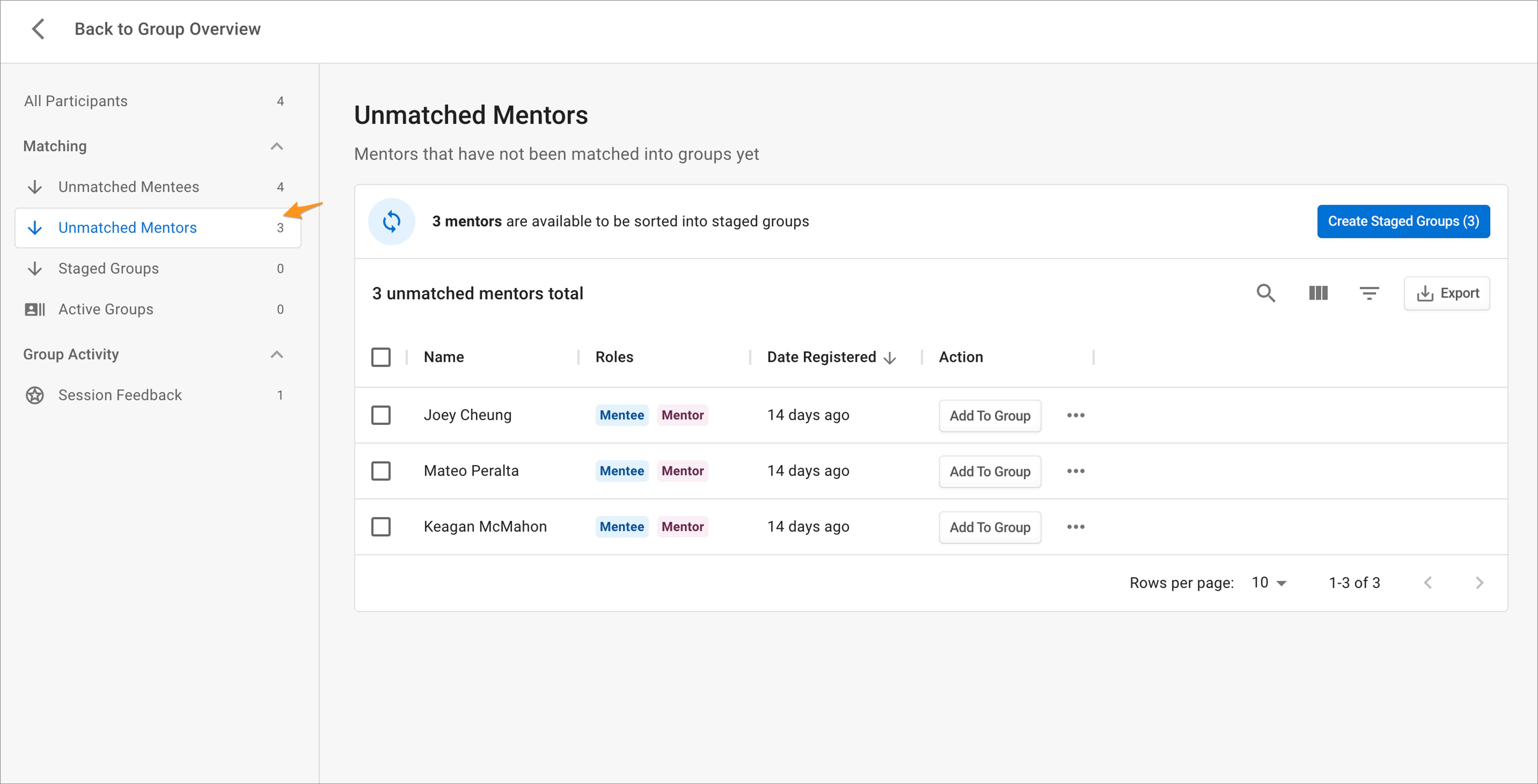 Automatically sorting mentors into groups allows you to take advantage of our algorithm and the data you collected from mentors during their registration. To do so, click on the blue Create Staged Groups button: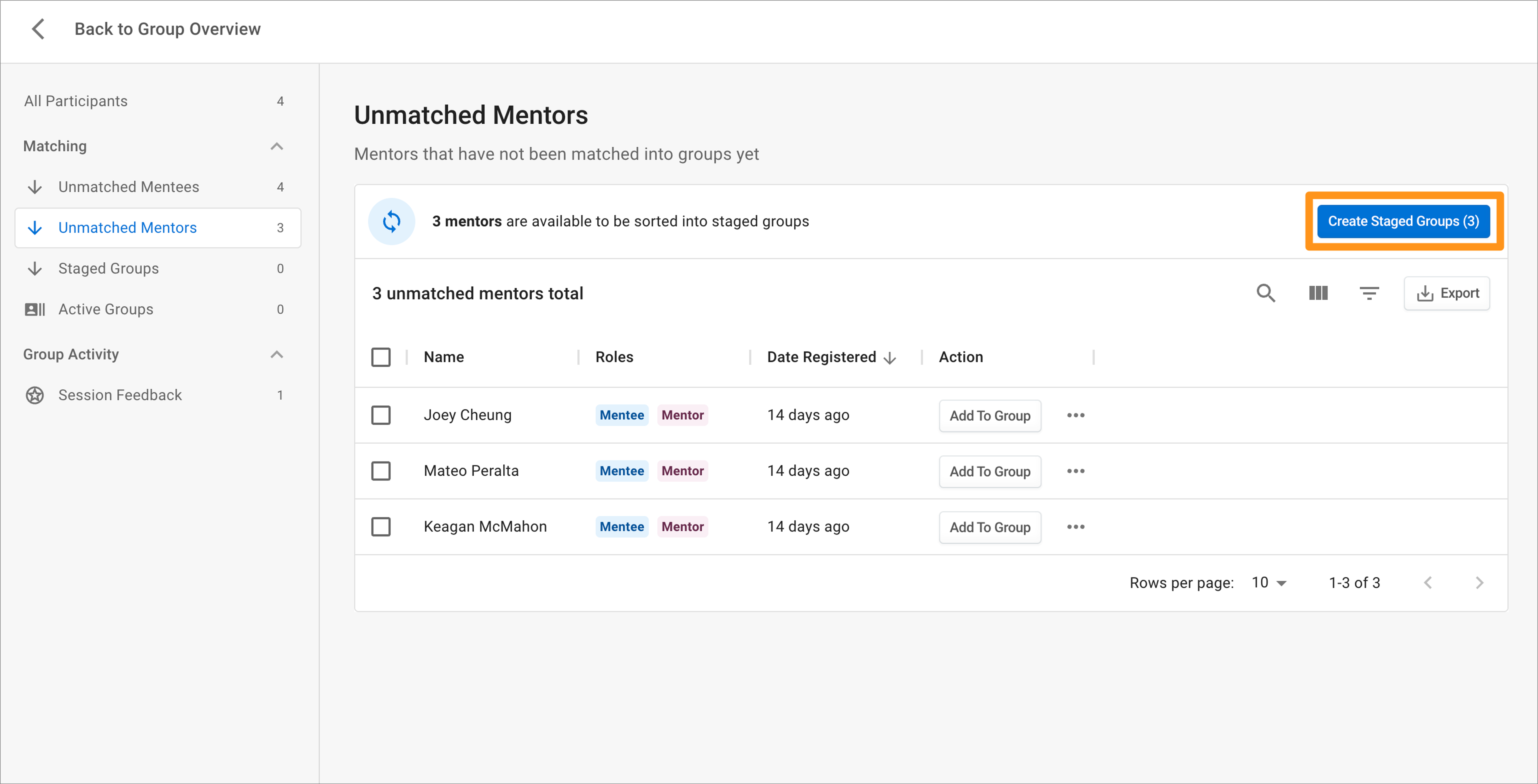 There are two methods that you can use to automatically sort your mentors.
Pairing mentors together as co-facilitators based on a specific question from the questionnaire
Using this method you can select a question that you think might be important to match your mentors together on. For example, in my program, I might want to match mentors together to co-facilitate a group based on the topic they would like to mentor others on. I would then select this question from the dropdown and click the Create Groups button: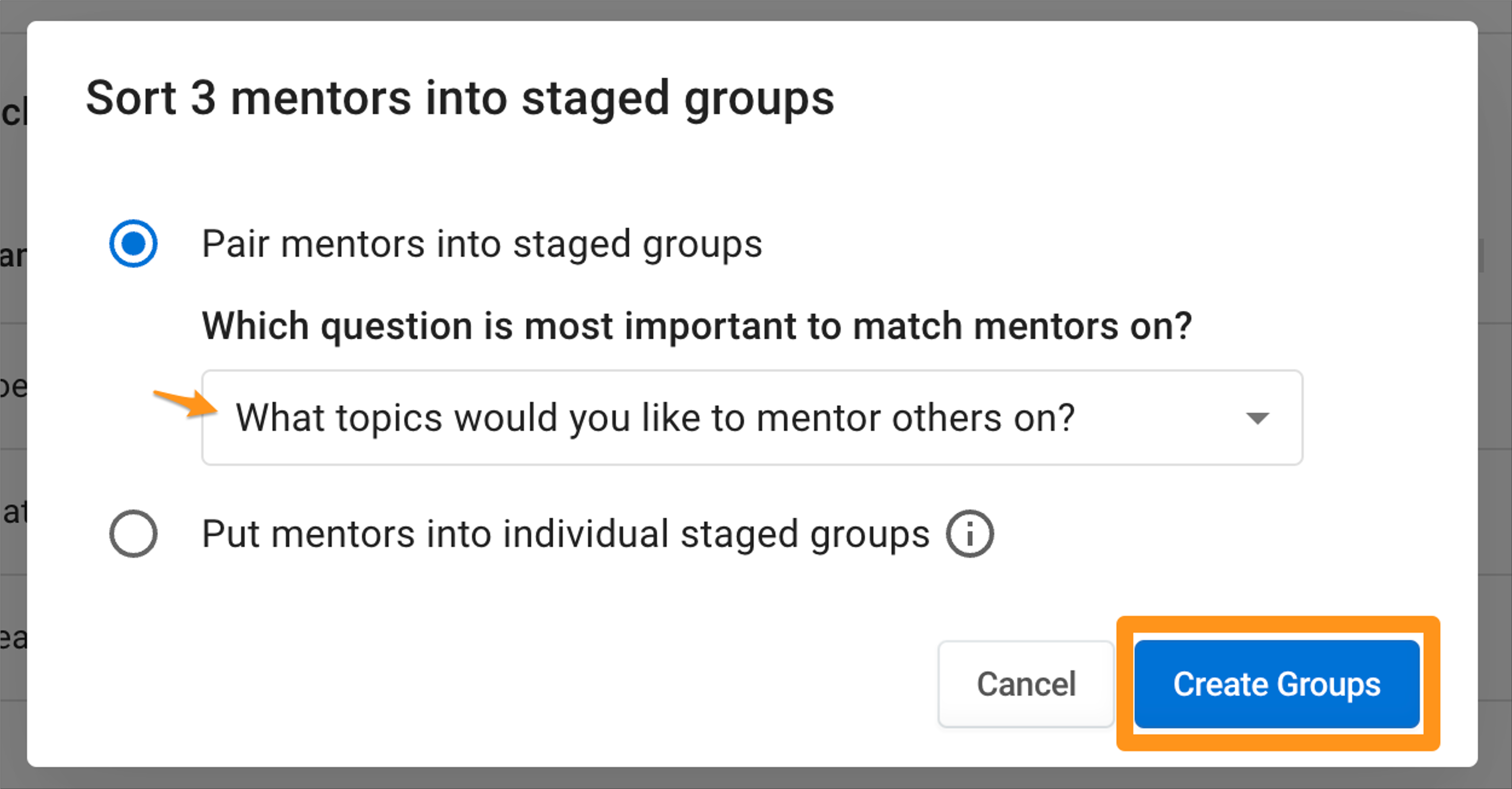 Automatically assigning each mentor to their own individual group
Using this method will place each mentor into their own, newly staged group as an individual facilitator. To do this, click on this option and click the Create Groups button. Keep in mind that if you would like to add more mentors to this group later on you still can.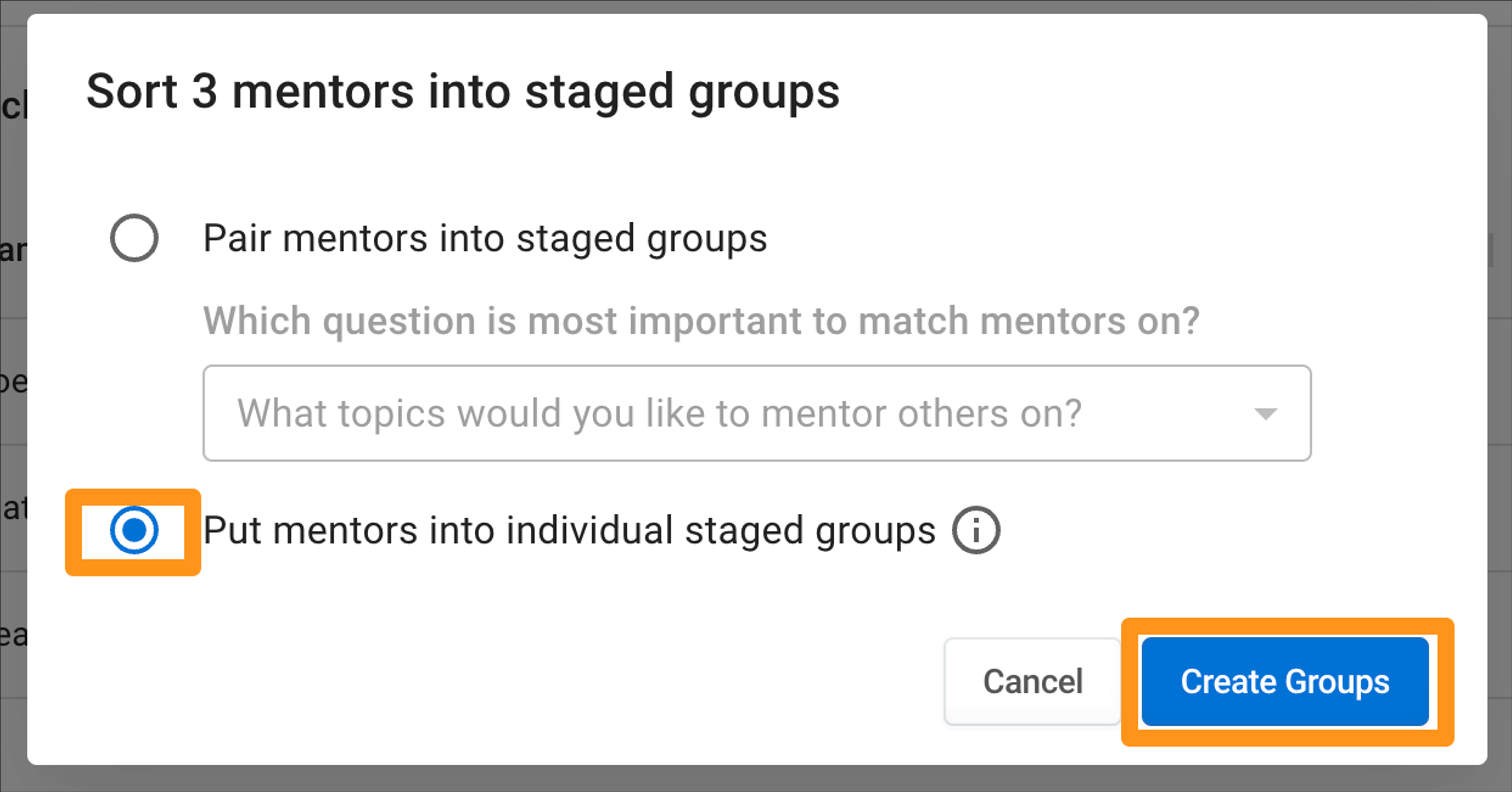 If you would prefer to manually assign mentors to facilitate groups instead of using our automatic sorting, you may do that as well. To do so, begin back at the Unmatched Mentors tab: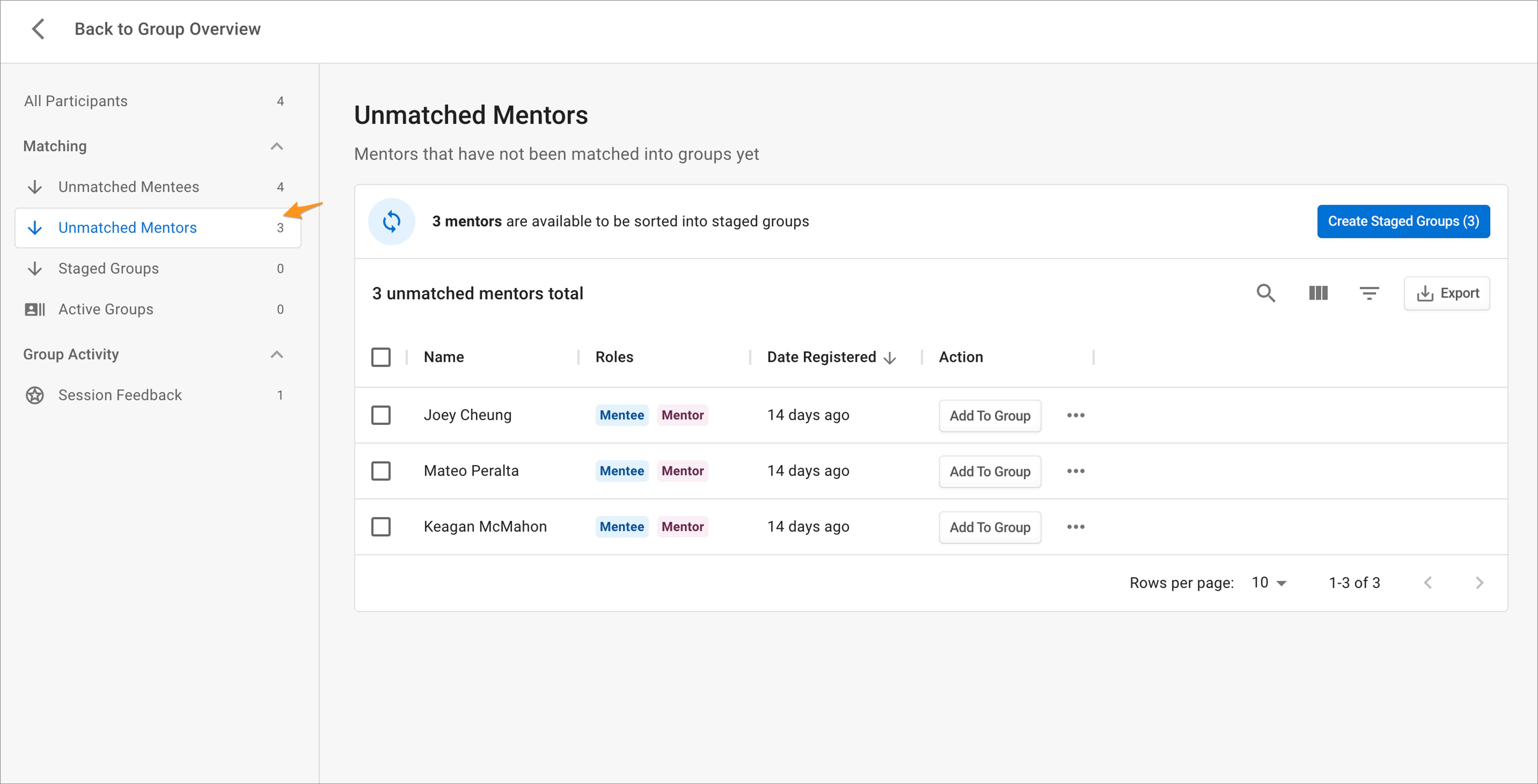 To assign a mentor to a group you must click on the Add to Group button under the Action column beside their name in the table: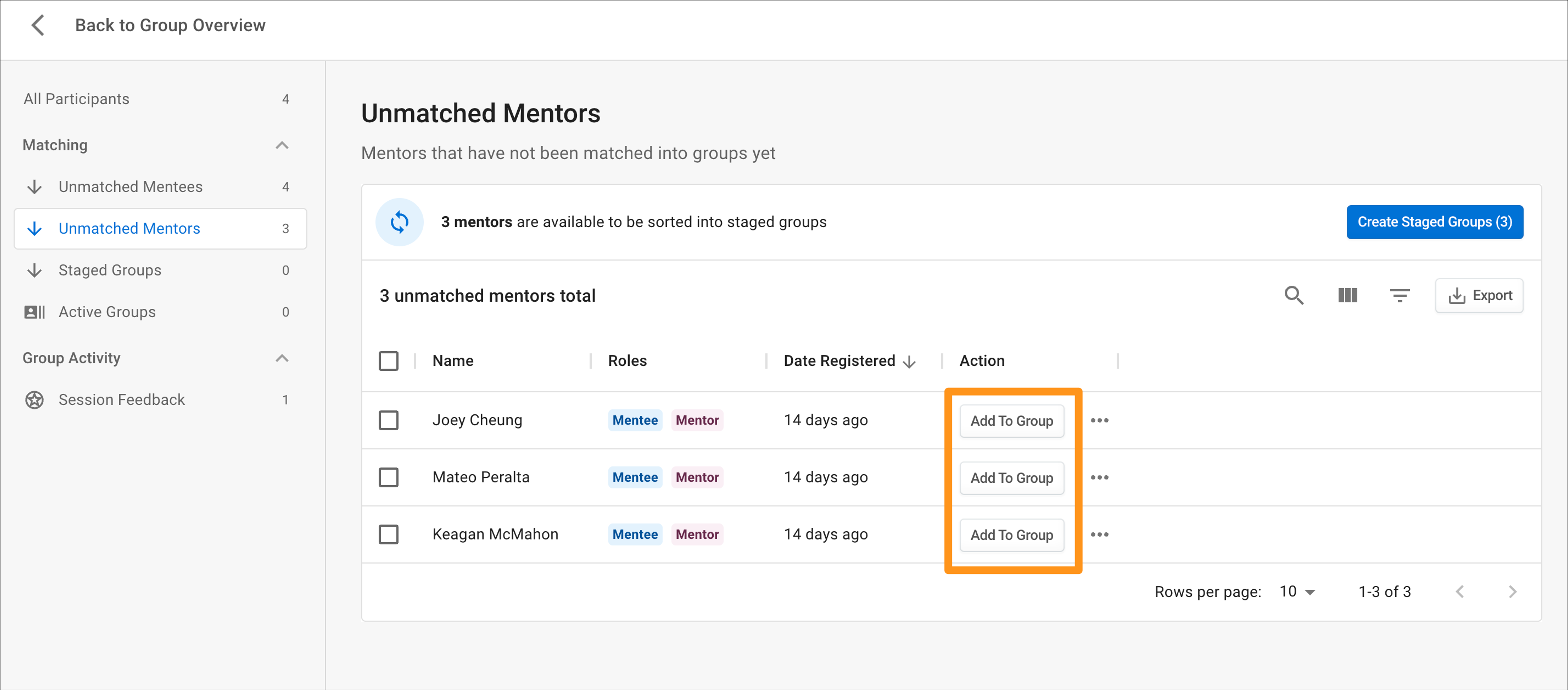 Note: if you have mentors who are registered as both a mentor and a mentee as I do here, you must choose the Add to Group as Mentor option after clicking the Add to Group button: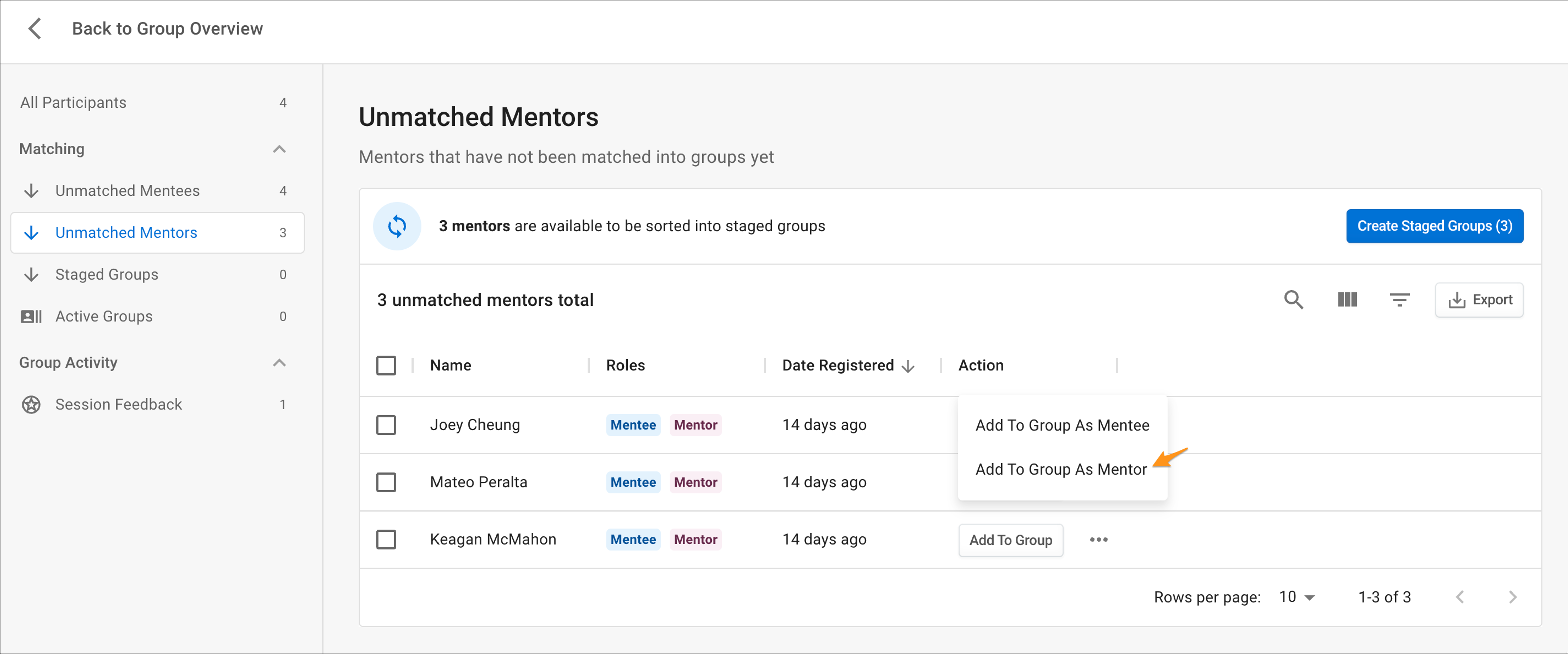 Now, if a group already exists you would be able to either add this mentor to an already existing group or add them to a new group: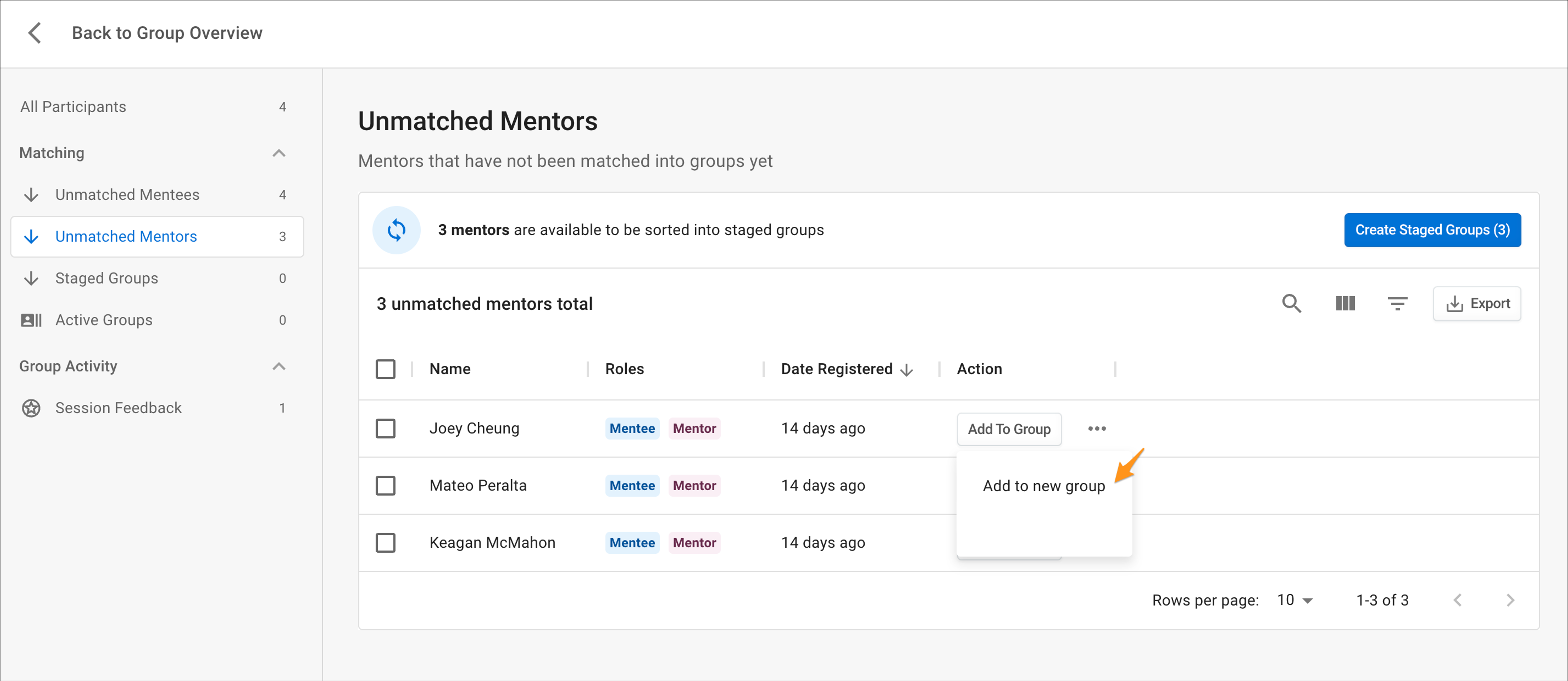 You may now give this group a name. After typing in a new, be sure to click the Create Group button. This will move this mentor and the group to the Staged Groups tab that you can find along the left-hand side: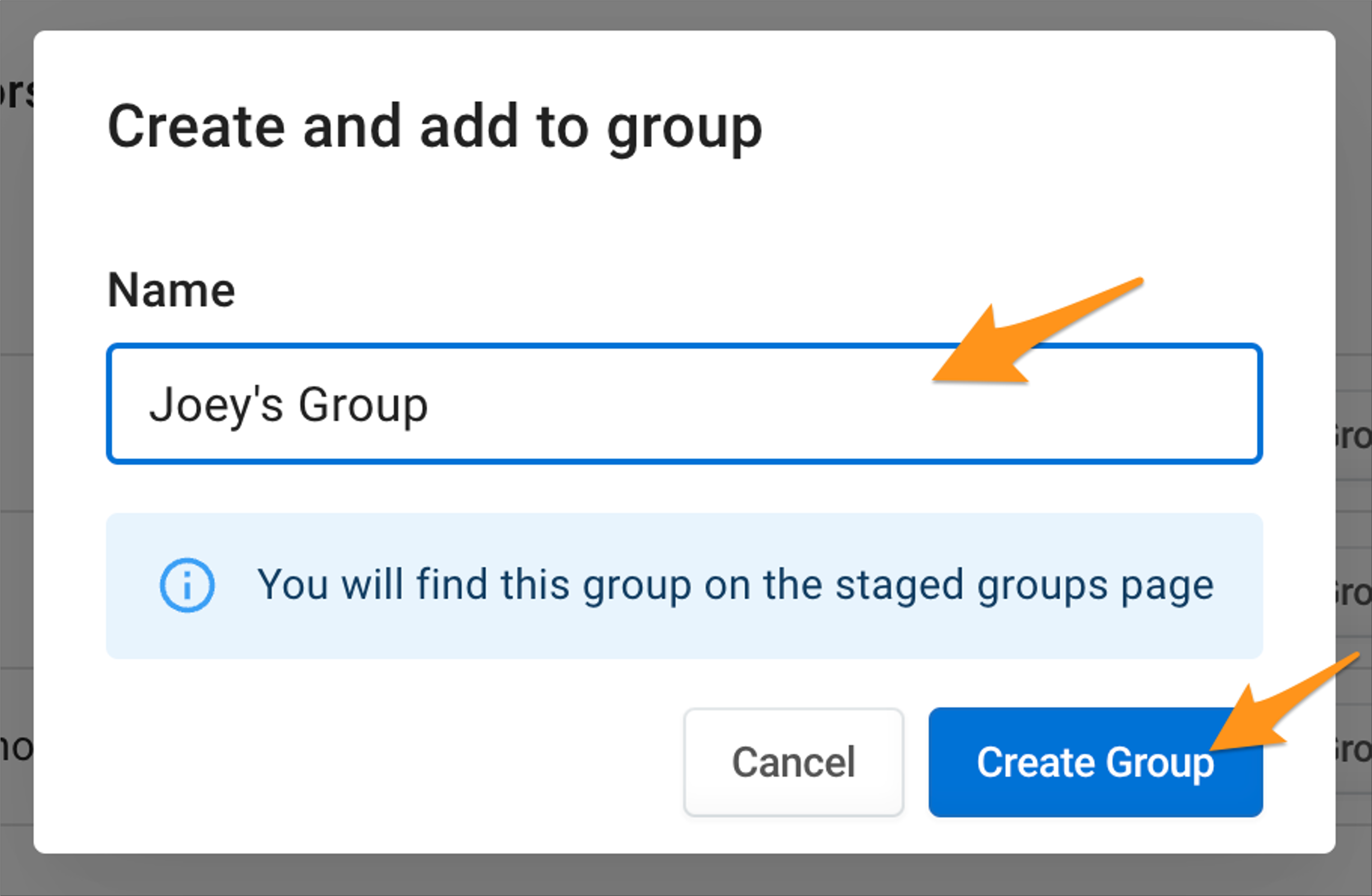 Now that I have all of my mentors added into their own group, you can see them here within my Staged Groups tab along with some other information about the group such as how many mentors/mentees are currently in it. If you would like to create a fresh group with nobody in it, you can do so by clicking the + Create Group button. This would allow you to add mentees or mentors to this newly created group later on from the Unmatched Mentees/Unmatched Mentors tab.

Now that your groups have been created and staged, the next step is to To turn on Matching so that your mentees can begin selecting their group, head back to the program home page and click on the Turn on Matching button next to step 4. Don't worry, you can always pause matching at any time if you need to by going back to this home page and clicking the same button.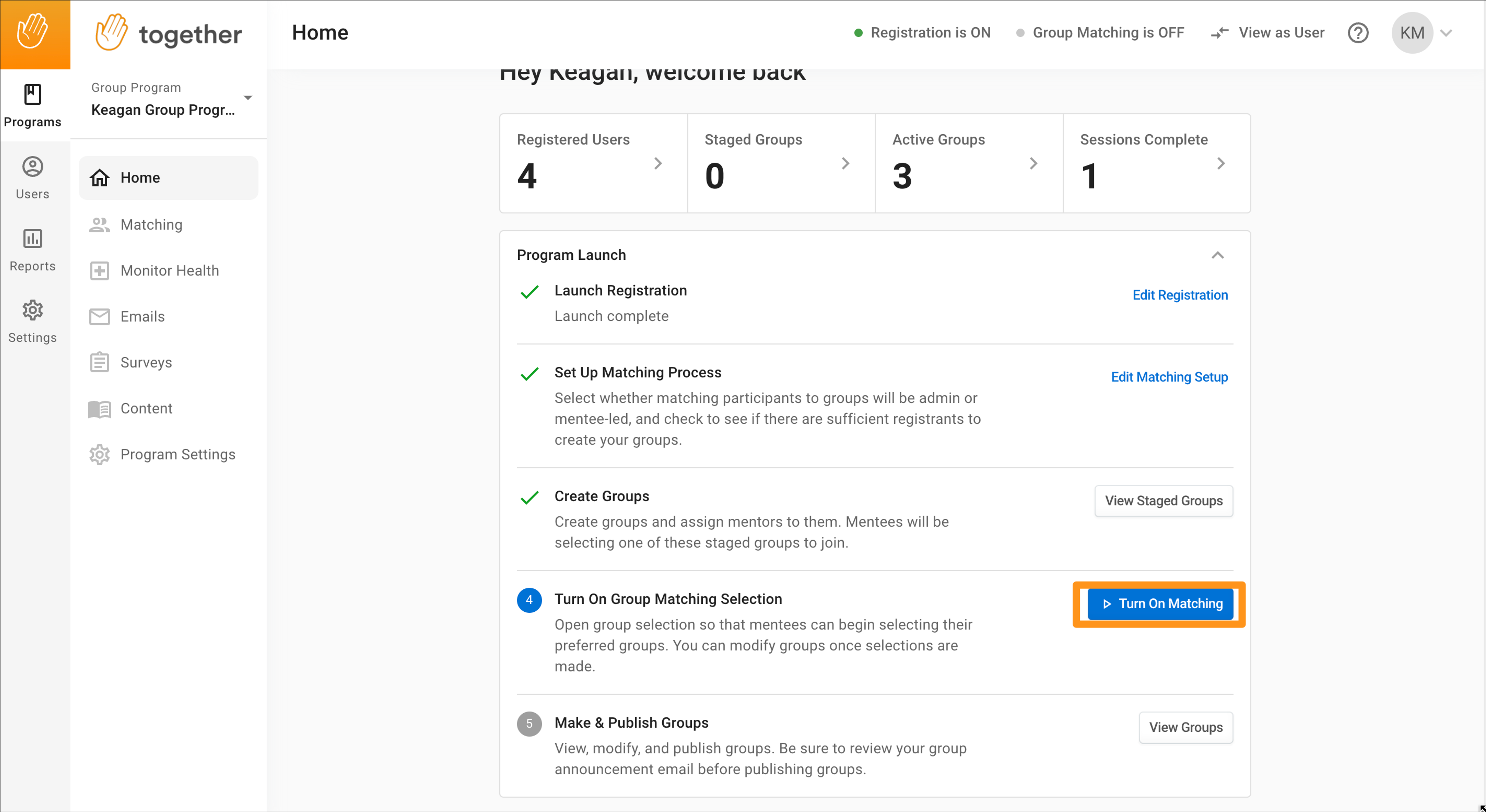 You will see this prompt informing you of some key information before turning on matching. Click Turn on Matching one last time to finalize this step: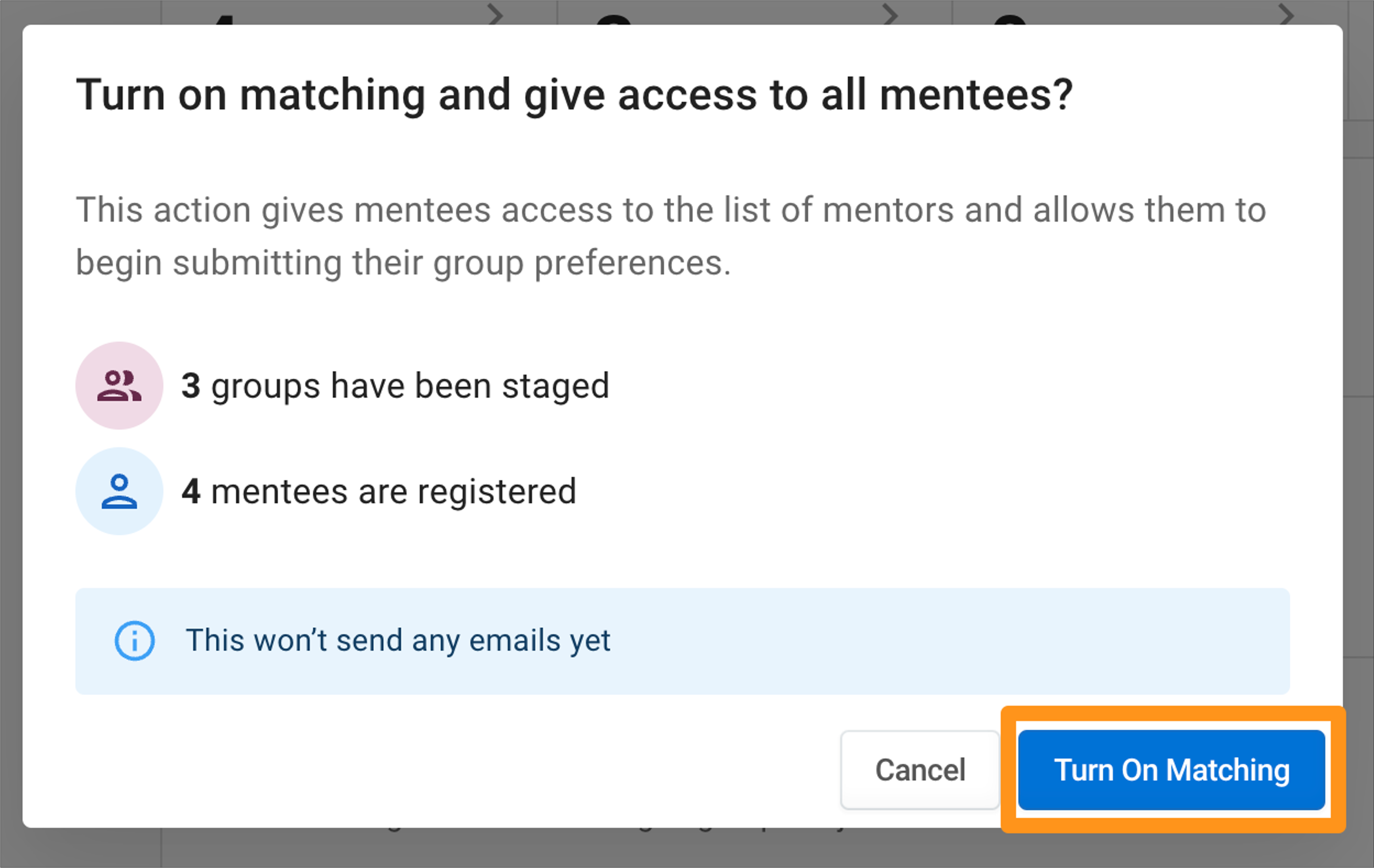 This will open up your group selection to mentees so they can begin submitting their preferences. Keep in mind, that you can modify these groups once mentee selections are made.
Curious to see how matching looks from the mentee end? Check out our article on How to Pair as a Mentee in Group Programs.
Once a mentee has submitted their group preference you will be able to see this updated under your Staged Groups tab. From your program home page, click on the View Groups button: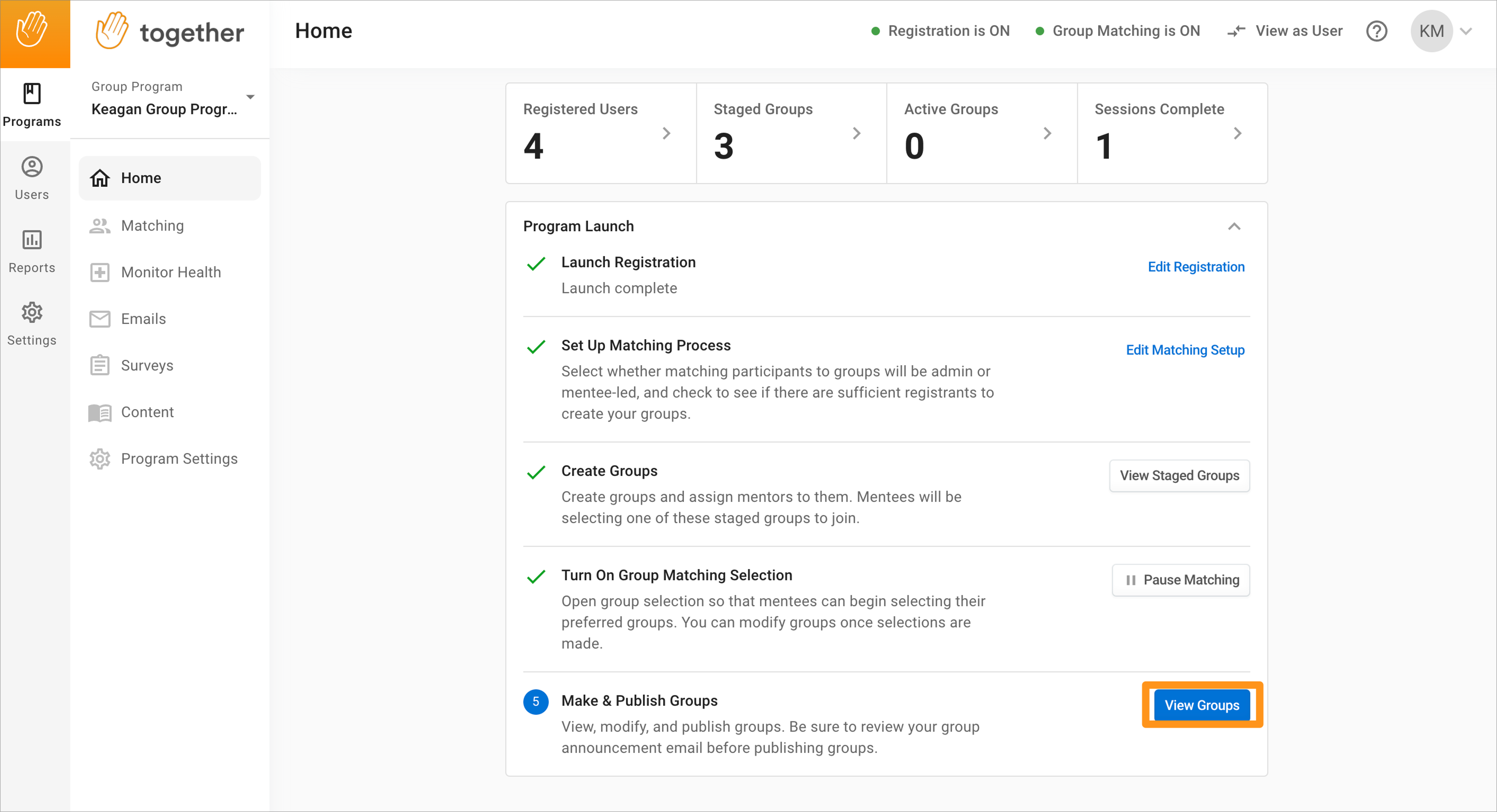 Here you can see that I have had one mentee submit a preference for Mateo's Group. Once your mentees submit their preferences, they are removed from the Unmatched Mentees tab unless removed from the group they submitted their preference for: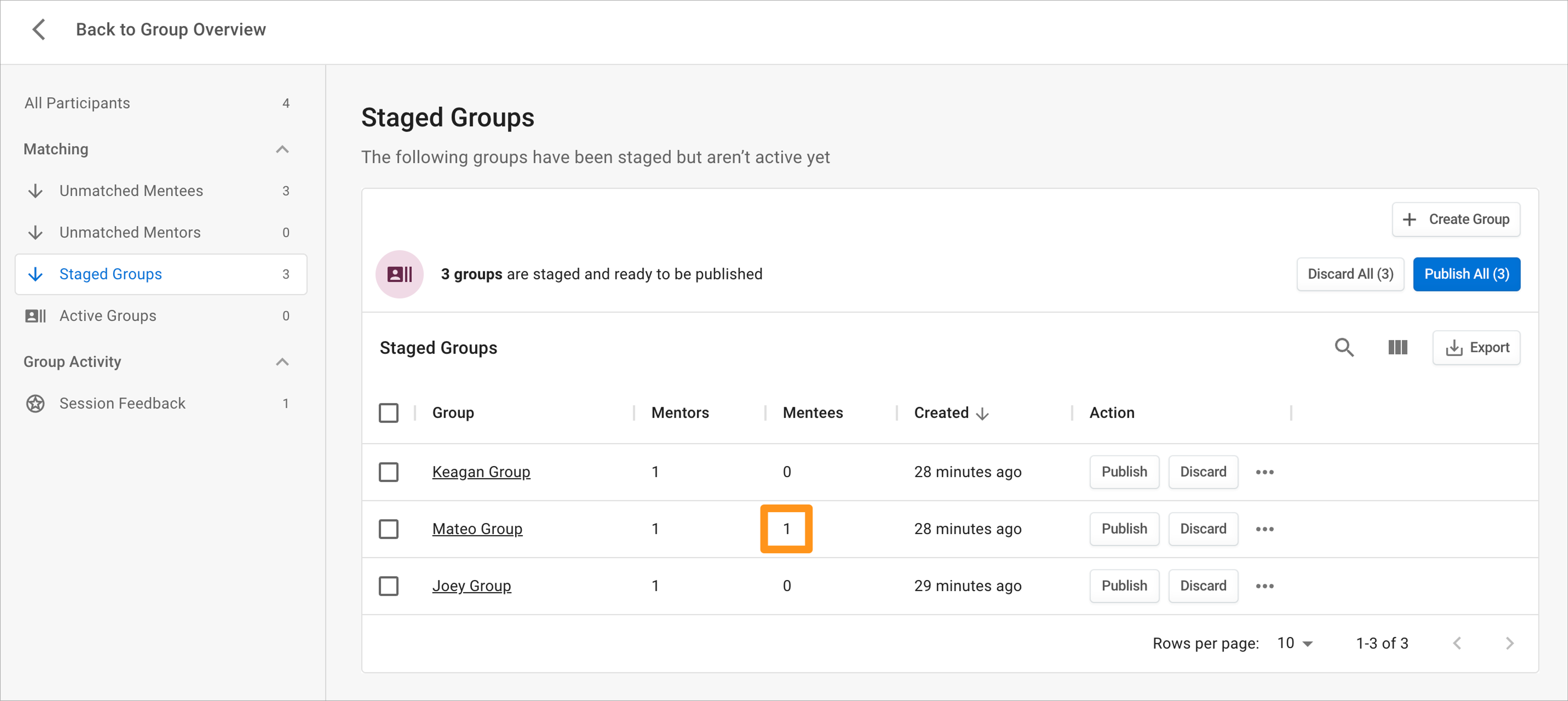 Now you're ready to move on to Publishing your groups. Scroll down to our Publishing section in this article to learn how!
Note: you can publish these groups at any time. If you do not want to wait for all your mentees to submit their preferences you can keep Matching turned on and still publish groups for those who are ready to begin the program.
With Admin Led Matching, you must stage and create all of the groups on behalf of the users, as opposed to mentees selecting their own groups. To begin, click on the View Groups button from your program home page: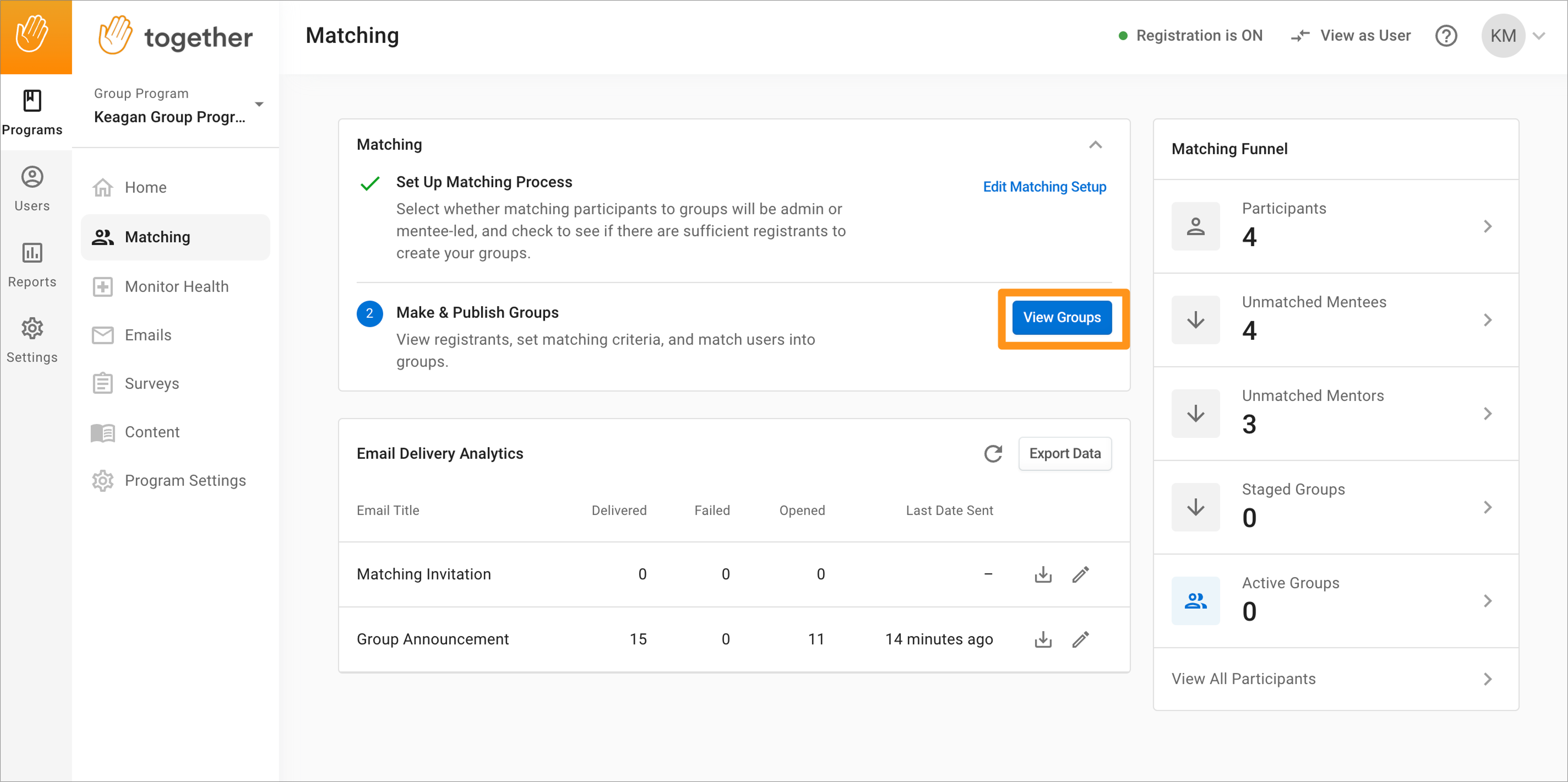 Here you will want to begin by Creating Groups to add your mentors/facilitators and mentees into. Click + Create Group: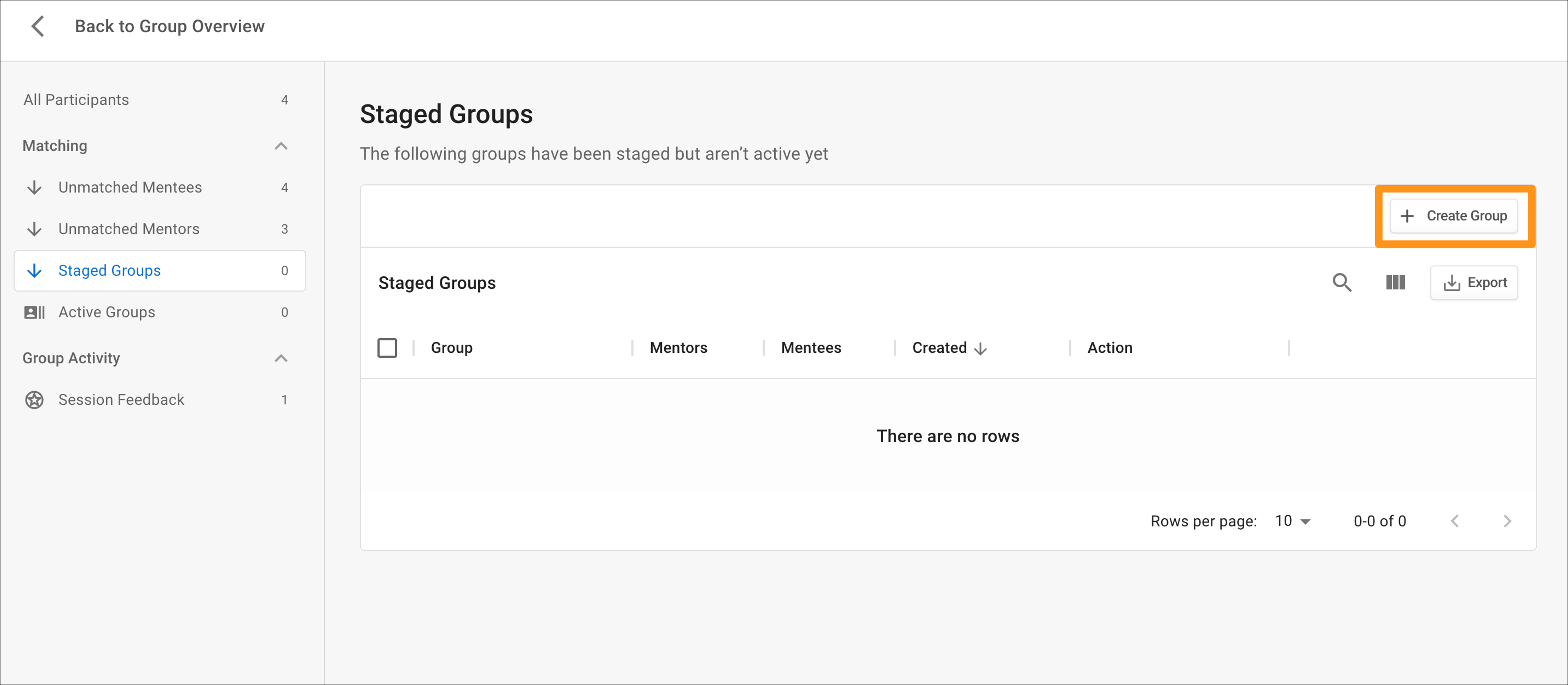 Enter a name for the group and click the Create Group button. Do this for as many groups as you might want to create, in my case, I will be creating 3 groups here.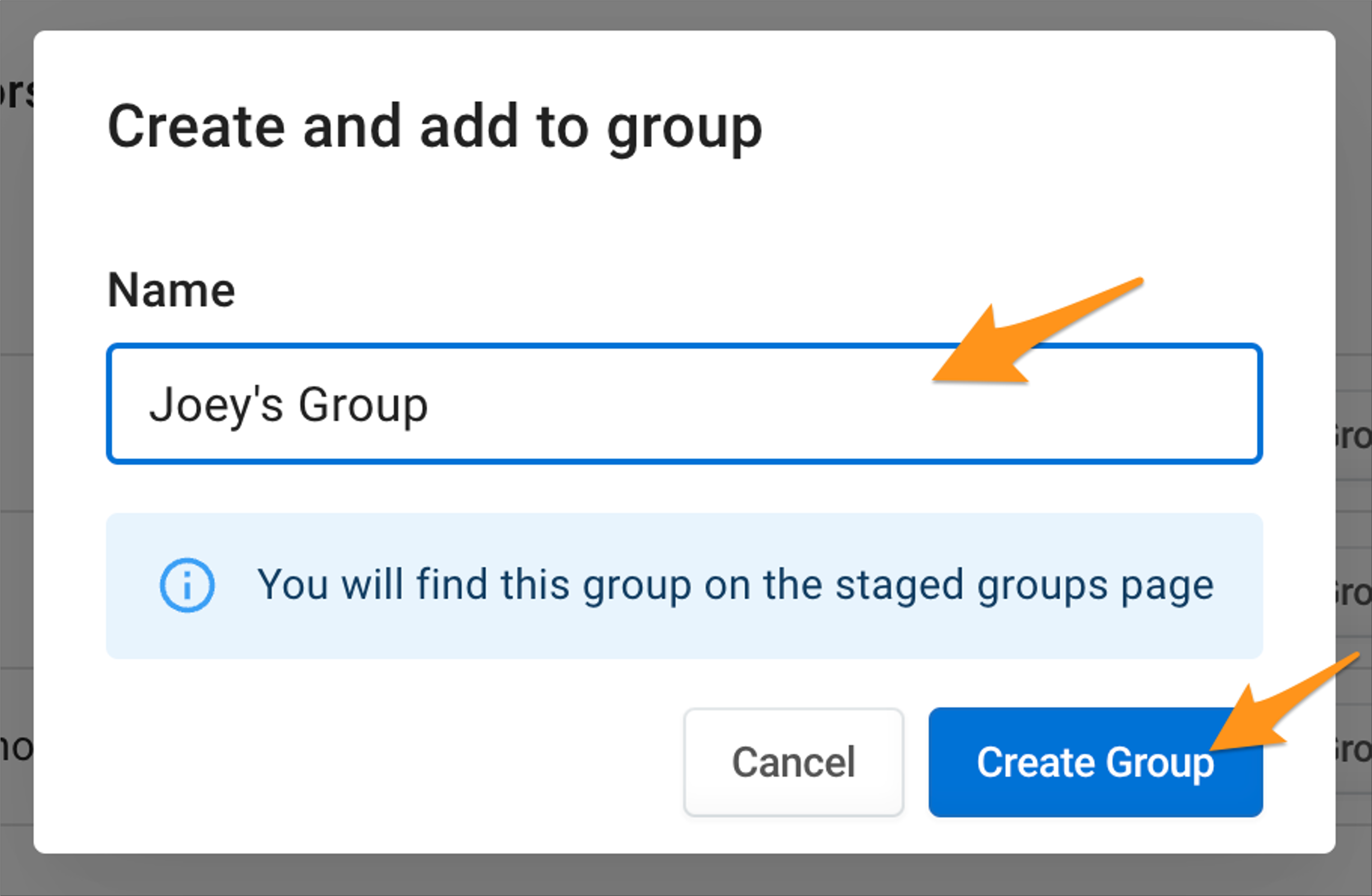 After creating each group, you will be taken to the Edit Groups prompt. Here you can add any mentee(s) and mentor(s) to the group that you would like. To do so, click either the Add Mentee or Add Mentor button near the top right:

Choose from the list which users you would like to add to the group by clicking on their names. After clicking on each user's name, click the Confirm Action button.
Note: adding these users to a Staged Group will not send any emails out yet.
Once you have added all of your mentees and mentors to each group, you can now Publish the groups to begin the program.
To publish a group and provide access to its members, you need to click the Publish All button which would publish all of your staged groups in the table. Alternatively, if you would like to publish groups one at a time, you may click the Publish button within the Action column next to each group name. If you would like to delete the group and re-stage it, you can do so by clicking the Discard button in this column as well.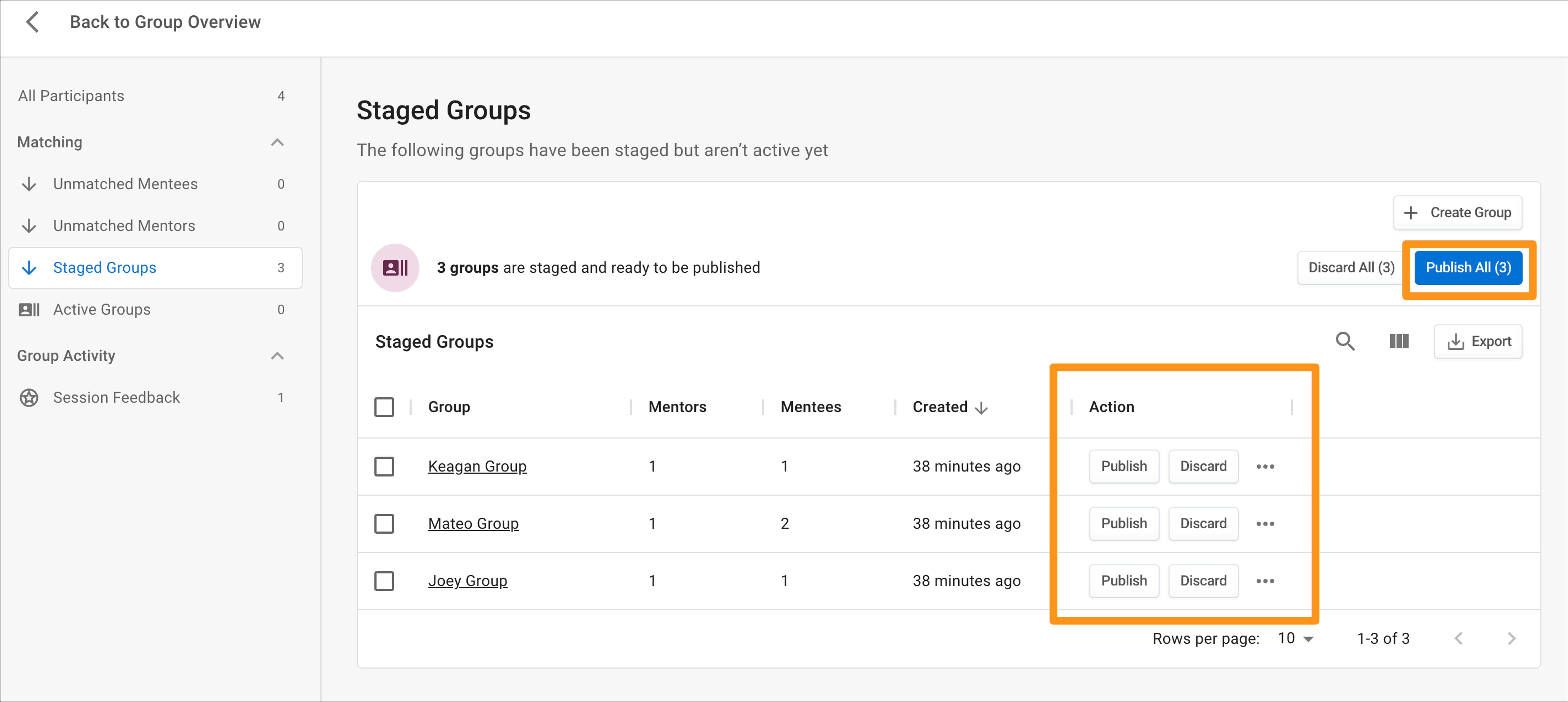 Doing so will bring up this prompt confirming that you would like to publish the Group(s):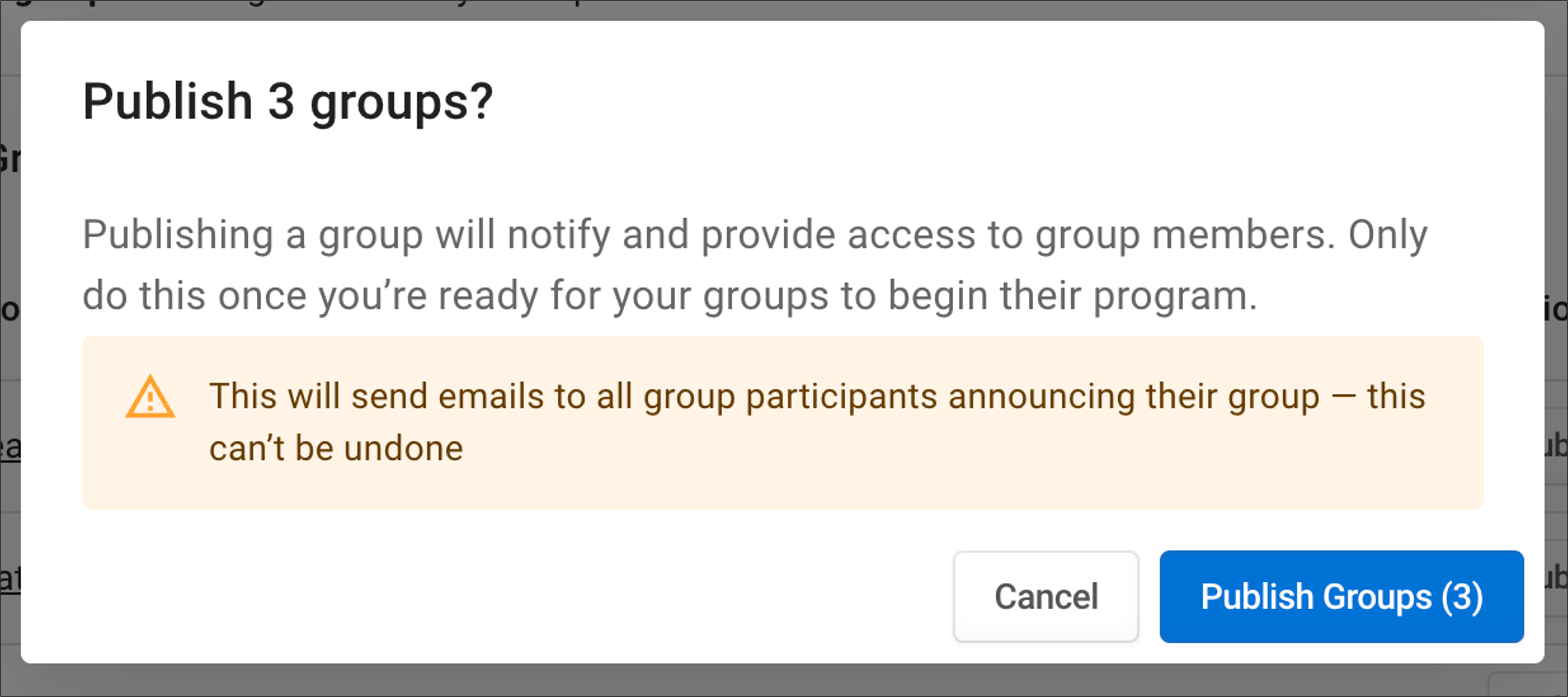 Once you publish these groups, each group participant will receive an email that looks something like this: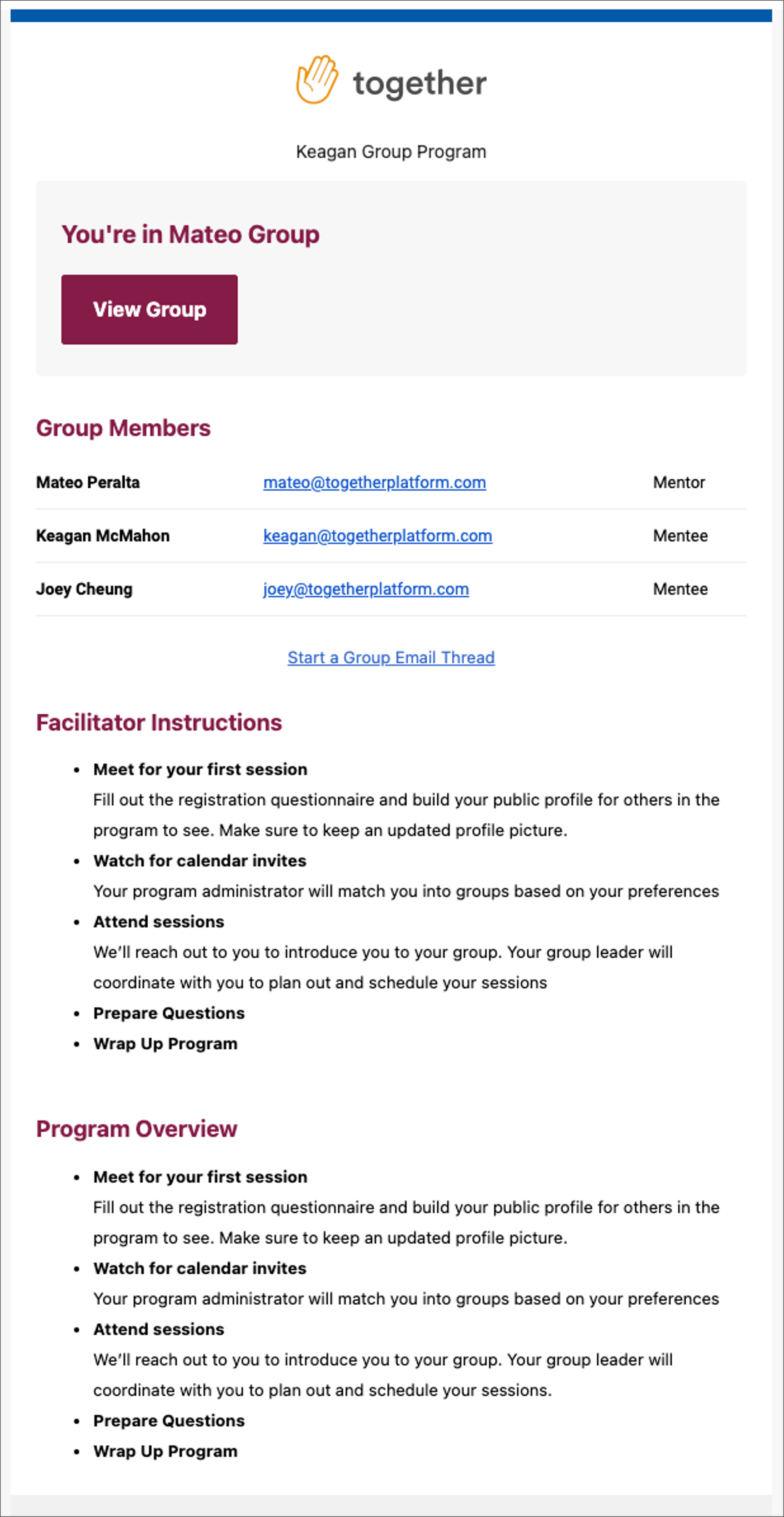 Your Groups are now officially Active! To manage or edit your Groups once they have been published, head over to the Active Groups tab here and click the Edit Group button next to the group you'd like to make any changes to: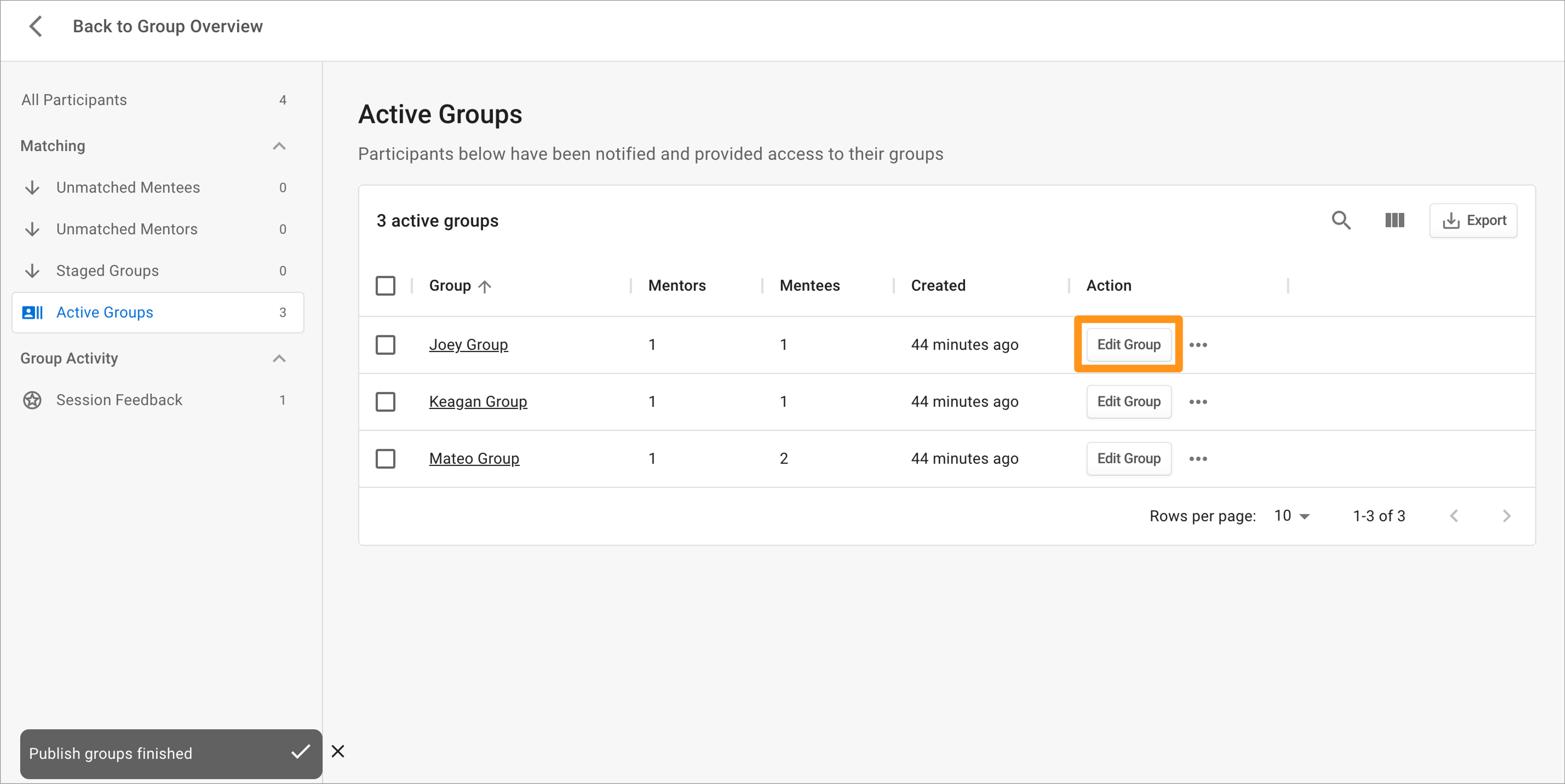 Have more questions? Submit a request here and let us know how we can help!