Together offers support for three different types of mentorship programs, that broadly fit into two categories: 1-on-1 Programs, and Group Programs.
Mentoring is a dynamic way to engage employees, encourage growth, and build a strong organization. Both 1-on-1 mentoring and group mentoring can be effective but are best suited for different goals. 
The type of mentoring program you run will depend on the objectives your business has for the program. It's key to define your goals and objectives for your workplace mentoring program before deciding what mentorship style will work. 
Common objectives for different mentorship programs are:
Develop emerging leaders
Onboard faster
Promote diversity
Career development
Employee retention
1-on-1 Programs: 
1-on-1 programs are great for classic mentorship programs where you might want mentors to act as a guide or advisor to a specific mentee through focused, individual relationships. This is beneficial as each participant shares their unique strengths and offers support at a more personalized level.
For this option, we have two different types of programs that you may be interested in considering when developing a new 1-on-1 program.
Evergreen:
Evergreen programs do not have an end date, they run continuously.
Evergreen programs have continuous registration, and users can register whenever they choose.
Evergreen programs are always open to new matches, users can start new and/or additional matches whenever they choose.
Evergreen programs will have users matching and rematching with a mentee/mentor at any point, as long as they have the availability to do so.
Matching Processes Available: User-led with Approval or User-led without approval
Evergreen programs allow for peer mentorship and reverse mentorship
Cohort:
Cohort programs are fixed in length, for example, they might only run for a period of 6 months.
Cohort programs have a fixed registration period and users are expected to all register within that period. Once this period ends, registration is closed until the next program.
Matching Processes Available: Admin-led, User-led with Approval, or User-led without approval
Cohort programs similarly have a fixed window to match with a mentor/mentee.
Cohort programs will have matches rematch only when a user specifically requests to.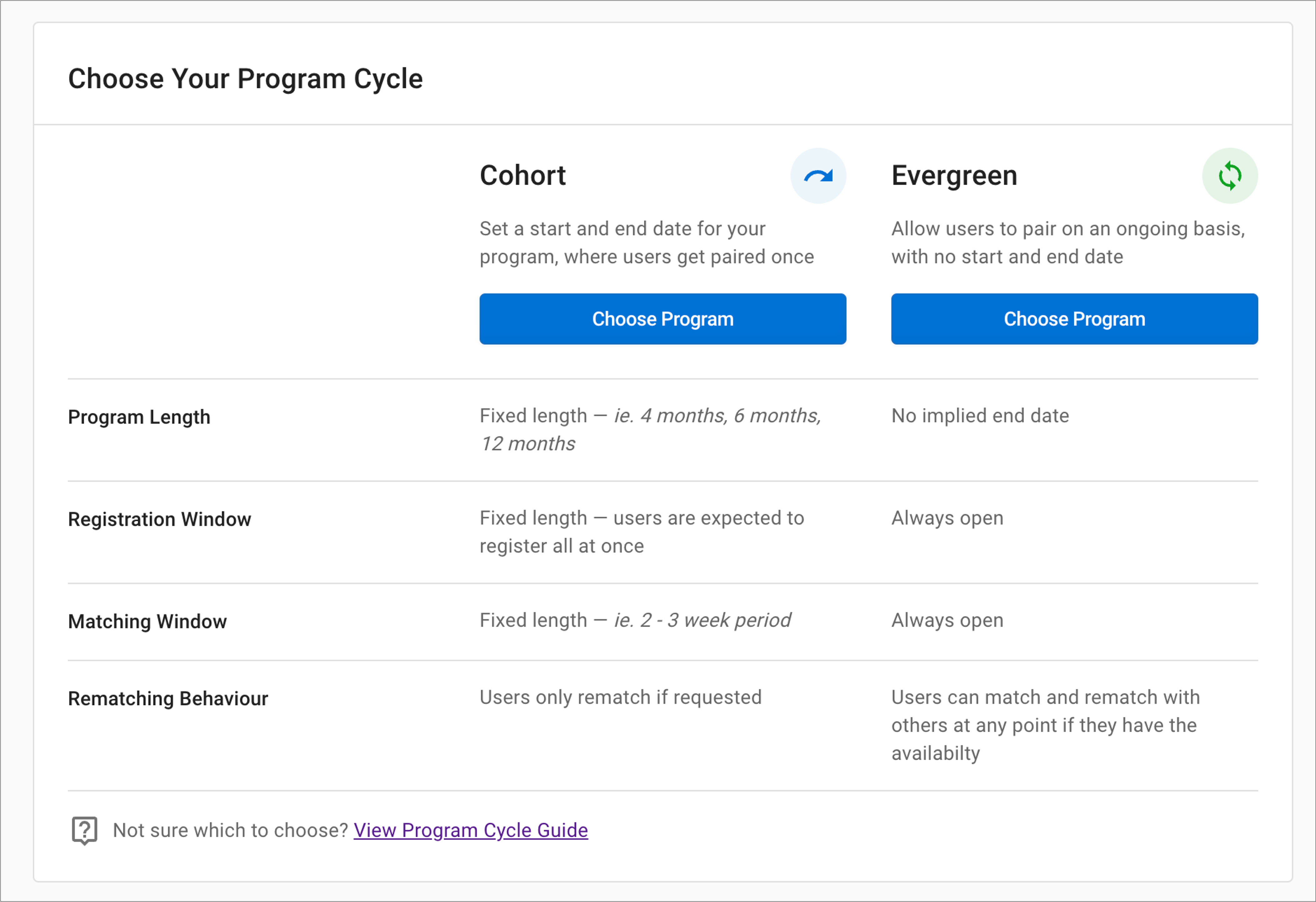 Group Programs:
Group mentoring involves one or more mentors with several mentees. In these scenarios, group facilitators and mentees are invited to discuss common goals, challenges, and ideas. A key benefit to group mentoring is the collaboration involved. Each participant gains the collective knowledge and expertise of the group to solve problems they're facing. It can also lead to new, innovative ideas. 
Group mentoring goes beyond the notion that two heads are better than one as there are several involved. 
At Together, when we help large organizations build world-class mentoring programs we see group mentoring used for the following reasons:
Programs where there are many mentees who would like a mentor, but you may not have many mentors available. Group programs allow you to take your pool of mentors, and let them provide sessions to multiple mentees at the same time.
Matching Processes Available: Admin-led or User-led (users find their own groups)
Onboarding new hires and connecting them with an executive to get them acquainted with the culture and company.
Helping build connections between remote and hybrid employees as our workplaces grapple with return-to-work strategies.
If you're interested in possibly running a Group Program at your organization take a look at our Group Program resources to help get you started! If you would like to discuss any of these different types of programs, don't hesitate to reach out by submitting a request here.
Have more questions? Submit a request here and let us know how we can help!
Share
Was this article helpful?
0 out of 0 found this helpful