Build your Questionnaire:
Next, you will be able to begin creating your Profile Questionnaire.
The first question that you must select an option for is our Role Selection question. Here you will decide whether mentees/mentors can participate as both a mentee and mentor, must choose one or the other, or must be both. Once you've selected the option you would prefer, be sure to click the blue Save button in the top right of the question: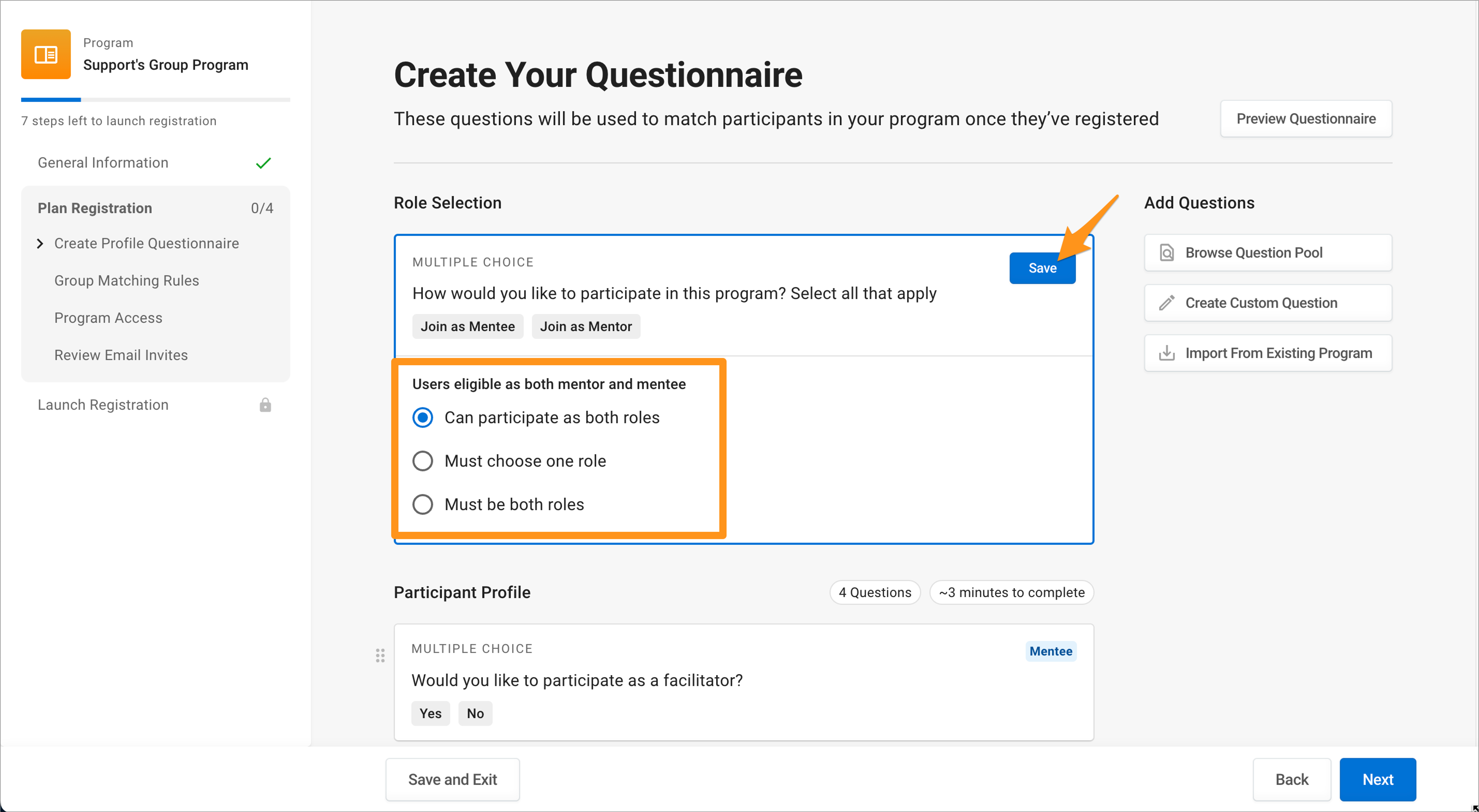 Building your questionnaire is easy! Simply input your questions, and drag and drop the order in which mentors & mentees should answer them. To add new questions, you have the option to Browse your Question Pool, Create Custom Questions, or Import From an Existing Program. We will review each option below:
Browse Question Pool:
Need some ideas? Choose from more questions in the Question Pool. First, click the Browse Question Pool button under Add Questions. Here you will see a list of curated questions from Together that you can import into your questionnaire. Select all of the questions that you would like to add to your questionnaire, then click the blue Import Questions button:
Create Custom Questions:
Here you can create your very own questions to tailor the information that is most important to the success of your program. To begin, click the Create Custom Question button under Add Questions. You will then see a list of different types of questions you can create:
Select the question type that you would like to create. This will add the question to your questionnaire, where you can then customize the question to your liking.
When customizing a question, there are several different options you can modify depending on the type of question you have selected (i.e. multiple-choice, numeric, short/long text, tabbed select, etc).
For example, multiple-choice questions will contain options for:
The Question
Description (optional)
Response options: these are the list of options that users can select from within a multiple-choice format
Multiple-choice options: whether a user can only select one response or is able to select multiple responses
Users can select up to: the number of responses a user can select if they can select multiple options
Display as dropdown: sets how your response options will be displayed, as a drop-down list or not
Question shown to: whether this question is asked to both mentees/mentors, just mentees, or just mentors
Responses visible to: whether the answer is visible to all users or only admins
Response required: whether this question is mandatory to answer
A number of these options will overlap with other relevant question types other than multiple-choice (i.e. numeric, short/long text, skills questions, goals questions, etc).
Import From Existing Program:
If you have built a questionnaire for a previous program, you can always re-use those old questions in future questionnaires.
To import questions, click the Import From Existing Program button under Add Questions. Here you can filter by the program you created the questions for originally, and then either Select All or select individual questions to include in your new programs questionnaire:
You may also choose to Link All Questions Upon Import, which links each of these questions to your new program once you import them. Therefore, when you edit this question in your new program, the changes will also be reflected in any previous programs it was used as long as they're linked.
Linking questions from an existing program will also automatically pre-populate answers for users that have previously filled out an answer for that question to your old program. This will allow your users to only have to fill out information for new questions that they haven't already answered.
Question Icons:
You will also see a number of different icons attached to each question, each of them means something different depending on the question:

A mentee/mentor icon shows which users are asked the question.

A lock icon means the question is mandatory for program participation and cannot be deleted.

A link icon means the question and responses are linked to one or more programs.
There are also 12 other standard questions created in advance for your use. You can click on the question to edit and make changes.
You can also delete the question by clicking on the trash can
icon at the top right of the question window.
Preview Questionnaire:
Once you have finished creating/editing your questionnaire you may Preview the Questionnaire at any time to see how it will look from your user's view. To do so, click Preview Questionnaire at the top right of the page.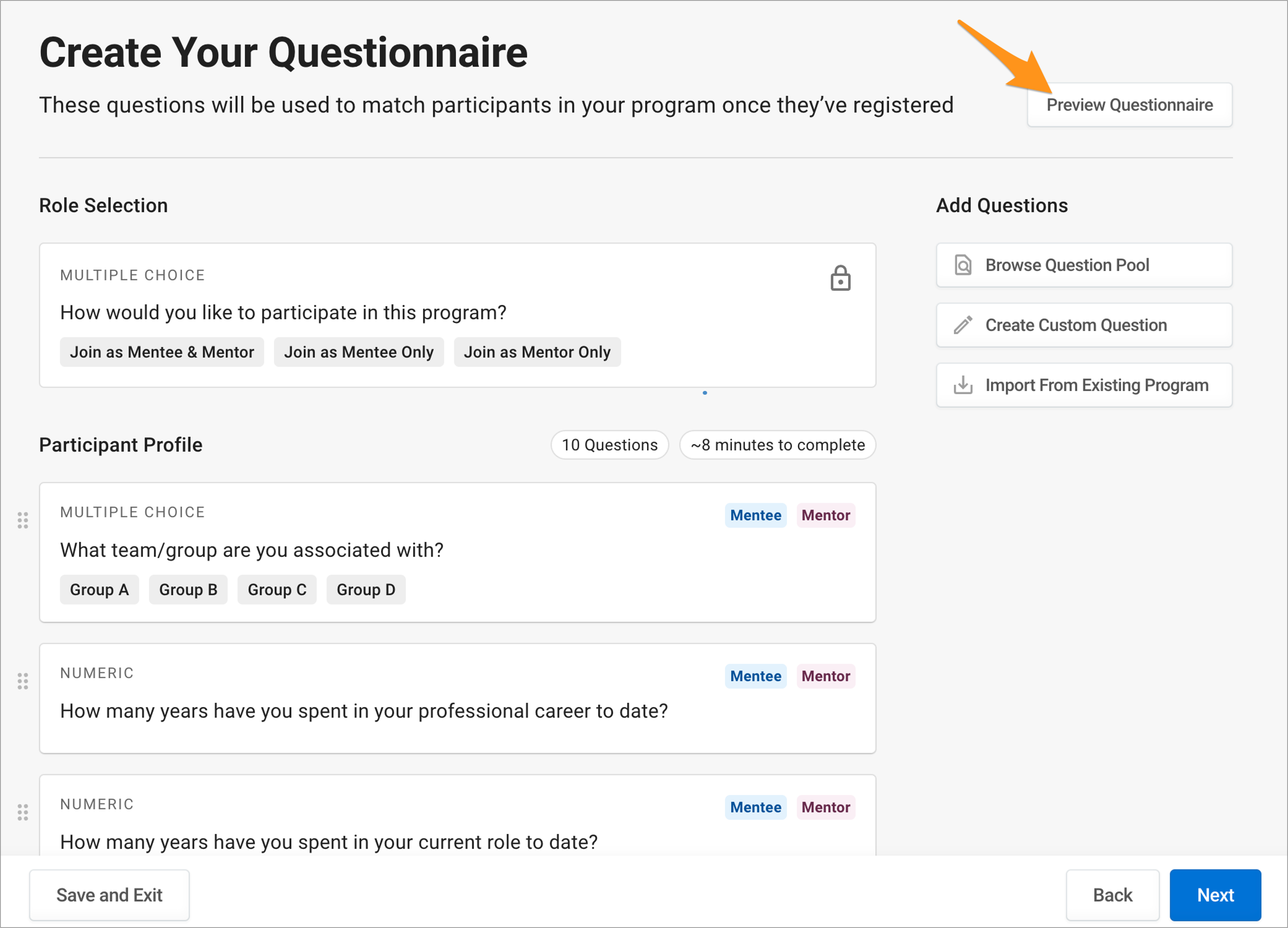 Questionnaire Best Practices:
Ours or Yours: Feel free to use our pre-drafted questions; if you have your own, you can easily build this on the platform.
Skill & Goal Questions: These are powerful questions that enable our algorithm to get the best match possible between pairings (see example). The answers to these questions get pulled into the Mentorship Agreement.

Note: if your program does not have any goals/skills questions in your registration, the Skills and Goals sections will be missing in your Mentorship Agreement

Mentor, Mentee, or Both: You can be specific about who receives each question; you also can set privacy features for what answers mentees/mentors can see.
Response Visibility: Ensure that more sensitive questions that may be HR related, be set to "Admin only" so that only admins can view the response.
Tabbed Select questions: For questions that have answers that require a more specific answer, create it as a Tab Select question.
We recommend you try to choose the questions that will best help (a) match users into groups and (b) give you the information you need for your program to be successful. Think ahead to how you will want to report on your program to help guide your build.
It is also important to try and keep the number of questions as concise as possible. The longer it is, the easier it is for a participant to lose interest if it feels like a hassle to get through.
Once you have finished developing your questionnaire, click on the blue Next button in the bottom right corner:
To continue building your Group program, head over to Step 4 - Building your Group Matching Rules.
Have more questions? Submit a request here and let us know how we can help!