Launching Registration:
To begin registration setup for your new Groups Program, head over to the Registration section. Now that you have completed these steps, mark them as done and turn on registration. Once registration has been turned on, you will be able to send Bulk email invitations to users, Set up auto-invitations for new users added to the user table, or copy and share a registration link however you wish!
Within this Share Registration page, you have four options for how you can invite users to register for your program:
Bulk email invitations
Here you can use our Bulk Email feature to send out registration invites to all eligible users within your organization (Note: if they have already registered for this program, they will not receive an email). To do so, click on the Review & Send button. This will bring up a prompt showing you a few of the participants that these invites would be sent to, along with the total number of eligible users who would receive the email. Click the Send button to send all of these emails.


Send email invitations
Here you can send individual email invitations by typing or pasting them into the text box, clicking the Validate Emails button, and then once each email has been validated, you may click the Send Emails button: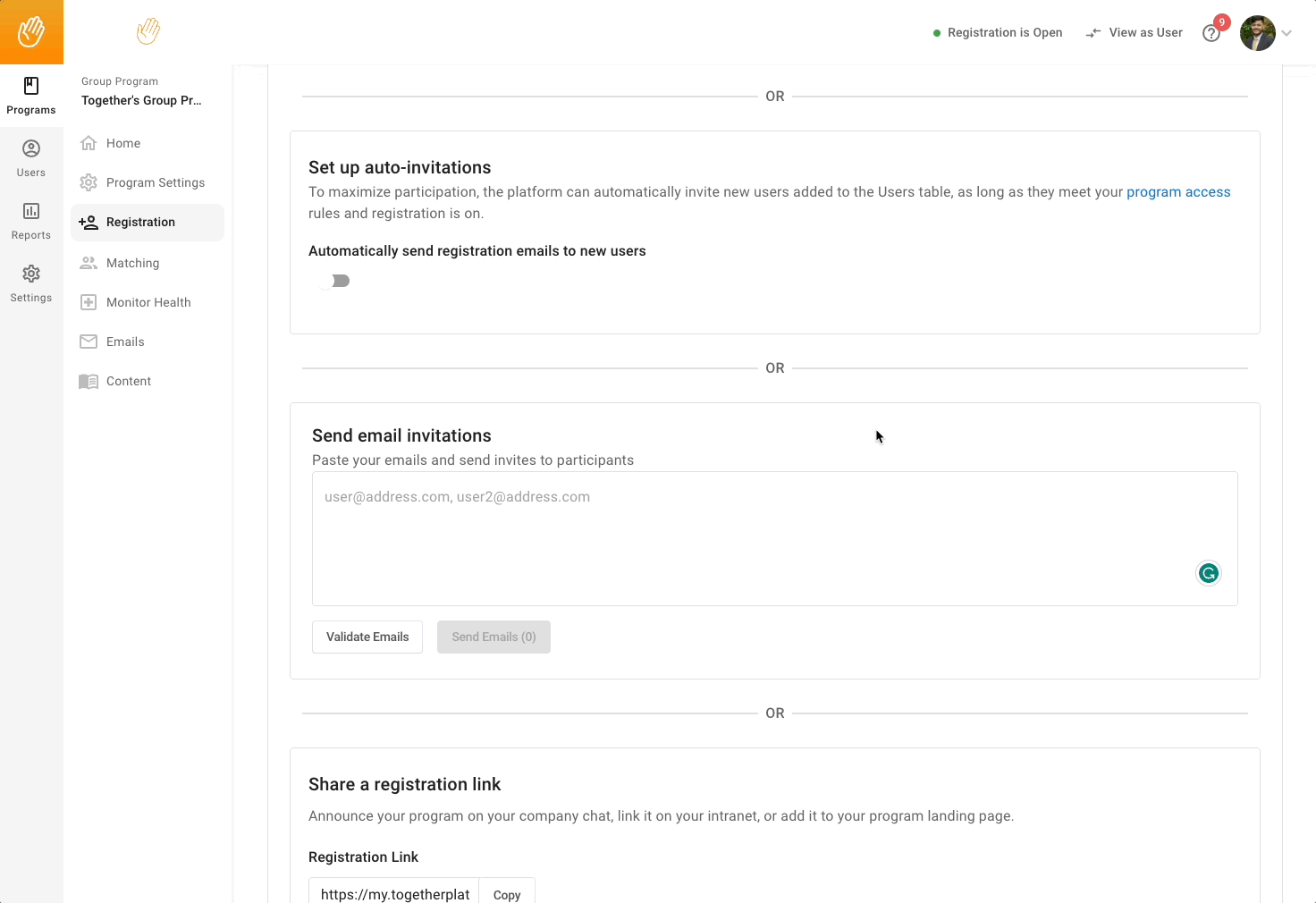 Once you share your registration invites via email using either of these options, you can click on the Track Delivery tab at the top of this page to view your Email Delivery Analytics: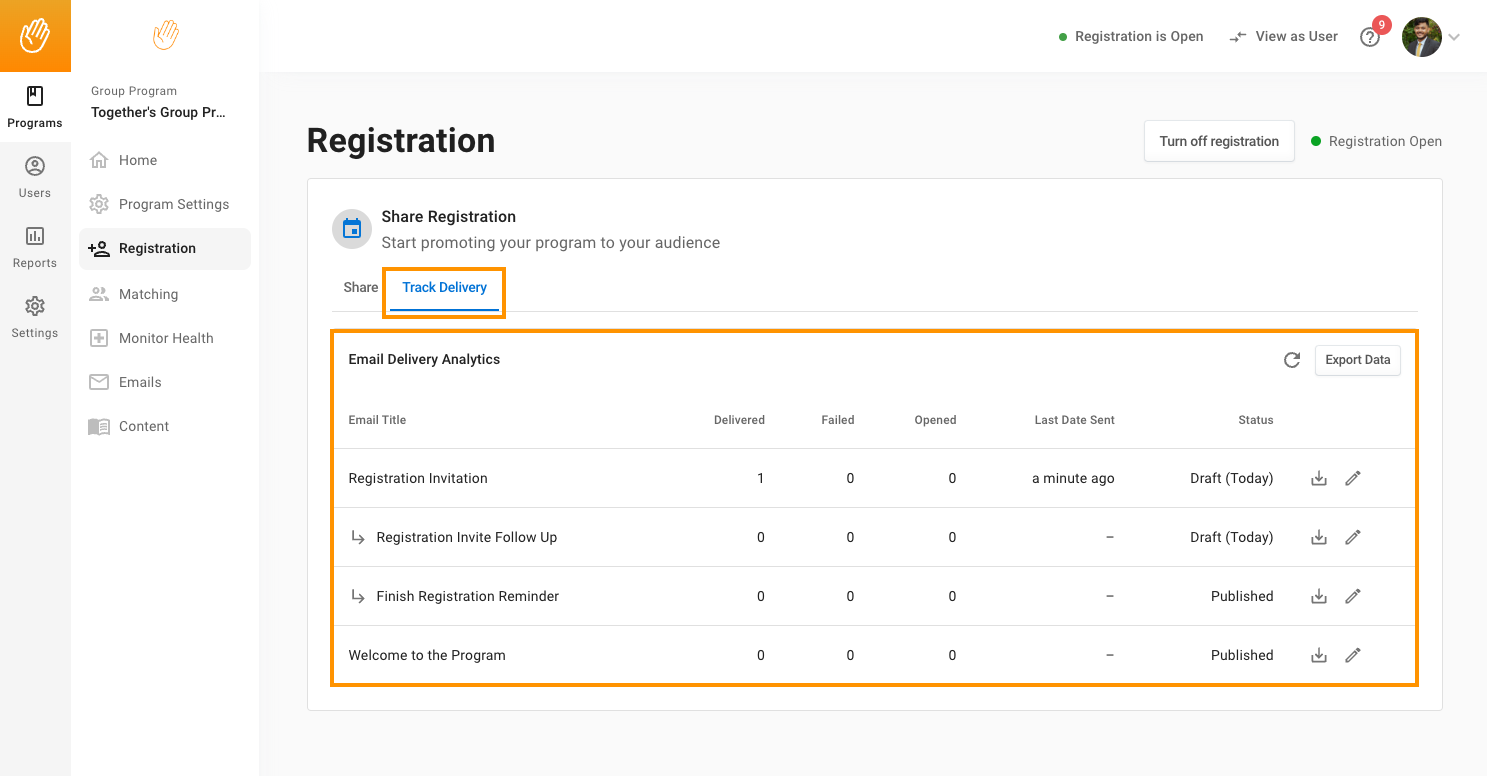 Share a registration link
This unique registration link can be copied for you to announce your program using alternative methods besides registering from the emails sent out via the platform. You can announce your program on your company chat, link it on your intranet, or add it to your program landing page. It allows for more flexibility in providing access to our platform.
Auto-invite new users
The ability to automatically invite users to register whenever a new user is added to the user table is a highly beneficial feature that significantly streamlines the registration process while boosting user engagement. By eliminating the need for manual intervention, this functionality saves valuable time and effort.
Note: Auto-invitations may take up to 4 hours to be sent once the users have been added to the user table. A maximum of 20 invitations will be sent out every 4 hours.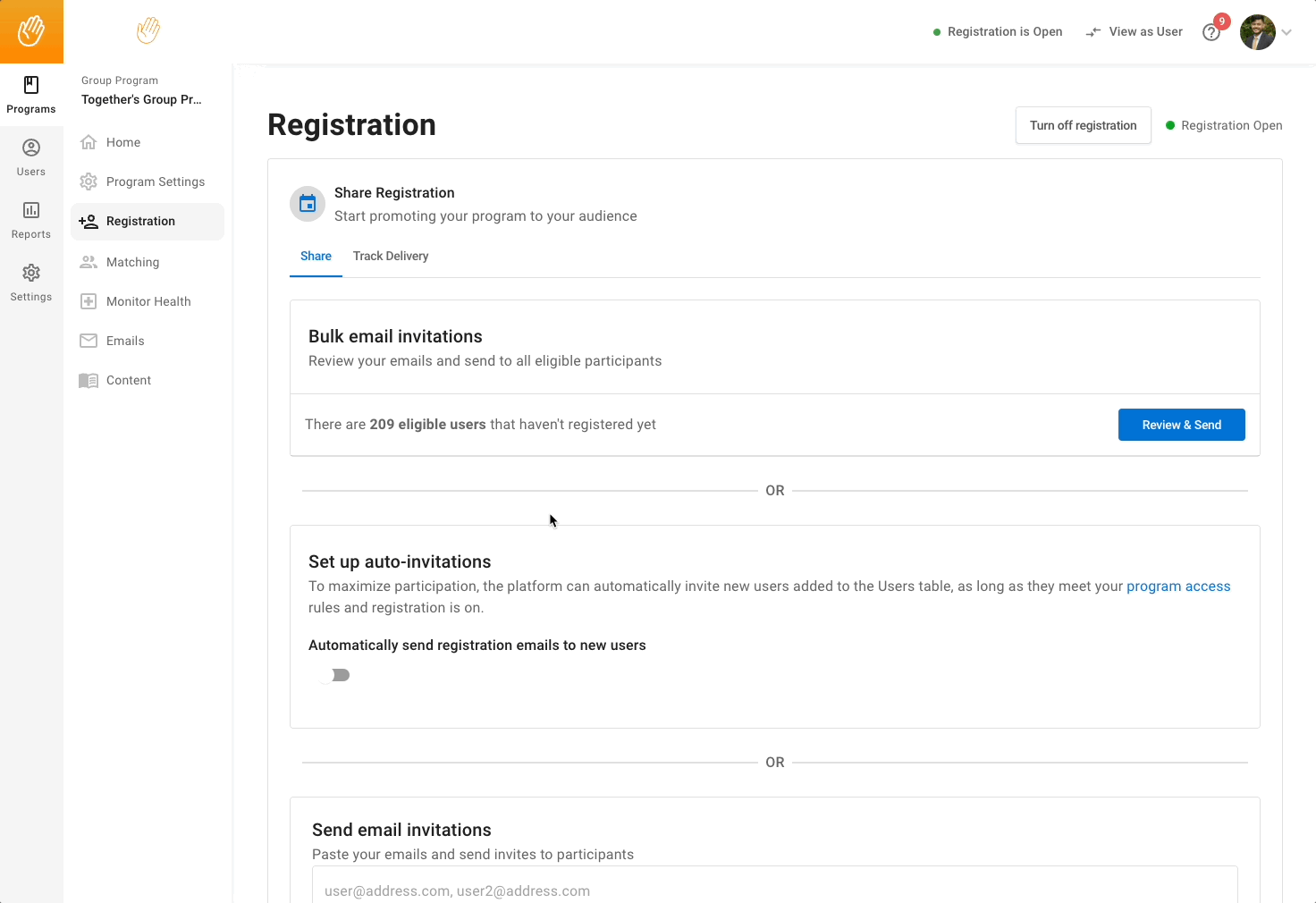 Congratulations! You have officially launched Registration for your program. The next step in building a successful mentorship program is completing your Matching Setup.
To continue building your Group program, head over to Step 10 - Configure Your Matching Setup
Have more questions? Submit a request here and let us know how we can help!
Share
Was this article helpful?
0 out of 0 found this helpful