Matching Setup:
To begin configuring your Matching Setup, click on the Edit Matching Setup button from your program home page: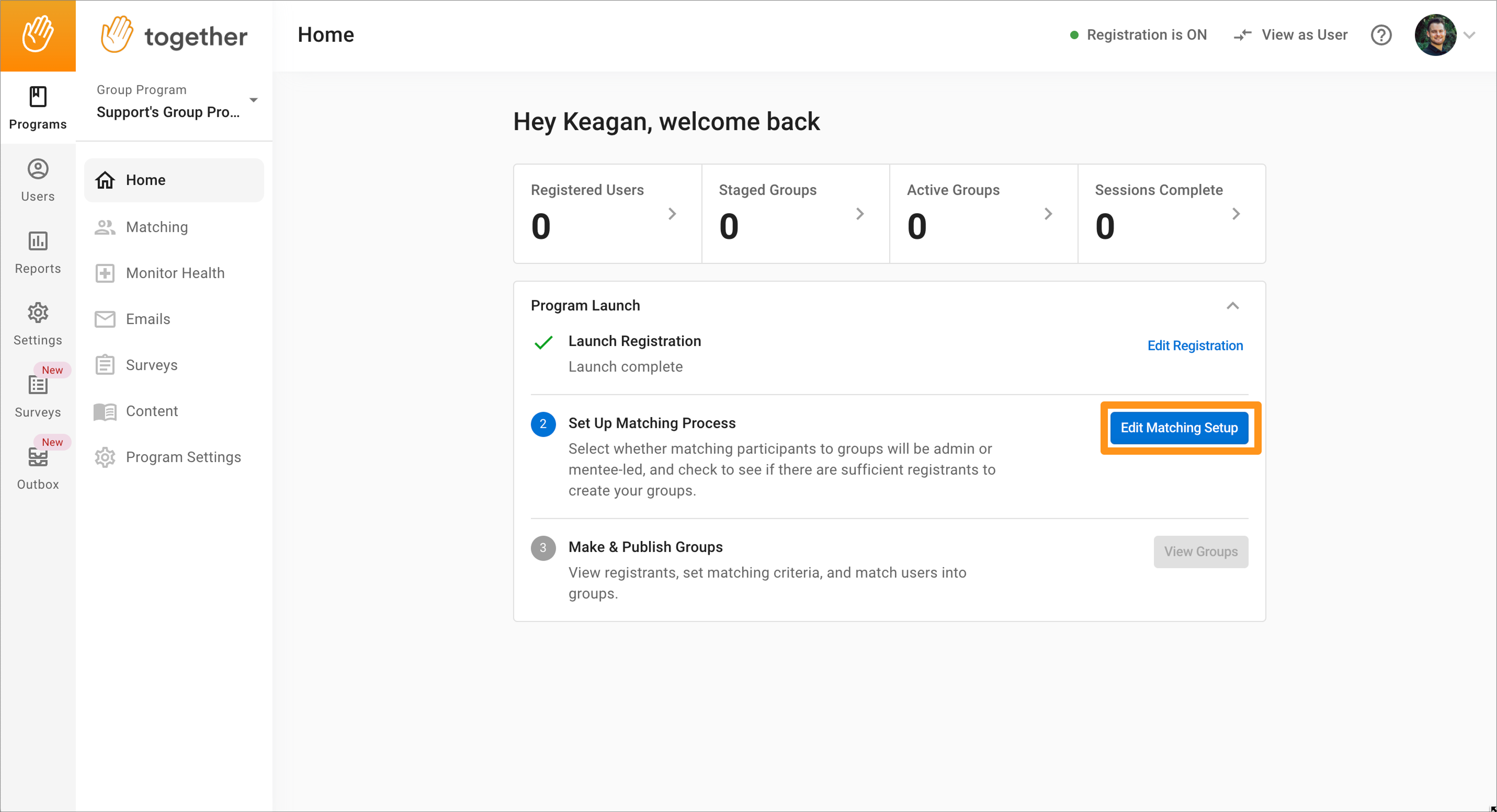 There are three key steps to setting up your Matching Process:
Choosing your Matching Process
Assessing Matching Readiness
Reviewing your Matching Rules
To begin, click the Next button to choose your matching process: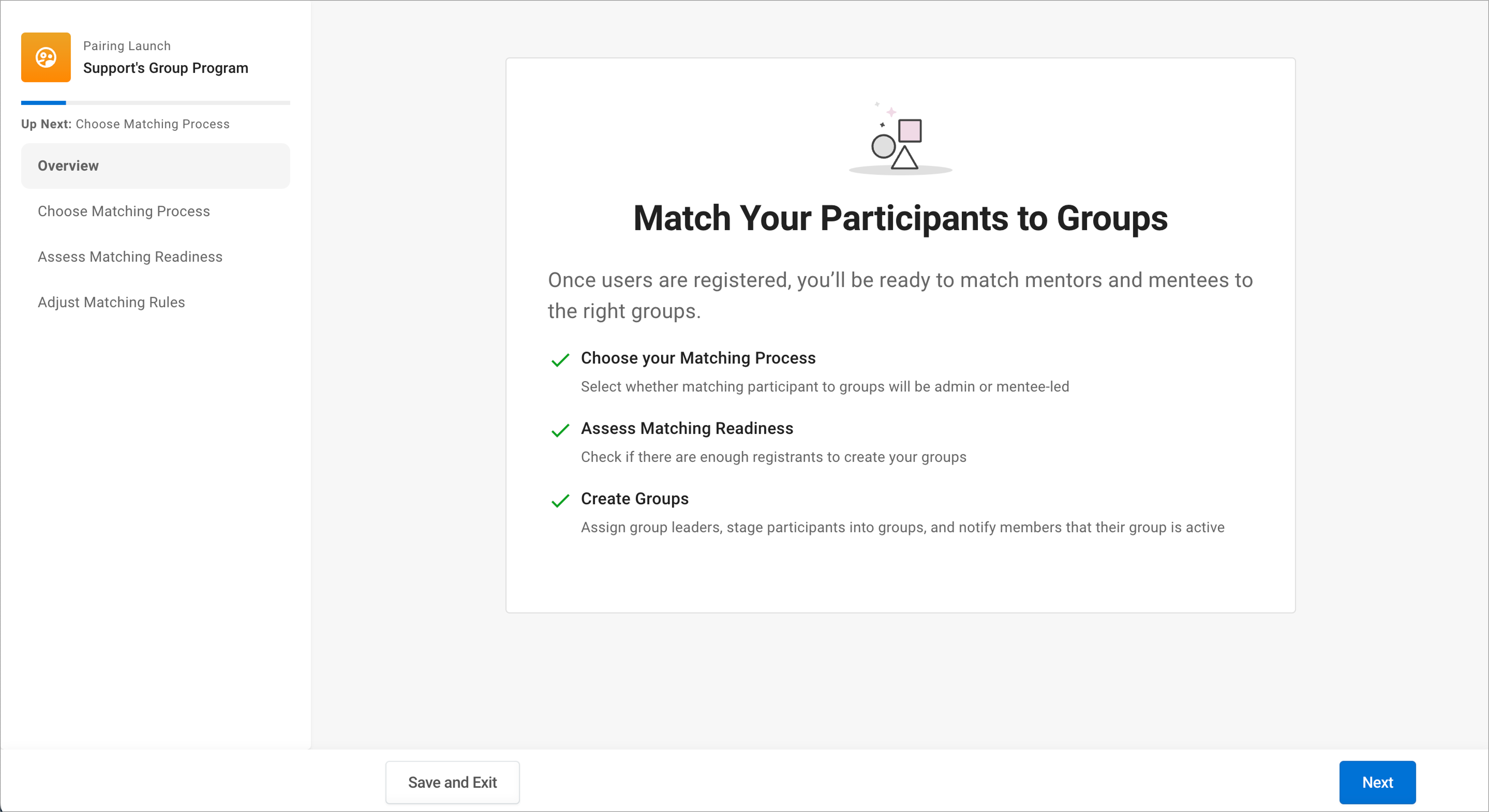 Choosing Your Matching Process:
In a Group Program, you have two methods of matching your users:
Mentee-Led Matching: with this method, mentees will choose their group from our algorithm's list of recommendations based on the matching rules created for the program. Administrators can also create and adjust these groups at any time.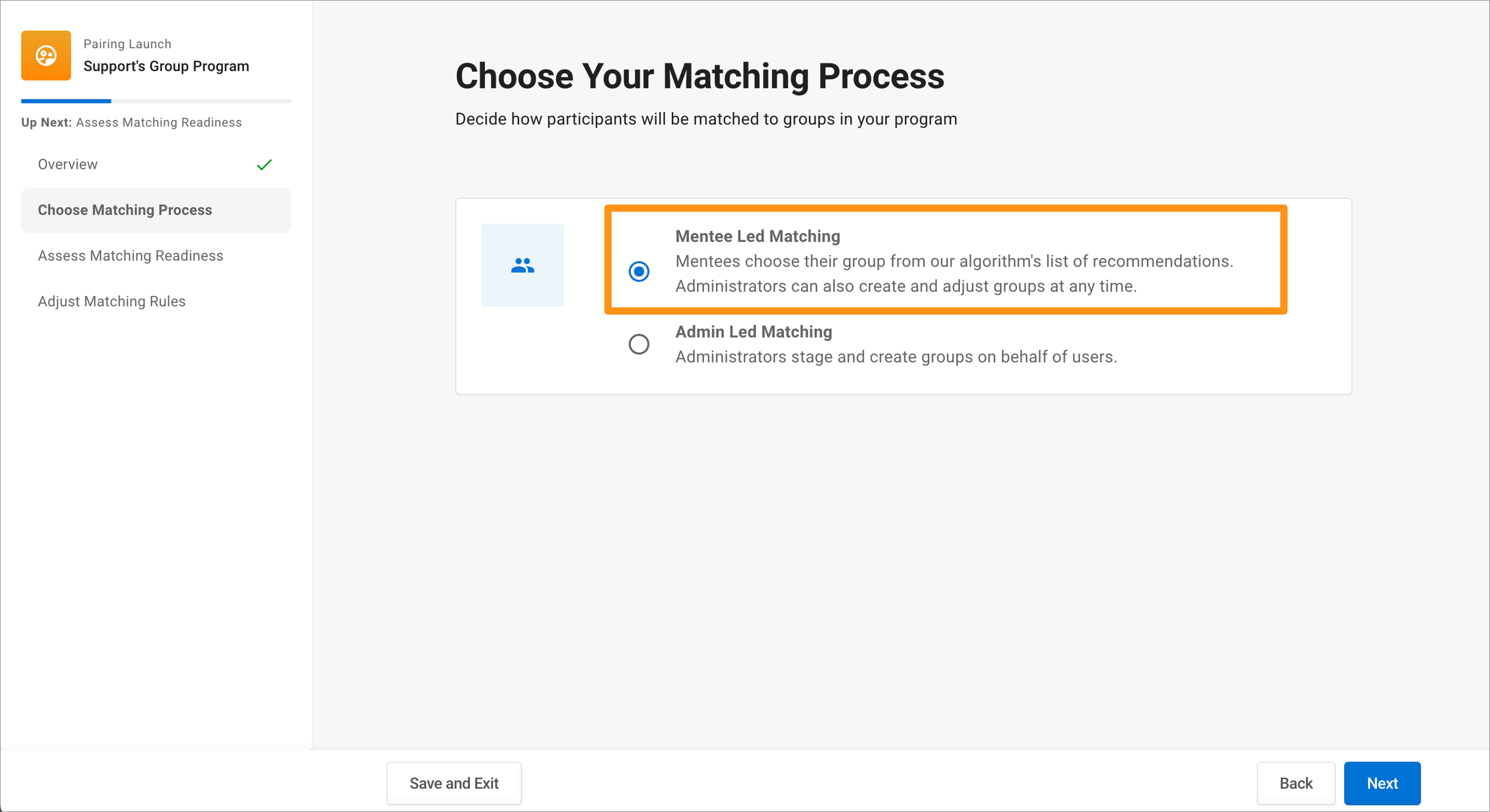 Admin-Led Matching: with this method, administrators will stage and create groups on behalf of your users.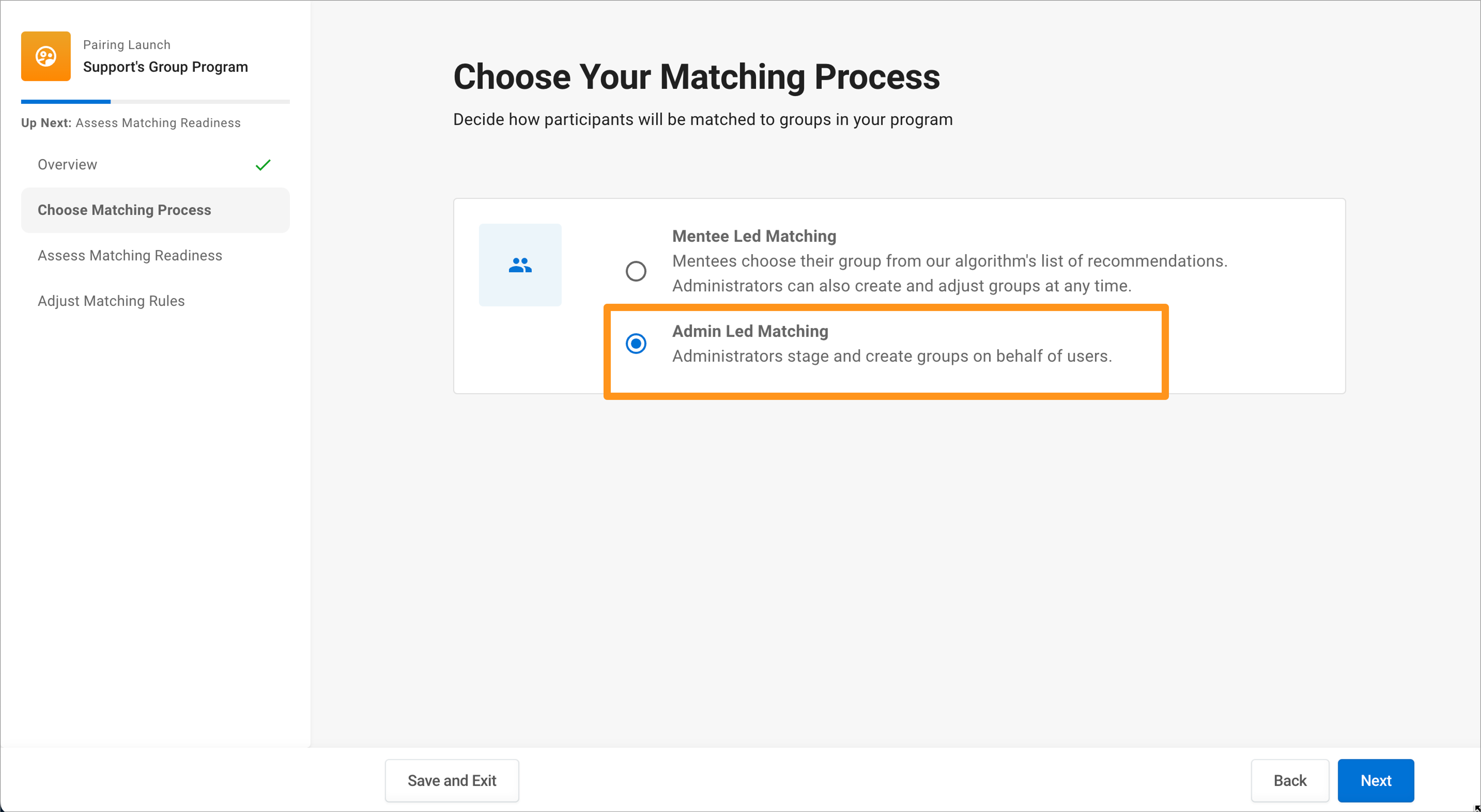 Once you have selected your desired Matching Process, click the blue Next button to head onto our Matching Readiness Report. You can use this report to check whether or not you're ready to start your matching process based on your settings and registrants.
First, you will see a chart displaying some basic registration results, such as how many participants have registered as a Mentee and/or Mentor. You will also see some information letting you know the total amount of capacity your mentors have. In this example, I have 3 mentors, which contribute to a total capacity to mentor 9 different mentees (i.e. each mentor has said they can take 3 mentees on average).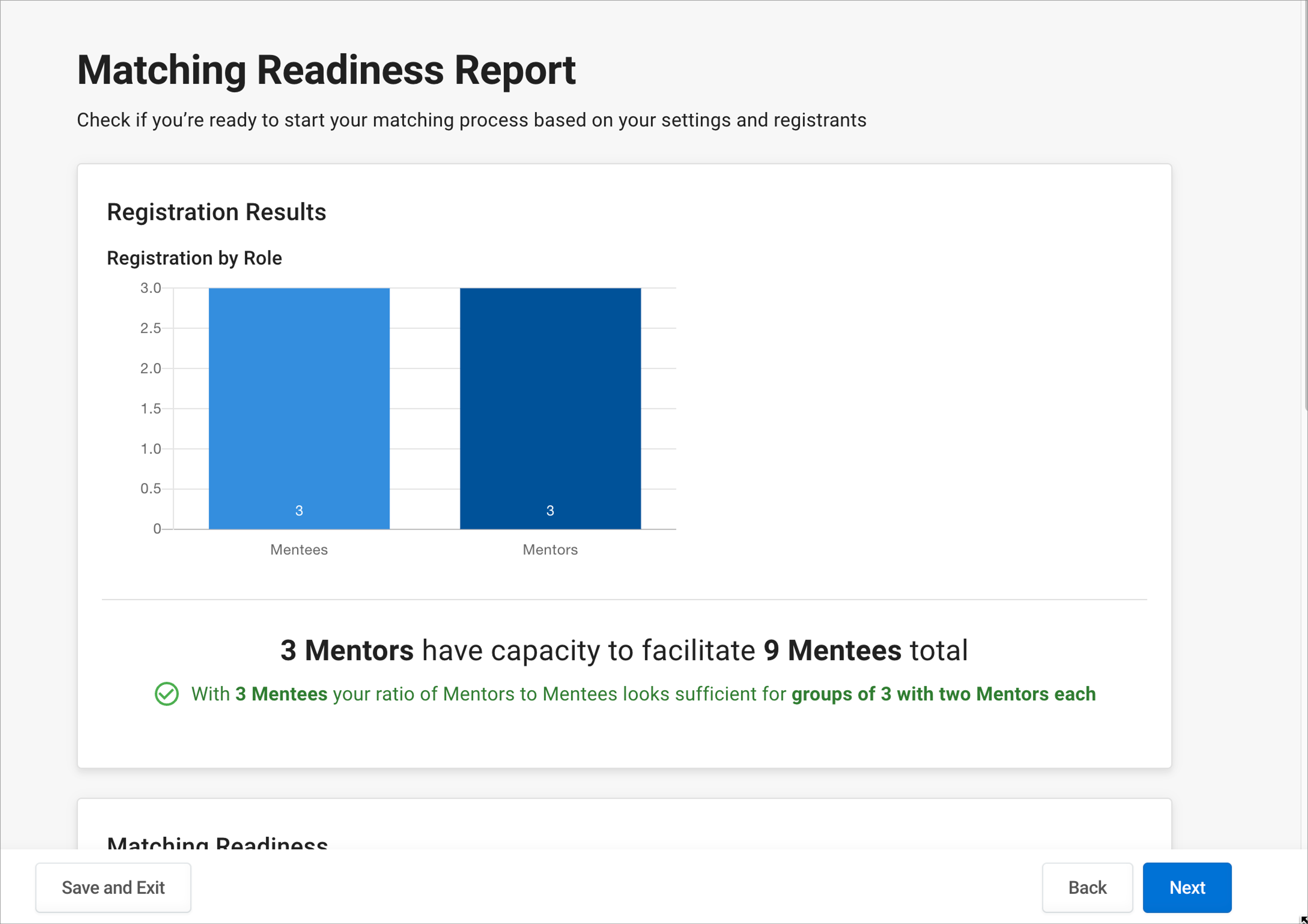 If you scroll down on this page you will see some information that our algorithm uses to evaluate any risks when starting matching. Near the bottom, you will see a few recommended ways forward that you might want to consider before beginning to match participants.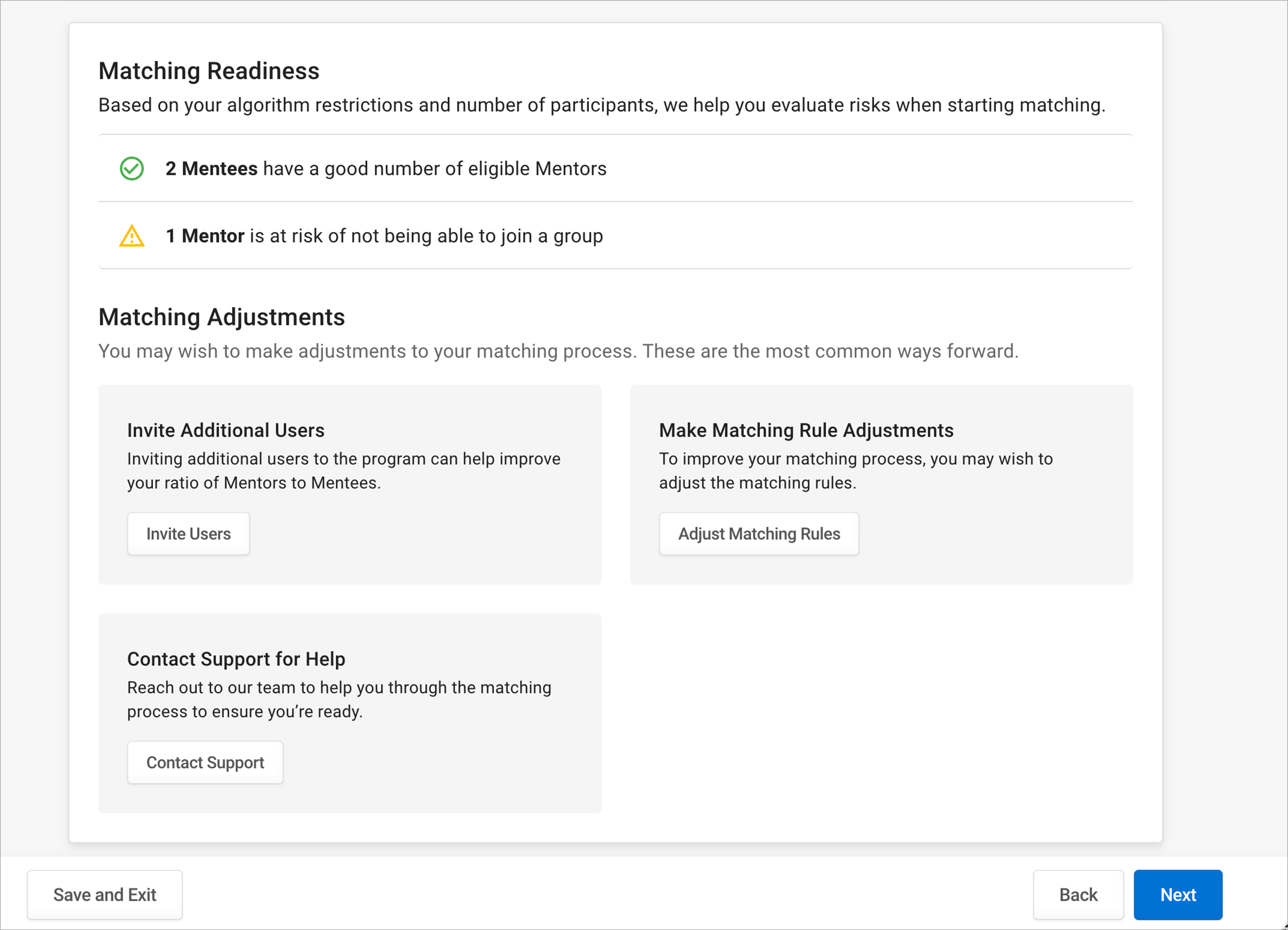 Once you feel ready to turn on Matching, click the Next button to adjust any Matching Rules that you may want to tweak. Here you will see the same set of Matching Rules that you set up during the Registration process. If you want to make any changes before turning on Matching, here is where to do so: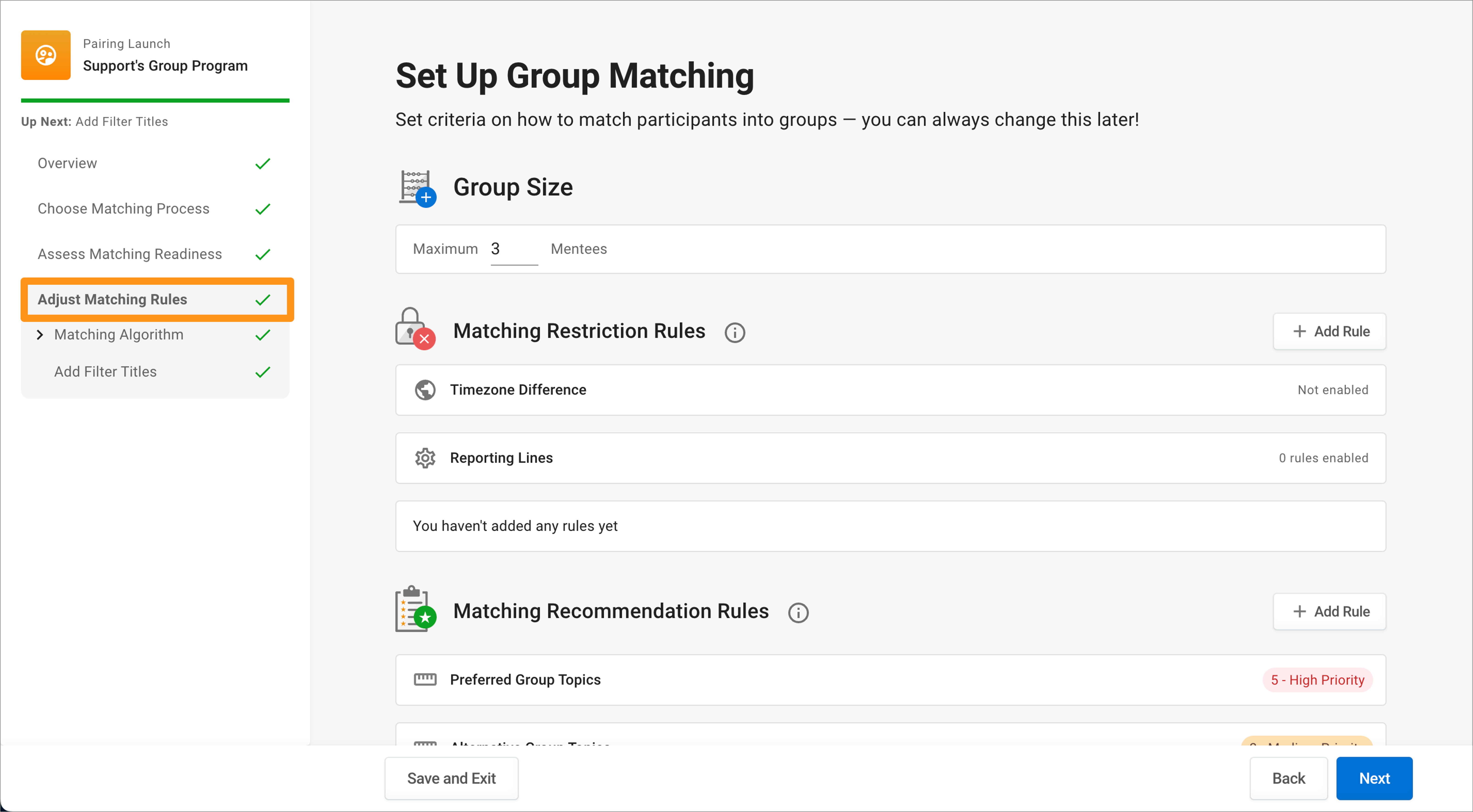 Now that you've confirmed that your Matching Rules look great, click Next to move on to adding Filter Titles for your users.
Adding Filter Titles allows you to help mentees pick the most relevant mentor by adding a title to the various filters that mentees can use to sort through the list of mentors when looking for one to pair with.
Two examples:
If one of my questions in my program is "What other professional disciplines are you interested in learning more about or prefer your mentor to be from?", I could give this question a filter title of "Disciplines of Interest" that a mentee could use to filter by when searching for a mentor.
Another question might be "What is your current role?" You could add a filter title such as "Role" so that mentees will know that they are filtering for the mentor's role to narrow down their search.
To add a Filter Title, click on the question, then type in a title for it. Be sure to click the Save button after giving each question a Filter Title.
Here, I have the question: "What topics would you like to mentor others on". I'm going to give this question a filter title of "Mentorship Topics":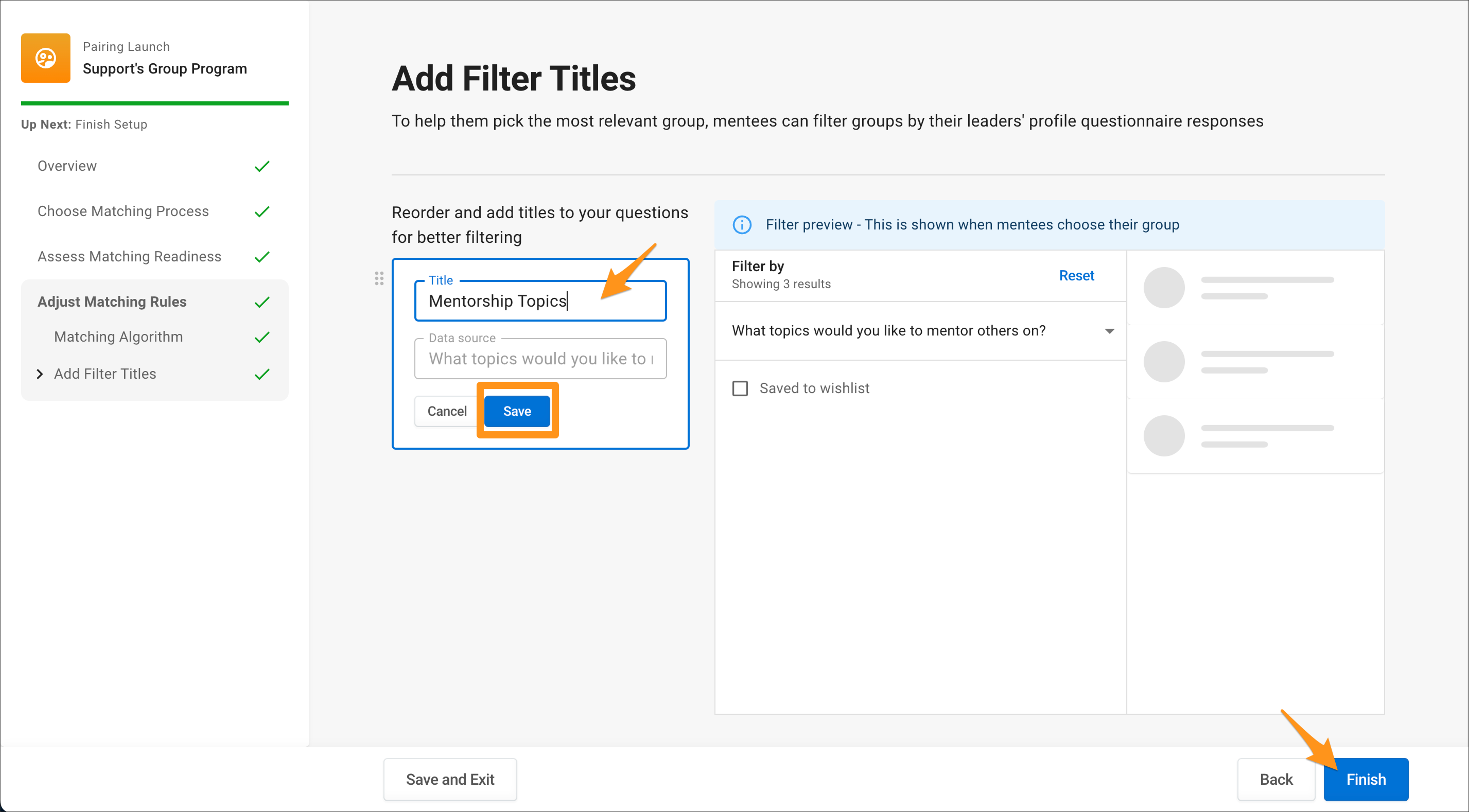 Once you've added Filter Titles for all of your questions, click the blue Finish button in the bottom right corner to complete your Matching Setup.
You're one step closer to launching your program! The next step in building your Group Program is to Make & Publish Groups.
To continue building your Group program, head over to Step 11 - Create & Publish Groups
Have more questions? Submit a request here and let us know how we can help!