To make changes to your program's matching process, select Program Settings followed by Matching: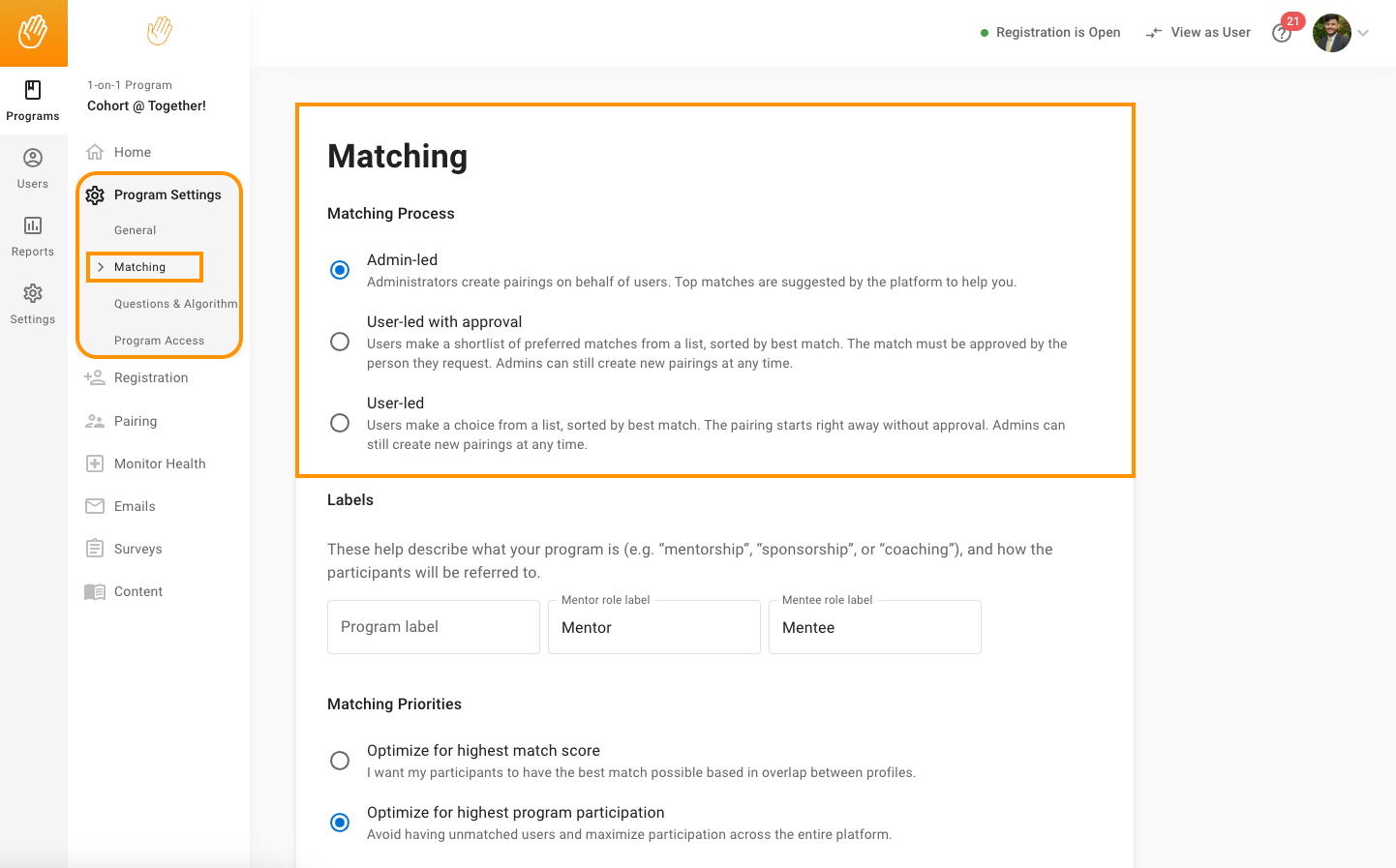 Here you will be able to choose how your mentors and mentees will be matched.
Types of Matching Processes
Admin-led (Cohort Program Type Only)
Only admins can create matches, but the software helps make recommendations. This is best used for small programs or programs with special goals, like high-potential-talent programs.
User-led with approval (Recommended)
Users can create their own matches. In this case, mentees either choose their mentor from a shortlist, or they can rank their mentor preferences and mentors approve of requests. There is also an option for Mentors to approve matching requests from mentees.
User-led +System-Matching (Evergreen Program Type Only)
Users can create their matches and will be matched right away without approval. Admin can still create matching at any time.
Matching Priorities
Clicking into the Matching Priorities bar will display two different options that you can choose between:
Optimize for the highest match score: Select this option if you would like your users to have the best match possible based on the overlap between their profiles, even if it means not all users necessarily find a match.
Optimize for highest program participation: Select this option if you would like to avoid having unpaired users and want to maximize participation across the entire group of registrants.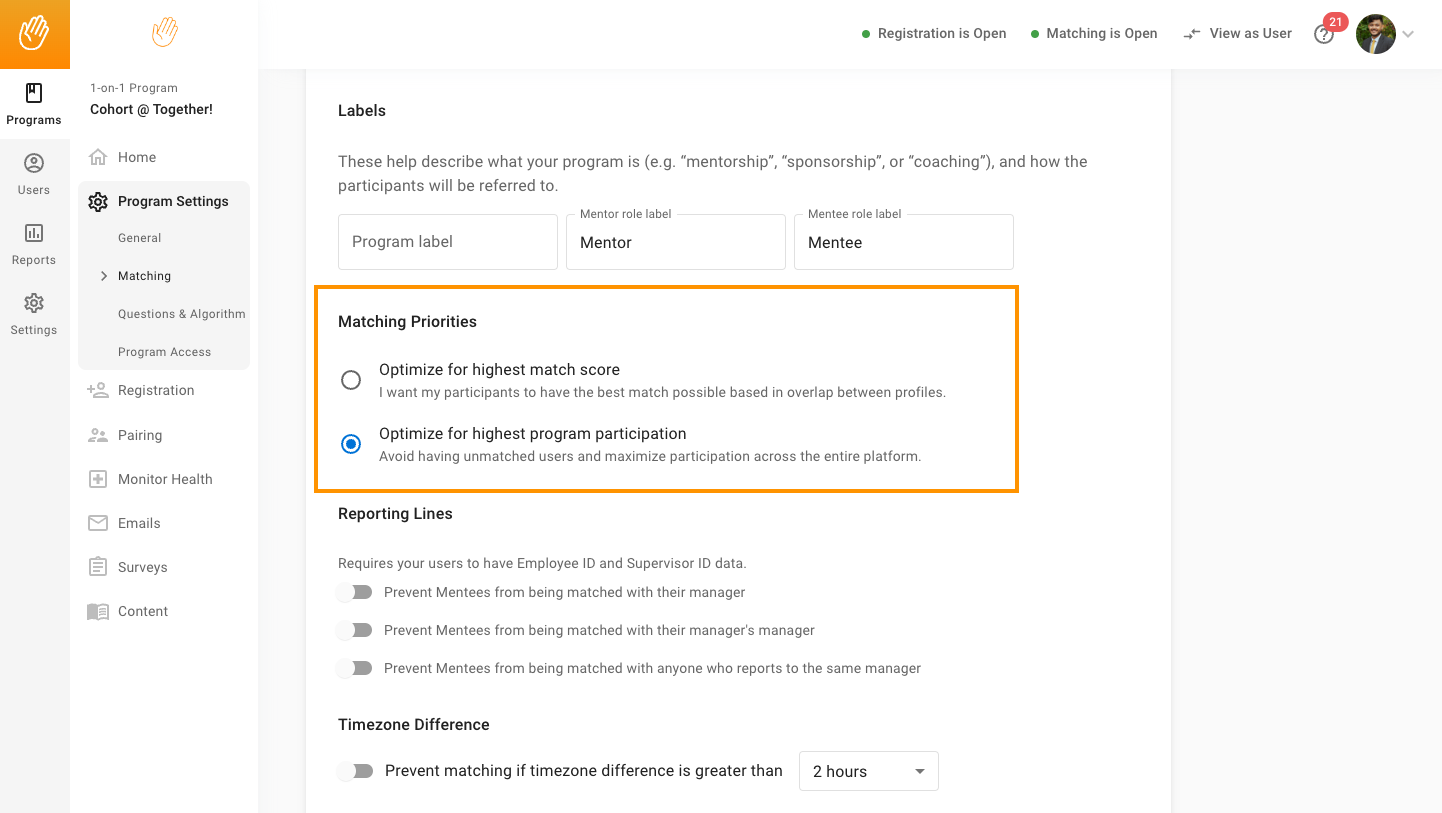 Depending on how you would like your users to be matched, you may decide to choose one or the other. In my case, I would rather have none of my users left unpaired, so I will choose to optimize for the highest program participation.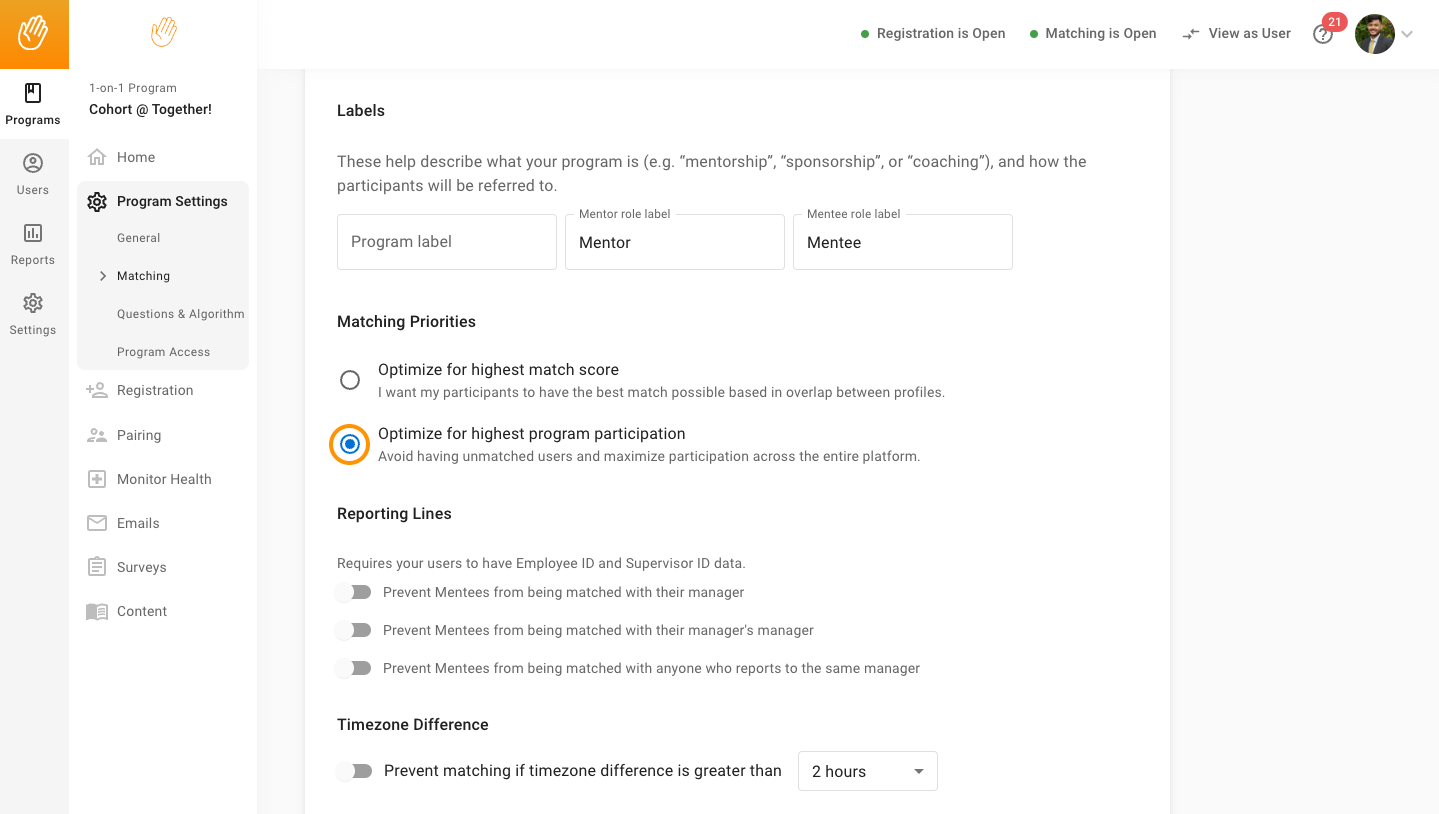 Reporting Lines
The final option on this page is based on your user's reporting lines and organization structure.
Clicking into this feature will allow you to enable a restriction if you do not want direct reports matched with their manager, their manager's manager, or anyone who reports to the same manager. Be sure to click the Save button once you've made your selection.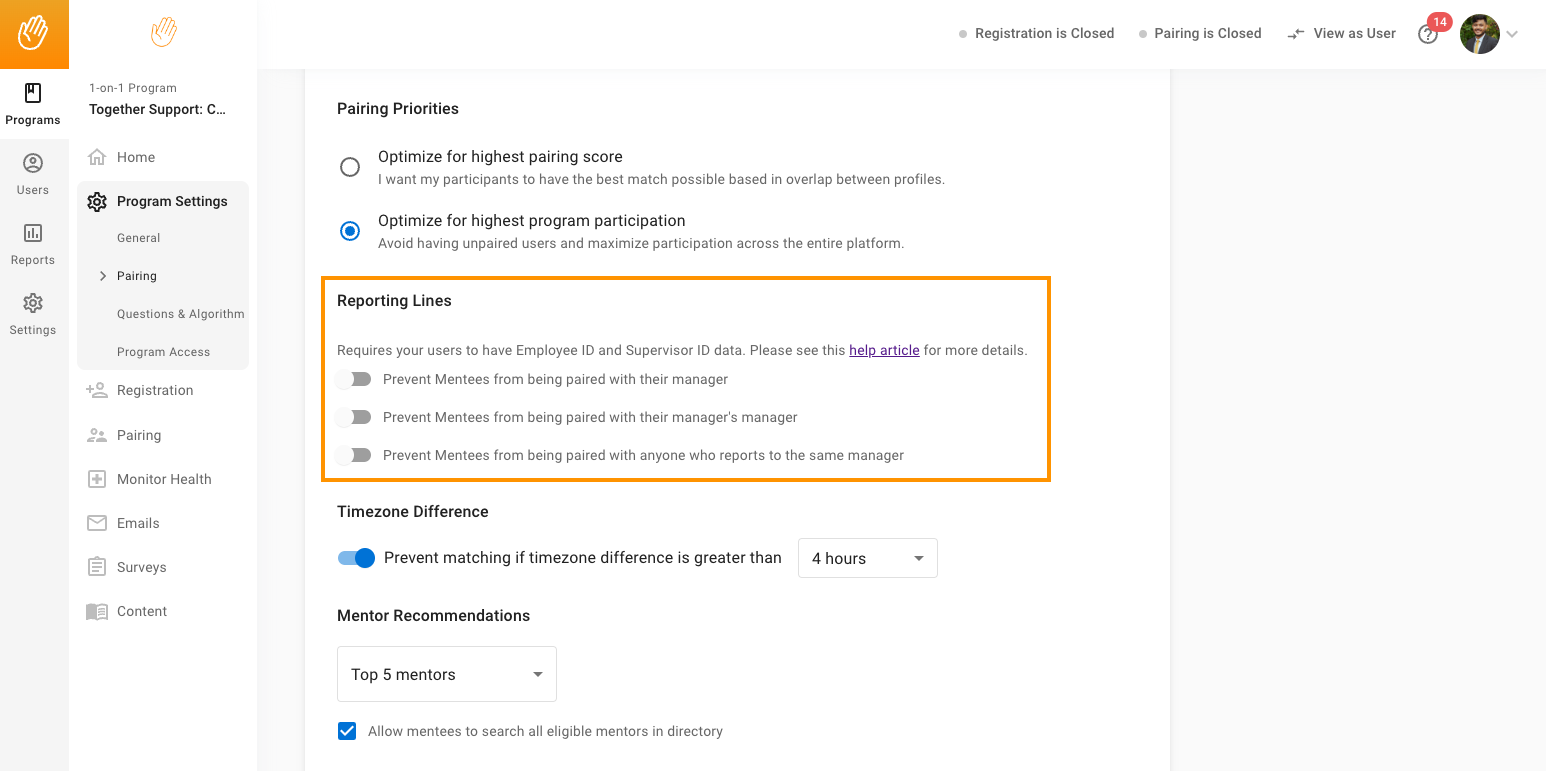 Timezone Differences
The next option you will want to consider is whether or not you would like to limit matches based on a user's timezone. For organizations that have users across many different geographies, this can be a useful feature to ensure that users can find sufficient time to schedule their sessions.
Clicking on this bar will provide you with the ability to prevent matching between users if their timezone difference is greater than some value. In my case, I would like to restrict users from matching if their difference is greater than 4 hours: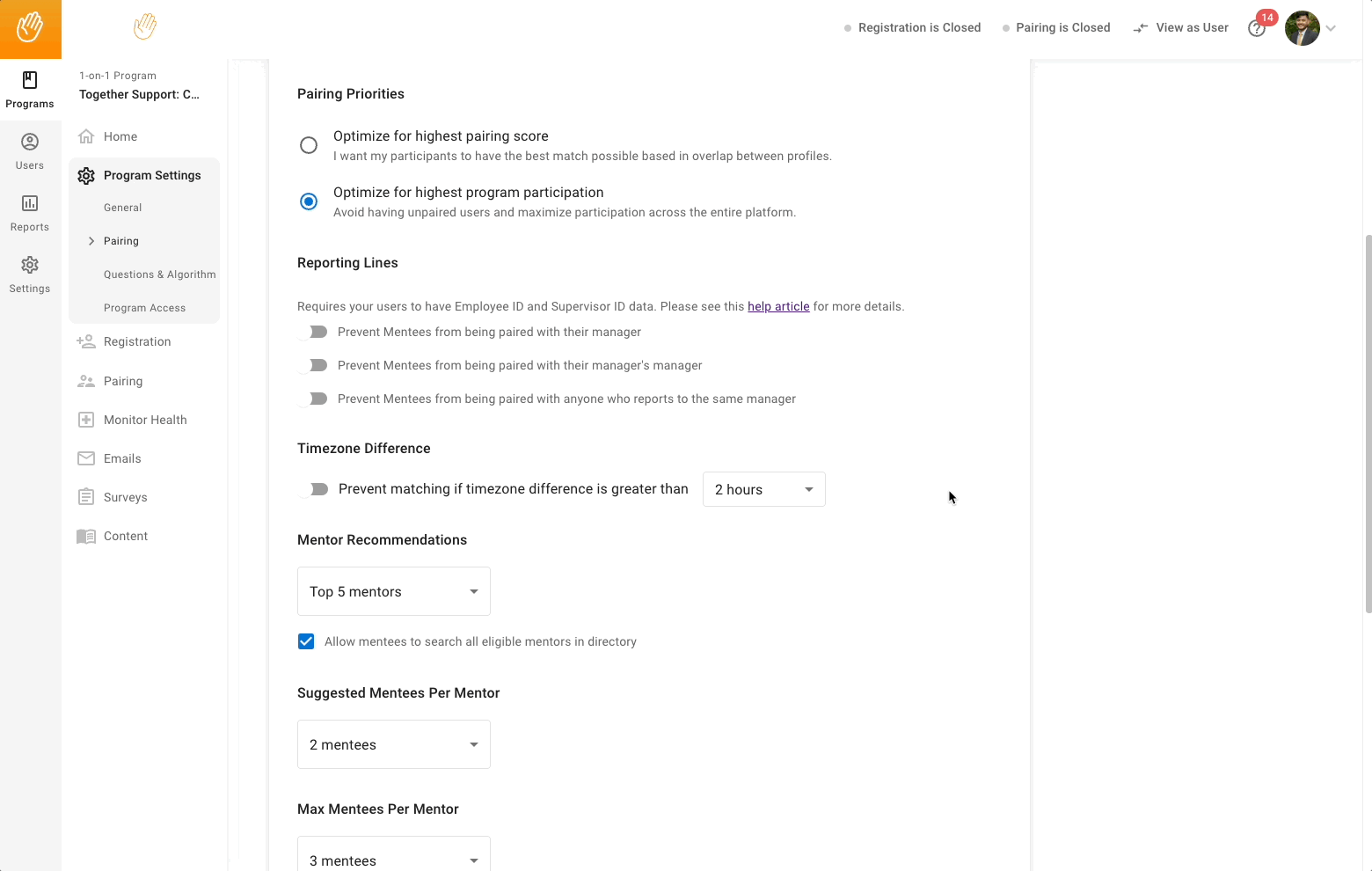 Mentor Recommendations and Suggested Mentees Per Mentor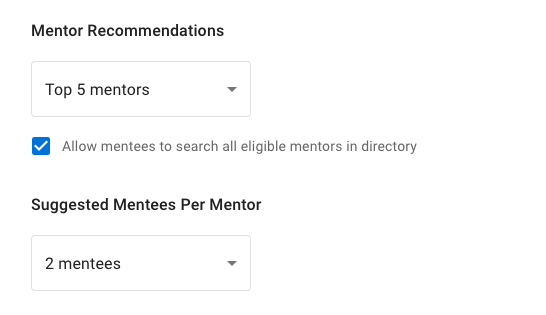 You can select the number of mentors a mentee can submit when choosing a mentor. This is in case a mentee's first-choice mentor is unavailable. The mentor next in line would then be chosen and so forth until a mentor is available. Additionally, you can select how many mentees a mentor is able to take on at once. This can be useful to provide additional coverage for mentees in your program and open up more options for mentees to choose from.
Session Frequency

Here, you can select the pace of the sessions that take place by reminding users to book sessions.
Note: reminders to book the next sessions are dynamic and will match the program's session frequency.
New Mentor Requests (Cohort Program Type Only)

As an admin can decide if you would need to approve changes that mentees request for their mentors.
Automatically End Matches

This setting can be particularly useful if you want to continuously keep matches fresh and allow participants to match with new mentors/mentees. You can select a specific date you would like matches to end or choose the amount of time matches should last.
Have more questions? Submit a request here and let us know how we can help!
Share
Was this article helpful?
0 out of 0 found this helpful